Steve Knight does not believe that recent statements allegedly from evangelist Billy Graham are really statements from Billy Graham:
Let me tell you about Billy Graham, just as he is, because based on what I experienced working for the man for six years, two statements issued under his name last week (and one earlier this year) significantly collide with the well-established values of this great humble faith leader.

… I sincerely fear that Billy has become a puppet for the political persuasions of Franklin Graham (and to a lesser extent, Anne Graham Lotz).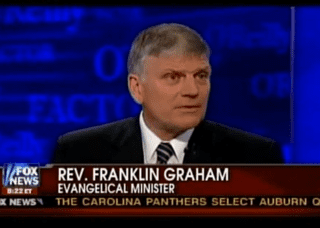 Knight is not alone in suspecting that the increasingly political statements coming out in Graham's name actually reflect the views of his son. Pretty much everyone who is familiar with the man's outlook, with his long track record, and with his ailing health, suspects the same thing.
"Billy Graham is 93 years old," Knight points out. The iconic evangelist is also "in the advanced stages of Parkinson's disease (among a host of other age-related ailments)" and has "been having fluid drained from his brain on a regular basis for over a decade."
Knight continues:
When I worked for BGEA and Mr. Graham was still leading evangelistic crusades around the country, it was well-known that all of his sermons, articles, letters and books were ghostwritten — and had been for quite some time.

There's also a track record in recent years of Franklin Graham redirecting his father (and mother) against their own wishes. …

The tragedy of what's happening right now is that Billy Graham long ago made a personal commitment to avoid picking political sides, especially since being tricked by Richard Nixon in the 1970s in a case that led to a public apology in 2002 after tapes of their private Oval Office conversations were released. Up until this point, the Nixon debacle was arguably Billy's only political misstep, but with each new anti-gay statement put out by BGEA his legacy is being tarnished.
I wrote about this back in May, when Billy Graham's likeness and signature were used in full-page ads endorsing North Carolina's anti-gay Amendment One referendum. That ad was uncharacteristic of the elder Graham, but it reeked of the familiar stink of his political-hack son. Jan Edmiston and Alvin McEwen both shared my suspicions. As did many others.
Knight notes that at the time of the Amendment One ad, Billy Graham's official biographer, William Martin, disagreed with that suspicion, saying, "Franklin has been more outspoken about it, but it sounds as if this is Mr. Graham expressing his own will." Knight disagrees. So do I. So do many, many evangelicals who have closely followed Billy Graham for decades — so many of us, in fact, that Martin was asked to weigh in.
Franklin has also been asked to weigh in. Reporter Mark Oppenheimer of The New York Times asked Franklin if his father would speak publicly to confirm his support for these recent statements released in his name.
"That ain't gonna happen," Franklin Graham said. "I can promise you that."
Gee, why not?
I can't prove that Knight and I and a great many others are right about this. All we can do is suspect and speculate. But Knight's suspicion and speculation about Franklin's manipulation of his ailing father rings true:
My concern is that here's how things like this continue to work: Franklin Graham (or Franklin and his sister Anne Graham Lotz) have an agenda (in all three of these cases, "traditional marriage"), they get a BGEA copywriter to draft the text, then a BGEA graphic designer does the layout (in the case of the ad), Franklin approves the copy and/or design, then Franklin drives out to Little Piney Cove (Billy's cabin home outside of Asheville, N.C.) and holds the piece of paper in front of Billy and asks, "Daddy, can we publish this?" And Billy nods (or whatever he's capable of doing at this point in his life), and Franklin goes back and publishes this stuff with his good father's name all over it.
Billy Graham and/or Franklin Graham had the opportunity to put all such speculation to rest last Wednesday.
On July 26, a statement was released in support of Chick-fil-A's stance against marriage equality. Franklin Graham says his father wrote that statement. I'd bet a week's worth of waffle fries that Franklin wrote it and attached his dad's name to it in just the manner Knight describes above.
Here's how that statement ended:
I plan to 'Eat Mor Chikin' and show my support by visiting Chick-fil-A next Wednesday.
The key word there is "visiting." The statement doesn't say Graham will be "sending an assistant to pick me up some Chick-fil-A next Wednesday." It doesn't simply suggest that he will be "eating" Chick-fil-A next Wednesday. It says visiting.
That's specific and deliberate and necessary to accomplish Franklin's goal in forging this statement under his father's name. He was exploiting his father's moral authority — a resource Franklin does not possess when speaking in his own name — in order to help create the political spectacle of long lines at Chick-fil-A locations. The statement wasn't about what Billy Graham himself planned to actually, physically do. The statement was about what Franklin Graham wanted his followers to actually, physically do.
So what happened when Billy Graham showed up at his local Chick-fil-A last Wednesday? Did the crowds of evangelical chicken-eaters step aside to allow this 93-year-old, revered reverend to pass to the front of the line?
Well, no.
"Billy Graham" said he would "visit" Chick-fil-A last Wednesday. But Billy Graham did not do that.
When you're 93 years old and "in the advanced stages of Parkinson's disease (among a host of other age-related ailments)" you're no more capable of visiting a fast-food restaurant a dozen miles away than you are of penning a partisan screed directing your son's followers to do so.
The pro-Chick-fil-A statement from "Billy Graham" got a lot of press attention before last Wednesday. The evangelist's no-show was a non-story.
At the conclusion of his Times report, Oppenheimer relays an email message from top-dollar Christian PR guru, A. Larry Ross, who confirms that someone else had visited Chick-fil-A and brought back a lunch for the elderly evangelist. Right. Sure.
Another person who refused interview requests was the Rev. Billy Graham, who lent his name to a July 26 statement praising "the Cathy family's public support for God's definition of marriage." Mr. Graham said he would join Mr. Huckabee's planned day of support: "As the son of a dairy farmer who milked many a cow, I plan to 'Eat Mor Chikin' and show my support by visiting Chick-fil-A" on Aug. 1.

But it turns out that the 93-year-old minister did not write his own statement.

"Considering Mr. Graham's age and limited mobility, his statement was more an expression of sentiment and solidarity with the Cathy family and their cause than actually a commitment to go to a Chick-fil-A himself," a spokesman, A. Larry Ross, said on Monday.

Franklin Graham, Mr. Graham's son, said in an interview that the statement had emerged from his conversation with his father last week. "He said: 'I want to support the Cathy family. What they are doing is right,' " the younger Mr. Graham said. He took his father's sentiment to a group of advisers who prepared a statement, he said.

Franklin Graham would not name the other contributors to the statement and said his father would not speak publicly: "That ain't gonna happen. I can promise you that." His father does not hear well, he added, and he suffers from other pains of age.

Billy Graham has been avowedly apolitical, and bipartisan, for decades. But the symbolism of this fight apparently proved irresistible, whether to him or his handlers.

As it turned out, Mr. Graham ate in.

On Aug. 1, an e-mail from Mr. Ross arrived in early afternoon: "This is just to confirm that evangelist Billy Graham just enjoyed a Chick-fil-A sandwich, waffle fries, sweet tea and a chocolate shake for lunch at home today," Mr. Ross wrote.
I hope Billy enjoyed the shake, if they even gave it to him. I doubt Franklin even bothered telling him why he was drinking it.
Will Billy Graham ever confirm that any of this was his idea or that he even agrees with what is being said and done in his name?
"Ain't gonna happen. I can promise you that."