James McGrath points to Charlie Jane Anders terrifically fun IO9 article "Big Theological Questions That Science Fiction Should Answer."
"Science fiction can say things about the nature of the universe, and the Divine, that plain old theological texts just can't," Anders writes, and then interviews five theologians (including McGrath) about topics they'd "like to see science fiction tackle."
I am neither a theologian nor a science fiction writer, but these are two of my favorite things. Much of my favorite science fiction, in fact, provides an excellent mechanism for exploring the premises and implications of all sorts of theological ideas.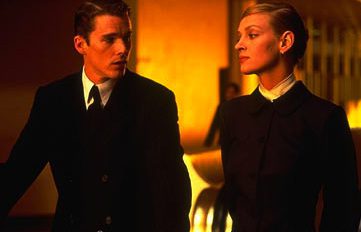 That sort of fiction tends to work like this: Start with our world, this world. Now change one thing. What else would have to change?
When that is done well, I'm hooked.
And that is the approach I would take when addressing theological questions through science fiction.
More specifically, I would like to see science fiction used to explore what it would mean if Calvinism were true. I'm talking predestination. TULIP. The works.
For those unfamiliar with the acronym, TULIP — outlined indelibly by the great George C. Scott here — stands for total depravity, unconditional election, limited atonement, irresistible grace, and perseverance of the saints.
That framework is only sustainable, I think, because our knowledge is incomplete and imperfect. Calvinists know that some few are among the elect, and that Jesus' atonement is not for all/most. But Calvinists have no way of knowing, with certainty, who the elect might be.
If that knowledge were available — if it were obvious and certain — then Calvinism would not last another generation. It would collapse partly due to ethical incoherence and partly due to ethical horror.
For an example of what I mean by ethical incoherence, here again is a quote we discussed recently from Calvinist pastor and blogger Kevin DeYoung. What he's describing here is that idea of "limited atonement," but DeYoung explains that with unvarnished candor:
It's not true to say that God loves everyone. Certainly not in the same way that He loves His children. And this is perhaps the best way to get at the question and why it's striking to us. Does God always work for the joy and the happiness and the good of His children? Yes. Does He want to see all of His children come to believe in faith in Him? Yes. Will God in the end see that all of His children believe in Him, rejoice in Him, belong with Him forever? Yes. Are all people God's children? No.
Some people are God's children and some people are not. Legal equality, justice, the Golden Rule, universal human rights and human dignity are still necessary in this framework, but only because of our incomplete and imperfect knowledge. Better knowledge, more complete knowledge, would allow us to stop treating all people equally because, in this scheme, people are not equal. There would be no reason to treat everyone the same because, according to this doctrine, everyone is not the same.
Some are loved by God, others are not. Some are God's children, others are irredeemably damned. If we knew for certain who was who, then our ethics would be transformed — reshaped to align with the character of God that this scheme suggests. Ethics, in other words, would revert to something more like the ethnic cleansing of Jericho and Ai.
By ethical horror I mean parents and children. Limited atonement is quite limited. The gate to salvation is narrow, but the gate is wide that leads to destruction. Most people, in other words, are not among the elect. And thus most children are not among the elect.
Calvinist parents can cope with the implications of that only because our incomplete knowledge allows room for denial. Complete knowledge would make that impossible. Parents — most parents — would know that the children they are raising are preordained for eternal conscious torment. They would know that the children they love are not loved by God as the children of God.
A majority of the population would come to see — to know — that they possess a greater capacity for love than God does. I don't think any religious system could long survive such horrifying knowledge.
And but so, that is my proposal for theological science fiction. Start with our world, with this world as it is. Now change just two things:
1. Calvinism is true and hegemonic.
2. God's unconditional elect, those predestined for salvation, are unambiguously and physically marked as such, from birth.
What else would have to change if those two things were true? Everything.
I imagine such a world would be strictly stratified according to soteriological status. Only the elect would be citizens. The unmarked would be slaves or outlaws or barbarians outside the gates. But note that this privileged citizenship would not be hereditary.
What stories could we tell given such a world? More than I can count.
Here, briefly, are just a few possibilities:
1. Calvinist Gattaca: An unmarked person devises an undetectable means of counterfeiting the sign of election in order to "pass" as a citizen, knowing all the while that she remains doomed for eternity.
2. Not Without My Daughter: Through evasion, fraud and bribery, a citizen married couple manages to raise their unmarked daughter as one of the elect. She is their daughter and, despite rigorous social mores and strictly enforced laws, they love her too much to send her away to live among the unmarked. But even if they manage to continue to evade the law, how will they ever manage to trick or bribe God into saving their daughter from her inevitable, irresistible damnation?
3. Your basic Romeo & Juliet scenario.
4. The murder mystery: Michael Chabon's The Yiddish Policeman's Union is a terrific example of how to blend world-building with a hard-boiled detective story. What would it mean to investigate crime in a world where, regardless of their actions, most are assured of eternal punishment when they die, while a minority are assured of eternity in Heaven? If you know that you're going to Hell no matter what you do, then damnation can no longer give you pause. And if you know that you're going to Heaven no matter what you do, then why should you fear any earthly punishment? Perhaps the criminal justice system in this world would replace the death penalty with some kind of corporal punishment. (Ultimately, though, I don't think that certainty of either Hell or Heaven would lead to nihilism any more than disbelief in such otherworldly punishments and rewards does. Murder would still be a matter of money, sex or revenge, not of metaphysics.)
5. The Rebel Alliance: A charismatic leader arises among the unmarked, declaring war on the citizens — and war on God.
6. The bodhisattva: A man marked at birth as one of the elect chooses, instead, to live among the unmarked. He says they are not damned — that salvation is not limited. He starts drawing huge crowds. He teaches nonviolence, but is still perceived as a threat by religious and political leaders. You can probably see where this story is going. …
What other stories do you think could be told in such a world? What other theological ideas or questions would you like to see explored through science fiction?