On Thursday night, the Hallmark Channel debuts Help for the Holidays, one of its 12 new made-for-TV Christmas movies (yes, there are only 12, it just seems like more).
This one features Summer Glau as "Santa's elf Christine," who is "sent on a special assignment to Los Angeles to help a family in need of a wake-up call."
Here's a preview, in which Christine helps the patrons of the Maidenhead rediscover the true meaning of Christmas:
(If you haven't seen the video of the stunt rehearsal for that scene, it's pretty impressive.)
I think I'll opt for rewatching Firefly or Serenity or The Sarah Connor Chronicles before taking in Help for the Holidays.
But since it's that time of year — and since talking/arguing about movies is always fun — here are two lists of my Christmas movie recommendations.
The first list is more on the sappy/sentimental side, while the 10 films in the second list may provide a palate-cleansing tonic for all that sugary snow.
Sappy favorites
1. It's a Wonderful Life: "We serve hard drinks in here for men who want to get drunk fast."
2. A Christmas Story: "Be sure to drink your Ovaltine."
3. The Shop Around the Corner: "If you don't like Miss Novak, I can tell you, you won't like that girl."
4. Elf: "There's no singin' in the North Pole!"
5. The Muppet Christmas Carol: "Light the lamp, not the rat."
6. Miracle on 34th Street: "… and a little older than my teeth."
7. Christmas Vacation: "Squirrel!"
8.
We're No Angels
: "Soon as we wash the dishes."
9. The Bishop's Wife: "The stamp would certainly be worth saving."
10. Love, Actually: "Let's get pissed and watch porn."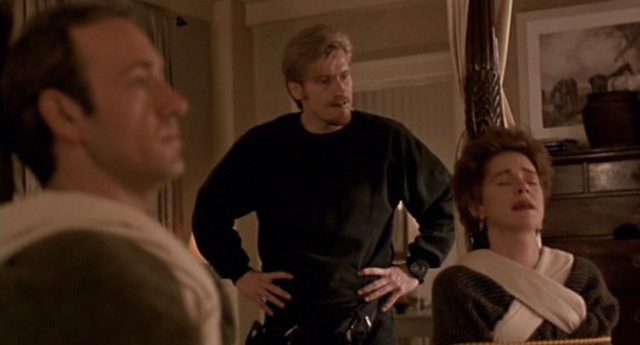 Tonic for holiday sappiness
1. The Ref: "You know what I'm going to get you next Christmas, Mom?"
2. Brazil: "Mistakes? We don't make mistakes."
3. Die Hard: "Rumor has it Arafat buys his there."
4. Gremlins: "Never feed him after midnight."
5. Bad Santa: "[unprintable]"
6. The Nightmare Before Christmas: "That's strange, that's the second toy complaint we've had."
7. The Hudsucker Proxy: "You know … for the kids!"
8. Trading Places: "Feeling good, Louis!"
9. The Long Kiss Goodnight: "I would have been here sooner, but I was thinkin' up that 'ham on rye' line."
10. Kiss Kiss Bang Bang: "OK, everyone who hates Harry raise your hand!"