At Christianity Today's Her.meneutics blog, Michelle Van Loon writes about the "Sexy 'n Spiritual Tees for Jesus" of Heart OMG Wear.
Van Loon has some good things to say about evangelical niche marketing and what she critiques as "Christian fandom." And she asks some earnest, critical questions about this fashion line:
Does this T-shirt trivialize Jesus' message? Has it been manufactured in an ethical manner? Is this a wise use of the money I've been given? It is modest?
But I can't believe that this product line is really intended for an evangelical audience, and I don't think Heart OMG is anywhere near as innocent and earnest as Van Loon.
Yes, that's what the brand's website claims:
At Heart OMG, we believe in sharing our faith & love through fashion while embracing our fun & characteristic lifestyle as well as giving back to the ones in need.

Every single irresistible Heart OMG piece is wonderfully made to complement those playful & fashion forward individuals who celebrate life, and eager [sic] to make their faith & love a true influence in the world.

Combine all that with quality production, and a sincere heart, and then you've got ♥OMG.
But I'm not buying it because … well, because just look:
http://vimeo.com/43309722#
I can't really believe that this fashion line is being produced by, or marketed to, evangelical youths when its promotional video wouldn't be permitted to be shown in any evangelical youth group.
The song there is Ke$ha's "True Love" — expertly chosen as a pop song that's almost indistinguishable from some strains of Jesus-is-my-boyfriend CCM. "I think about you all the time," Ke$ha sings. And the chorus could almost seem like a reference to speaking in tongues or to Romans 8:26.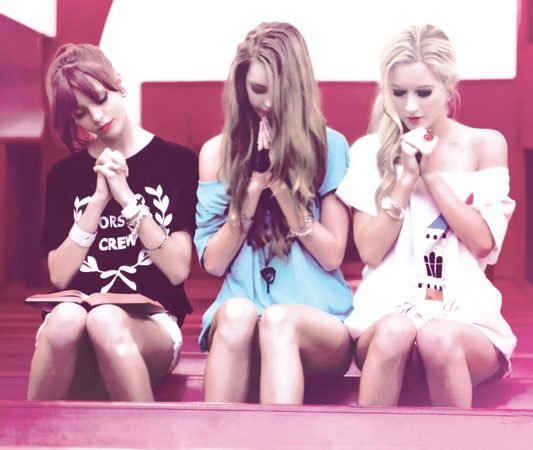 And there are other clues here that this is a put on: There's the sarcasm of some of the "spiritual" business — the pretend-to-be-praying pose, for example, is what people who don't know what praying in church looks like imagine that praying in church looks like.
And there's the fact that this video was shot in a mainline church rather than in the kind of Orange County evangelical mega-church this would trace back to if it were for real. Also, the attempts at evangelicalese don't quite get the accent right. I'm not even sure if the "Love*Togo" ministry that OMG says it's "donating 10 percent of all proceeds to" really exists.
But the biggest clue — besides the photos and the video — are the job postings at OMG's site. All of them seek people with social media and viral marketing skills but none of them mentions Jesus. If this were really an evangelical company, those listings would mention that ideal applicants should be "on fire for Jesus" or eager to use "their God-given creativity to share their faith through fashion."
Those listings instead say that applicants should have "experience increasing brand awareness & followers on social media platforms." If that sounds to you like they're cynically co-opting evangelical lingo to create buzz for their "fashion" line, you're probably right.
It's a pose, and a poe. A fairly well-executed one, but still.
It's probably an effective attention-grabbing gimmick for OMG, at least in the short term. They got Christianity Today to call them "sexy," after all — even if Van Loon's piece was too reasonable to provide the buzz-generating hype of the angrier denunciation the OMG folks were aiming for.
It's always kind of a relief to see something like this, realize that it's too over-the-top to really be an evangelical marketing scheme — and then to realize that means that it's still possible to be more over-the-top than evangelical marketing.
The "Christian fandom" Van Loon laments is pretty bad. But at least OMG's poe-tastic marketing campaign reminds us that it could be even worse.