1. The not-so-honorable Samuel Alito can't seem to hear women speak without rolling his eyes and conveying that he finds their presence unbearable. But are his court decisions as contemptuous as his lack of manners? Yes, yes they are.
2. The IRS "scandal" was not a scandal:
Americans have been told repeatedly that conservative groups had been singled out for unfair scrutiny and we now know that isn't true.

There was no effort to penalize White House critics; there was no partisan or ideological vendetta; there was no conspiracy involving President Obama or his campaign team.

There's just nothing left. Since this "scandal" erupted in early May, the right has raised a series of allegations, and … each of them [has] been discredited.
Groups promoting partisan politics and electioneering ought not to be given tax-exempt status that is, by law, reserved only for social welfare groups that do not promote partisan politics and electioneering. So if you name your wanna-be nonprofit "Progressive Reformers for a Blue America" or "Tea Party Patriots for a Conservative Majority," it turns out the IRS will look to see if you're really the non-partisan, non-political social welfare agency you're claiming to be or if you're just lying for money and committing tax fraud.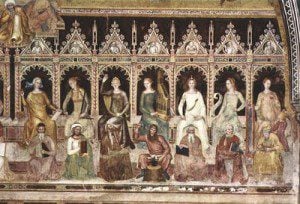 Making sure that people do not create fraudulent entities to steal from the public is part of the IRS' job, not a "scandal."
Jeebus, that whole circus was dumb.
3. A generation ago, white evangelicals were teetotalers. It was a vital, non-negotiable tribal signifier for the subculture. But not anymore. As Jonathan Fitzgerald notes, "a change has occurred and evangelicals have adopted drinking into their docket of acceptable practices — joining rock and roll and two-piece bathing suits — across denominations."
He's trying to figure out why — and he's soliciting ideas, memories, testimonies, etc. My guess: The creation of new political signifiers (abortion, anti-gay rights) has made the cultural signifiers of earlier generations redundant. White evangelicals started drinking shortly after they embraced abortion politics. (And again, that happened very recently and it involved changing the actual words in their Bibles to accommodate the new view.)
But then there's Terry Taylor's theory — white evangelicals haven't started drinking, they've just stopped hiding the beer.
4. With Google Reader in its final days, I've finally moved to my first attempt at an alternative. Feedly, when it works, seems to do almost as much as Reader used to before Google began phasing it out. But that "when it works" there is a big caveat, as Feedly seems really glitchy when switching platforms (laptop, desktop, Kindle). Having stories I've already read reappearing as unread is annoying. Having stories I've "saved for later" disappear is more serious and makes me think I need to keep looking for something more reliable — particularly since Feedly doesn't have a search function to make hunting for the stories it failed to save easier.
5. Rabbi Rachel Barenblatt discusses one of my favorite Bible stories: "What we can learn from the daughters of Zelophechad." This seems to be one of the Bible's favorite stories, too, since it's included three times (in Numbers 27, Numbers 36 and Joshua 17). Zelophechad died with no male heirs, and the law, which was God's law at the time, said that only sons could inherit his property. So his five daughters — Mahlah, Noah, Hoglah, Milcah and Tirzah — take Moses to court. Moses appeals their case directly to God, and God rules in their favor. More than that, God changes God's laws from that time forward. This is a thing that can happen. The Bible says so.
6. Here's another lovely piece of writing involving "Leaning on the Everlasting Arms." And here's another performance of the song — this one from the Stanley Brothers in 1962.
7. "She was fun." Stephen Colbert's mother passed away last week. If you haven't yet seen his tribute to her at the start of his first show back, watch it now. (Have tissues ready.)