In a recent "Smart people saying smart things" post, I quoted from Letha Dawson Scanzoni's recent Christian Feminism Today piece "There Is More Than One Christian View on Homosexuality." That post is taken from a 2005 talk Scanzoni gave at a "Faith Beyond Boundaries" interfaith conference. I suppose describing it as a sermon might make it even less appealing than describing it as an address from an interfaith conference, but really that's what it is — a sermon (a good one) on Micah 6:8.
When I was a kid, riding to church (twice on Sundays and on Wednesday nights) we'd usually get stuck at the light on West Seventh Street and from the back seat of the car I'd read the words from that verse carved on the wall of the synagogue there:
DO JVSTICE · LOVE MERCY
WALK HVMBLY WITH THY GOD
The full verse is just as good: "He has told you, O mortal, what is good; and what does the Lord require of you but to do justice, and to love kindness, and to walk humbly with your God?"
I love the blunt simplicity of that. This isn't complicated, Micah is saying, here's the whole deal in a nutshell. Boom — that's it. The rest is just details. More can be said, but no more needs to be said. You could preach on that for a year and still not be done with it, but if you preach for a year and never arrive there then you've probably been wasting your breath.
This is good stuff, is what I'm saying. The best stuff.
Yet I fear that when Letha Dawson Scanzoni invokes this passage in direct response to a specific challenge, the person making that challenge still won't be satisfied. It's a far better answer than what he expected, but because it's not shaped like the answer he expects to hear, I doubt he'll be able to hear it.
Here's her description of the challenge she was presented:
People for the most part appear to subscribe to a proof-text approach. Thus, after a favorable review of the book I wrote with Dave Myers appeared on an Internet blog, one reader entered this comment in response to that review:

"Please, if you could, give me a verse or passage in the Bible that plainly casts homosexuality in a positive light. Just give me one. Because, when Leviticus calls homosexuality an "abomination" I have a hard time seeing the pro-homosexuality biblical argument. If one wants to make a secular argument, fine, go right ahead. But when you try to establish a "Christian" case for being in favor of homosexuality you've left the realm of Christianity entirely.

"However, if you can, please cite me a passage that displays Yahweh's affection for homosexuality. It should be fairly simple if it's there."

Referring to the subtitle of our book, he went on to say "there is no 'Christian case'" and had some harsh words to say about those of us who think otherwise. Nevertheless, today I am going to take him up on his challenge. I am going to suggest that "one verse" that I think we people of faith can use in applying our faith to this topic.
The "one verse" she cites is Micah 6:8, and she goes on to build a convincing case as to why this one verse, even all by itself, compels her to advocate for the full equality of LGBT people (read the whole thing).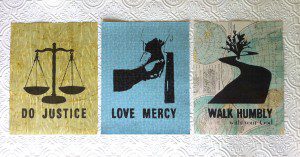 But the problem, in her inquisitor's eyes, is that this passage is not itself a clobber-text. He reads the Bible like a child playing the old card game of "War." He puts down his card — a clobber-text from Leviticus. And now it's her turn to play her card. If she doesn't have a corresponding clobber-text that trumps his, then he wins.
The idea that maybe the Bible is more than a collection of clobber-texts is beyond his imagination. The idea that a text could be anything other than a clobber-text is not a possibility that he can accommodate. Scanzoni's argument, like Micah's, is about cutting through distracting side issues to get to the core of what matters most: What does the Lord require?
But "what does the Lord require?" was not the inquisitor's question. His question was "Do you have an anti-clobber text that overrules my clobber-text?" Like the prophet Micah, I think that's a dumb question. It's the wrong question — a question as irrelevant to everything as any possible answer to it would be. It's a question that can only serve to distract us and to help us hide from ourselves the question that does matter — the question that the prophet asks and answers in Micah 6:8.
"But that verse isn't about homosexuality!" the inquisitor protests.
Really? So there are certain subjects or realms or "issues" for which justice, mercy and humility do not apply?
I used to run into this weird objection when I spoke in churches or at conferences representing the Evangelical Environmental Network. My standard talk for the EEN was based on Galatians 5:22-23:
The fruit of the Spirit is love, joy, peace, patience, kindness, generosity, faithfulness, gentleness, and self-control. There is no law against such things.
Every once in a while someone would complain that this passage isn't about the environment. That's narrowly true, I suppose. St. Paul did not say, "Don't dump mercury in the river because poisoning your neighbors doesn't demonstrate love, joy, peace, etc." But surely this passage is obviously relevant to matters like mercury pollution, or to climate change, conservation, recycling, waste, etc.
It took me a while to realize what this complaint really meant. They were disappointed that I hadn't recited an environmentalist clobber-text. Without a specific clobber-text on the specific topic in question, it seemed, they were unable to regard anything in the Bible as meaningful.
If forced to do so, I can recite a host of "environmental" clobber-texts, but while those might help these folks to win a hand or two in their games of Bible War, that won't address the larger, deeper problem, which is that they remain unable to think of the Bible as anything more than an anthology of discrete, unrelated clobber-texts addressing various subjects.
And as long as that is how they read the Bible, they will never be able to ask Micah's question. And they will never be able to hear Micah's answer.