1. A Christian ministry and a humanist ministry were both prevented from feeding the homeless by police in Raleigh, North Carolina. Stopping charitable groups from helping the hungry is neither serving nor protecting, but there apparently is a statute on the books outlawing food distribution without a pricey permit, and the Raleigh police are newly determined to enforce this stupid law. "You pass out that food, you will go to jail," an officer told the Rev. Hugh Hollowell of Love Wins Ministries.
This is exactly the sort of thing civil disobedience is for. This is where it works and where it is needed. A well-planned, trained- and prepared-for violation of this law could be effective. It could also be a chance for Love Wins and Human Beans Together to demonstrate what Uncle Frank meant when he said, "We must meet one another doing good. … Do good: we will meet one another there."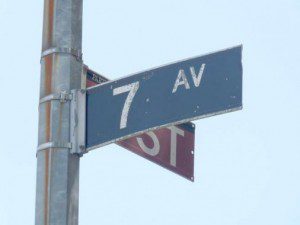 2. "What do you do when you find out the theologian you respected is kind of slimy?" Carol Howard Merritt asks. Her post is thoughtful and funny, and let me just add that the doozy of an example of slimy wrong-headedness she mentions regarding St. Augustine comes, in part, from his confusing the imago dei part of the first creation story with the Adam and Eve part of the second. In a bit of providential/serendipitous timing, Morgan Guyton looks at the legacy of John Howard Yoder and finds some of the sliminess entwined in the theology.
3. Sarah Pulliam Bailey looks at a scheduled seminar for the Family Research Council's next "Values Voter Summit" in which fundie financier Art Ally will warn Real, True Christians of what he says are Satan's three biggest threats to godandamerica: Communism, Islam and the Emergent Church. Tony Jones and Brian McLaren both have some fun responding to this odd elevation of Emergent Christianity as one of the Big Three threats for the religious right. But while this is surprising news for those Emergent folks, it probably seems even more surprising for gay-rights supporters, feminists, atheists, Pagans, advocates of church-state separation, evolutionists and climate scientists.
4. Here's an updated timeline on the utter lack of Satanic pony-killers in Dartmoor, England. August 21: Devon & Cornwall police announce that the pony died of natural causes and was not a victim of Satanic ritual mutilation. August 23: Benjamin Radford highlights the announcement in a Live Science post. August 26: I wrote about it here. August 28: The Sun publishes this headline, "Are mutilated corpses of Dartmoor's animals the work of Satanists?"
The article begins, "For years, Dartmoor has been dogged by macabre tales of animal slayings and rumours of Satanic rituals. Now villagers in sleepy Bridford, nestled in the beautiful Teign Valley, are convinced they have become the latest target of devil …" The rest is behind a paywall. I suppose the article may go on to debunk this panic by pointing to the actual fact that no Satanic conspiracy is at work in either Dartmoor or Bridford, but that will need to be some aggressive debunking if it has any hope of atoning for that awful, misleading and sensationalist headline.
5. Some guy has posted another list of "25 More Christian Blogs You Should Be Reading (Editor's Picks)." It's another pretty good list, but he leaves out Christian Piatt's blog. What does this guy have against Christian Piatt? If you're looking for more bloggy goodness and more suggestions, here's a list of the 105 Best Blogs by LGBT Christians.
6. "I'm tired of single mothers being used as the poster child for the welfare state," said Steve Lonegan, the Republican candidate for the U.S. Senate in New Jersey. That was in response to a question on a cable news panel. Lonegan later clarified: "The guy hit that funny bone of mine with his single mom s—. I hate that s—." He says "funny bone." Victor Hugo calls it "intoxication, a giddiness of prosperity which dulls, a fear of suffering which, in some, goes as far as an aversion for the suffering, an implacable satisfaction, the I so swollen that it bars the soul." You know, all that "single mom s—."
7. 350.org proposes a new, fairer, and more appropriate system for naming hurricanes:
http://www.youtube.com/watch?v=efAUCG9oTb8