1. Hey, remember that Japanese nuclear plant that was leaking radiation after the earthquake and tsunami back in 2011? That was big news, but then other stuff happened and, well, it was all fixed or something, right? Not so much: "Fukushima radiation levels '18 times higher' than thought," the BBC reports.
2. Katie Mulligan of Inside-Outed posts the sermon she preached on Sunday. Perhaps "sermon" doesn't sound enticing to you, but it's really good — with Martin Luther King Jr. and Wendell Berry and one of my favorite Jesus stories. I'm linking to it because it's quite good, and because it's an excuse to share the quote from James Baldwin she uses at the beginning: "I would like us to do something unprecedented: to create ourselves without finding it necessary to create an enemy."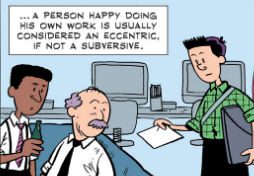 3. AZSpot points us to this 1989 speech by Bill Watterson on "The Cheapening of the Comics." Watterson, creator of Calvin and Hobbes, foresees the shrinking future of the newspaper biz and, even before the rise of the Web, presciently points out that comics are one thing newspapers have that TV and other competing mediums couldn't imitate. But instead of exploiting this advantage, newspapers were cutting and squeezing their comics sections to cut costs.
In the years since then, this same squandering of advantage has slowly been destroying everything else that newspapers used to be good at. Yes, the rise of cable TV and the Web were a challenge to the newspaper business. But it is not dying because of cable TV and the Web. It is dying because it is run by money-grubbing idiots who don't know or care what it used to be good for.
Speaking of Bill Watterson, Gavin Aun Than's illustration of Watterson's advice to college graduates is good and beautiful and true.
4. Don't miss this one-two punch from Christena Cleveland: "Everything I Know About Racism I Learned in the Church" and "Everything I Know About Reconciliation I Learned in the Church."
5.
The
Cleveland chapter of the National Right to Life Committee
has been "disaffiliated" by the national organization for saying it will oppose Ohio Sen. Rob Portman due to his support for marriage equality.
It's an interesting dispute over the connection between these two conservative culture-warrior agenda items. What's the link between being anti-abortion and being anti-gay? Is it intersectional and wholistic? Or is it a matter of knee-jerk partisanship?
6. Here's ASAP Science's brief, cheerful explainer on "The Poop Cycle." This is one reason I have more respect for "off-the-grid" libertarian types than I do for people who enjoy Big Civilization while rejecting the "big" government that makes it possible.
7. Robin Parry writes about "The Dangers of Apologetics" — or, really, about the problems with "apologetics" in concept and in practice, which render it useless for anything except an elaborate way of jamming one's fingers in one's ears and shouting "LalalalaLA!" to drown out the shouts of one's own doubts. Most of what passes for Christian "apologetics" these days, in other words, is a way of creating ourselves by creating an enemy.
Parry's conclusion is dead on: "The key apologetic for Christianity … is love." And that highlights the other main function of the "Christian apologetics" cottage industry: Distracting ourselves from the obligation to love.
Here's the first of his five points, for a taste, but go read the rest:
First, there is a danger of deciding the questions we feel people ought to be asking rather than looking at those they are asking. For instance, one student mission I was involved with was based around a set of evangelistic meetings that focused on issues such as, "Did Jesus rise from the dead?" and "Are the Gospels reliable?" Now these are important questions that require sensible answers but they were not burning issues for most of the students.

The opposite side of this coin is avoiding the questions that people actually are asking about the faith (e.g., why do you treat gay people badly? Why has Christianity inspired so much violence in its history?), perhaps because they are harder to answer in such a way that Christians come out looking good.