So, then, media tycoon, televangelist and fabulously successful grifter Paul Crouch is dead.
Adelle M. Banks provides the straight-news story for Religion News Service, "Prosperity gospel televangelist Paul Crouch dead at 79":
Paul Crouch, the religious broadcaster who co-founded Trinity Broadcasting Network and was known for his prosperity gospel messages and lavish lifestyle, died Saturday (Nov. 30). He was 79.

… Crouch and his wife, Jan, started the network in a rented facility in Santa Ana, Calif., in 1973. Now based in Costa Mesa, it grew to include a "family of networks" and became the largest and most-watched Christian broadcast company in the country.
Your basic rags-to-riches story, then, leading to your basic Behind the Music-style tales of debauchery:
When Jim Bakker and another 1980s televangelist, Jimmy Swaggart, both were felled by scandals, Crouch was able to reap the benefits of their losses.

Like them, Crouch also shared in controversy. In 2004, the network denied allegations of his involvement in a homosexual encounter after the Los Angeles Times reported that he reached a $425,000 settlement with a man who made the claims. Three years later, the ministry defended itself after ABC News' 20/20 reported on luxurious living by the Crouches, including private jets and mansions.

Most recently, Crouch's ministry has been embroiled in litigation since his granddaughter and former chief financial officer, Brittany Koper, was fired in 2011 after questioning its high-cost personal expenditures. The Times said they included the purchase of a $100,000 motor home for Jan Crouch's dogs.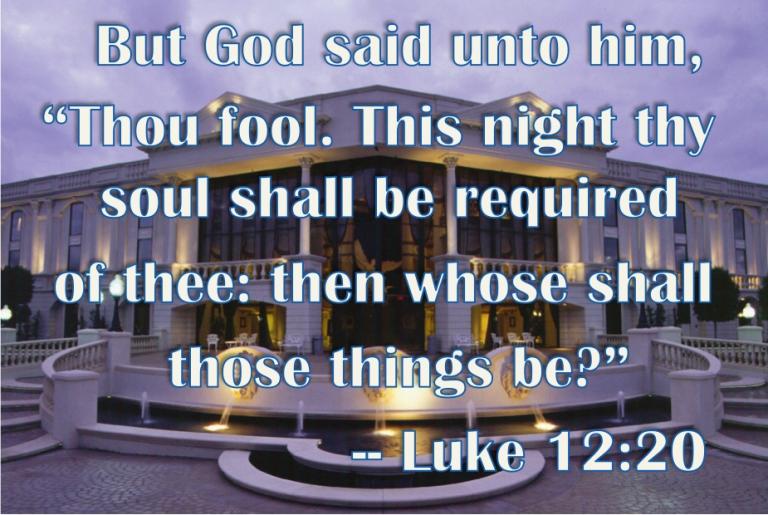 Crouch built TBN into a money-making machine, leasing out time on an international network of networks, including "84 satellite channels and over 18,000 television and cable affiliates around the world." Those other televangelists you see on TV? Most of them are leasing that airtime and paying TBN for the privilege.
But that's just the legitimate side of Crouch's business model. The far bigger share of TBN's revenue comes from viewer donations, as William Lobdell reported for the Los Angeles Times back in 2004:
Much as Ted Turner did for TV news, the Crouches have created a global infrastructure for religious broadcasting. But that is just one element in their success. Another is a doctrine called the "prosperity gospel," which promises worshipers that God will shower them with material blessings if they sacrifice to spread His word.

This theme — that viewers will be rewarded, even enriched, for donating — pervades TBN programming.

"When you give to God," Crouch said during a typical appeal for funds, "you're simply loaning to the Lord and He gives it right on back."

Though it carries no advertising, the network generates more than $170 million a year in revenue, tax filings show. Viewer contributions account for two-thirds of that money.

Lower-income, rural Americans in the South are among TBN's most faithful donors. The network says that 70 percent of its contributions are in amounts less than $50.

Those small gifts underwrite a lifestyle that most of the ministry's supporters can only dream about.

Paul, 70, collects a $403,700 salary as TBN's chairman and president. Jan, 67, is paid $361,000 as vice president and director of programming. Those are the highest salaries paid by any of the 12 major religious nonprofits whose finances are tracked by the Chronicle of Philanthropy.

TBN's "prayer partners" pay for a variety of perquisites as well.

The Crouches travel the world in a $7.2-million, 19-seat Canadair Turbojet owned by TBN. They drive luxury cars. They have charged expensive dinners and furniture to TBN credit cards.

Thirty ministry-owned homes are at their disposal — including a pair of Newport Beach mansions, a mountain retreat near Lake Arrowhead and a ranch in Texas.

… Overseeing these expenditures is a board of directors that consists of Paul Crouch, Jan Crouch and Paul's 74-year-old sister, Ruth Brown. Control resides primarily with Paul.
Predatory, corrupt and decadent, yes, but the details get even more baroque:
[Jan] and Paul project the image of a happily married couple. But off the air, they lead separate lives and rarely stay under the same roof, according to former TBN employees and others who have spent time with the couple.

The Crouches also present themselves as thrifty and budget-conscious. During one telethon, Paul said his personal $50,000 donation to TBN had wiped out the family checking account. He often says that he and his wife live in the same Newport Beach tract house they bought 33 years ago for $38,500.

But nowadays, neither of the Crouches uses that home much. Whether in Southern California or on the road, they live in a variety of other TBN-owned homes. In all, the network owns 30 residences in California, Texas, Tennessee and Ohio — all paid for in cash, property records show.

These include two Newport Beach mansions in a gated community overlooking the Pacific. One of them was recently on the market for an asking price of $8 million. A real estate advertisement said it featured "11,000 square feet of opulent European luxury with regulation tennis courts and a rambling terraced hillside orchard with view of the blue Pacific."

In Costa Mesa, the ministry owns 11 homes in a gated development adjacent to Trinity Christian City International.

In Sky Forest, a resort community in the San Bernardino National Forest, the network owns a four-bedroom, five-bath home.

TBN officials say the real estate purchases were consistent with the network's charitable mission, because the homes serve as venues for broadcasts and provide lodging for the Crouches and fellow televangelists as they travel across the country.
These 30 residences are "charitable" only in the sense that they were paid by TBN — which is, of course, a tax-deductible "charity" organization. Oh, and TBN has tried — not always successfully — to have many of them designated as "parsonages" because cha-ching!
It's hard to know what's more shocking — the vast amount of money the Crouches spent on luxury items, or the chutzpah of their explanations for those indulgent purchases:
Credit card receipts show that in December 1994, TBN bought about 40 items from Cool Springs Antiques in Brentwood, Tenn., including a three-piece wine cabinet for $10,000, a $2,800 candelabrum, a $350 birdbath and a seven-piece bedroom suite that cost $3,995.

At Harris Antiques and Imports in Forth Worth, Texas, TBN spent $32,851 in a single day in 1995. The purchases included two French chests for about $1,900 each, a $1,650 brass planter and a $1,095 bronze urn.

TBN officials said the items were reproductions, not antiques, and were used to furnish studio sets and network-owned houses. They said [a] tanning bed was used to darken the skin of 25 actors cast in TBN stage productions set in Biblical times.
Paul Crouch was a grifter. And he took pleasure in being good at it:
Credit card receipts also offer a glimpse of the Crouches' dining habits. In Nashville in the mid-1990s, Paul Crouch hosted dinners with TBN employees in a private room of Mario's, an upscale Italian restaurant, spending $180 or more per person for parties of up to a dozen, the receipts show.

A former top TBN official described heavy consumption of wine and liquor at a dozen such dinners. The ex-official spoke on condition of anonymity, citing a fear of retaliation.

… In separate interviews, [former TBN employee] Whitmore, the former TBN official and a third person who traveled and socialized with ministry leaders said that at the end of a dinner, Paul Crouch would sometimes hold up a TBN credit card and say: "Thank you, little partners!"
Wonder why a former TBN official would still express a "fear of retaliation"? Because Paul Crouch was a viciously litigious man. Consider the story of Sylvia Fleener, who won an out-of-court settlement after the Crouches swiped the plot of her book The Omega Syndrome for their movie The Omega Code. (I saw that movie — Michael York should've sued his agent.) Years later, after she sold her house, the new owners sued her for misrepresentation:
John Casoria, TBN's in-house attorney, served Fleener the papers for this lawsuit in Nashville, Tennessee. A check reveals that TBN paid for the filing of the lawsuit.
That tidbit, remarkably, is from an article on the right-wing Christian Post. Even stranger, that Post article was prompted by Terry Firma's post at The Friendly Atheist, "Televangelist Paul Crouch Leaves a Dirty Legacy; Evangelical Christians Look the Other Way." And here's the really surprising part — the Post's Barry Bowen mostly agrees with Terry Firma.
Sensitivity is appropriate because family and friends are in mourning. Last year Brittany Crouch Koper, the former chief financial officer for TBN, revealed … that she cared deeply for her grandfather Paul Sr.

I pray that Brittany and her family will be comforted by the Holy Spirit during their time of mourning.

But what about TBN's critics and victims? How should they respond?
No sense trying to deny that Paul Crouch has left behind many "victims."
That long list of victims would include Brittany Koper. And her sister.
(Trigger warning: The following involves a discussion of rape and the intimidation of a young rape victim.)
Koper may have cared deeply for her grandfather, but that didn't stop her from a whistle-blowing lawsuit against TBN where she accused him of "company-paid luxuries that she said appeared to violate the Internal Revenue Service's ban on 'excess compensation' by nonprofit organizations as well as possibly state and federal laws on false bookkeeping and self-dealing." Paul Crouch responded by treating his granddaughter just like any other whistleblower: He counter-sued, accusing her of embezzlement and generally threatening to use his deep pockets to keep her in court until she was too broke to continue.
That's from Sarah Posner's fine tramping down of the dirt, in which she also reminds us of this:
Koper's sister, Carra Crouch, also sued the network, claiming her family covered up her rape by a TBN employee when she was 13 years old.
The details there are also even worse, as Teri Sforza reported last year for The Orange County Register:
A granddaughter of Trinity Broadcasting Network founders Jan and Paul Crouch filed a lawsuit Monday alleging that she was plied with alcohol and raped by a TBN employee when she was just 13 — and that her family covered up the incident, rather than report it to authorities, to protect TBN's reputation.

Carra Crouch, now 19, was distraught after the 2006 assault by a 30-year-old man, and told her grandmother what had happened. "Jan (Crouch) became furious and began screaming at Ms. Crouch, a 13-year-old girl, and began telling her 'it is your fault,'" according to the suit.

Carra Crouch then told John Casoria, TBN's in-house counsel and her second cousin; he became agitated and told her that he didn't believe her, it says. "He elaborated by stating he further believed she was already sexually active 'so it did not really matter' and he 'believed she may have propositioned him,' " the suit alleges.

"Ms. Crouch, a 13-year-old girl, had not been sexually active and was absolutely devastated about what happened and about how John and Jan responded to her."
So, then, like I said, Paul Crouch is dead.
"When it goes well with the righteous, the city rejoices; and when the wicked perish, there is jubilation." Proverbs 11:10