"Another world is not only possible, she's on the way and, on a quiet day, if you listen very carefully you can hear her breathe." — Arundhati Roy
1. "U.S. Prison Admissions are at a Two-Decade Low"
2. "Five Women Human Rights Activists who are Changing the Middle East" — "Despite setbacks in the wake of the 'Arab Spring,' the region's female activists gained strength following the uprisings and have no plans to stop fighting for better and fairer societies."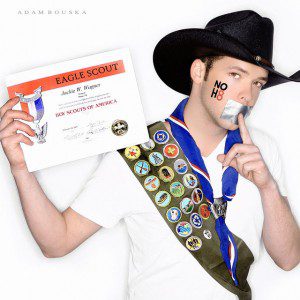 3. "It's now officially OK to be gay in the Boy Scouts"
4. "The proportion of privately insured U.S. women who paid $0 out of pocket for oral contraceptive pills increased sharply, from 15 percent to 40 percent, after the Affordable Care Act's (ACA) contraceptive coverage guarantee went into wide effect."
5. "These guys just revolutionized the humble cardboard box." — "It uses 15 to 20 percent less cardboard than the boxes currently in vogue (which, on net, adds up to a lot of cardboard) and is entirely reversible — so it's easy to reuse. Also, you don't need tape to close it or scissors to open it." Good news for the environment. Sad news for cats of all sizes.
6.
More than 1.4 million Americans got a raise this month
thanks to an increase in the minimum wage in 13 states.
7. "Stories like Jamison's are incredibly heartening, and a sign that even in some of America's more ossified religious environments, change is more than possible — it is occurring."
8. Utah has reduced chronic homelessness by 74 percent through the no-duh approach of providing no-strings-attached housing for the chronically homeless. "In 2005, Utah did a study that found the average annual cost for emergency services and jail time for each chronically homeless person was $16,670. The cost to house them and provide case management services was only $11,000 per person." Utah is also taking aim at payday lenders.
9. Slovakia has granted asylum to three political prisoners, allowing them to be freed after more than 1o years of detention in a lawless gulag.
10. "13 major clean energy breakthroughs of 2013" (That's right — this list of Good Things ends with a link to another list of Good Things. It's like using your third wish to wish for more wishes.)