By way of introduction, a little Lyle Lovett:
I'm not from Texas, but I've wound up accidentally following Harris County politics more closely than I would have ever expected because Charles Kuffner covers it so well at Off the Kuff. I used to work for a Gannett newspaper in Delaware — the biggest paper in the state — and it didn't cover local elections as thoroughly as Kuffner covers Houston politics on his blog. His regular Texas blog round-up is also a terrific weekly round-up of news and opinion from all over his state.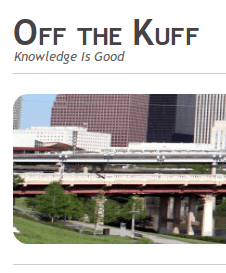 But that's right, you're not from Texas.
That's OK, you'll still want to check out Off the Kuff because Texas tends to have such a surplus of politics that they export it to the other 49 states. Think public school textbook standards. Or Rick Perry. Or Louie Gohmert. Or Wendy Davis.
But you'll also want to check it out because Off the Kuff isn't only about Texas and Lone Star politics. There's also discussion of national issues, and music (Kuffner has a knack for digging up surprising cover versions) and my favorite feature, the "Weekend link dump" — which is exactly what it sounds like. Here's the link dump from last weekend, and here's the one from the previous week.
Off the Kuff is a well-oiled machine. Four posts every morning — five when there's a round-up or a link dump. For a look at the man behind the machine, here's a short profile from Texas Monthly, and another from a local Houston paper. I can't argue with the Monthly's assessment:
Unlike many digital diatribers, Kuff (who toils by day as a BlackBerry administrator for a large energy company) plays it straight, delivering Houston news and commentary on everything from city council races to the lowly Astros in the same measured, reasoned, only occasionally outraged voice. He's a fun read and a smart read and, increasingly, a gotta-read.
Even for some of us who aren't from Texas.