Glen Stassen died last week at the age of 78. Stassen was a Baptist theologian and ethicist, and he was one of the good guys. The world would be a much better place if it were more aligned with the ethics Stassen taught — something you can't say about everyone in his profession. And for Stassen, ethics weren't just an abstraction or a set of intellectual theories, but a part of who he was and how he lived — something else you can't always say about professional ethicists.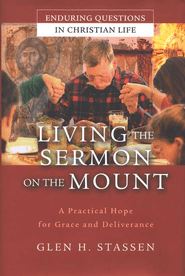 I've sometimes joked that Christian ethics is the 2,000-year quest to find loopholes in the Sermon on the Mount. The impressive thing about Glen Stassen was that he took those words of Jesus seriously, making them the foundation of his work rather than an impractical, inconvenient distraction that could or should be explained away.
I met Dr. Stassen only briefly, years ago when he was a faculty mentor in something called the Crossroads program. He took mentoring seriously. That's mainly how I know of him — through the influence he had on some of the many people he mentored throughout his career. The man made a big impression on an impressive bunch of people.
Mark Baker-Wright has posted a nice remembrance of Stassen here. Here's another from h00die_R at Political Jesus. J.R. Daniel Kirk remembers his Fuller Seminary colleague as "a tireless champion of the idea that the way of Jesus is the way of peace."
Stassen's former student-turned-colleague,
Dave Gushee, has written a fine tribute for Baptist Press
:
Glen Stassen was a devout Christian. He loved Jesus; he loved the way of Jesus; he loved attracting people to follow Jesus, live in his way, and seek his kingdom. He was a man of prayer and piety, never showy, always real. …

Probably he will be best remembered for developing and then advancing just peacemaking, a Christian approach to preventing war that transformed the old conversation between just war theorists and pacifists and will mark a permanent contribution to human thinking and action to prevent the scourge of war. …

Glen was an activist. His earliest activism was in civil rights. He was at the March on Washington in 1963. He did civil rights work everywhere he went in the 1960s and 1970s. But most who knew him later will remember him as a peace activist, especially against the threat of nuclear annihilation. This was one of my very first intersections with him. Trained in nuclear physics, Glen knew exactly what destructive power humans had unleashed. Glen became a leading activist against nuclear weapons during the Cold War and helped the global, not just Christian, anti-nuclear movement refine its theory, message, and strategy.
"Blessed are the peacemakers, for they will be called children of God."