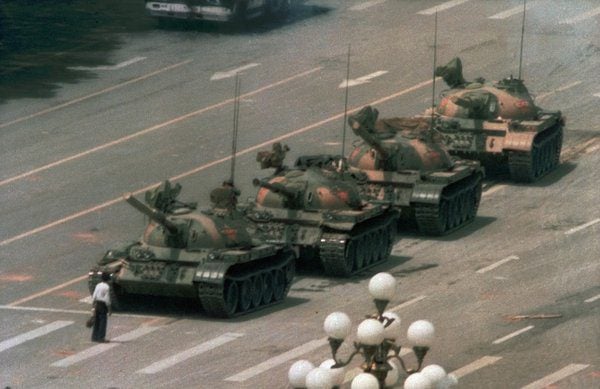 Liao Yiwu, "The Tanks and the People"
On the night of June 4, there were almost a million unarmed "violent criminals" trying to stop the army. At first, tanks and armored vehicles broke through the barriers. And then they opened fire, and everybody was screaming. Every shot drew blood; people were mowed down like weeds. One "violent criminal" who was jailed for nearly twenty years told me:

People in the West only know Tank Man because he stood all alone on a big road and stopped the tanks. It was a long column, spouting smoke, like so many farting bugs! Left and right they tried to detour around him, but he stopped them again. You are made of steel, I am flesh and blood, come on down, shithead! This scene has entered history, because there happened to be foreign reporters shooting it. I heard even old President Bush in America cried when he saw the footage. That night, there were countless people like the tank man, Wang Weilin, but there is no footage of them.

Tank Man was not one of the student leaders, he was no intellectual, nobody had ever heard of him. He left behind this short scene, an indelible historical icon, and then some people led him away by the arm. No one knows what became of him. More than 100,000 Chinese people went into exile after June 4. "Operation Yellowbird" in Hong Kong went on for years, helping people escape. But none of their lists included Wang Weilin. Even the people in my book who were given heavy prison sentences — none of them ever heard about Tank Man in their jails and prison camps.

My father died in the fall of 2002. At the last hour, he couldn't speak any more, but he would fix his eyes on me, his son, the political prisoner. The police had searched me and taken me away in front of him many times. He died worried about me. Maybe in his last moments, when he couldn't speak anymore, he still wanted to tell me not to provoke the Communist Party. Tank Man vanished into thin air — another proof my father was right.

Twenty-five years have gone by, we have all grown old. But Tank Man in these pictures is still so young. From far away, his white shirt looks like a lily in summer, pure and unblemished. Tanks stopping in front of a lily. A historical moment, a poetic moment. And on the other side of that moment, maybe three thousand lives were taken away, to be forgotten.
Remember. When the powers and the principalities demand that we forget, remembering becomes a political act, a revolutionary act. This is true in China. This is true in America. Remember, remember, remember.