• The Naked Football Club is a team of Brazilian prostitutes who played a match Saturday in Belo Horizonte, a city that is also host to the World Cup. The match, played against a local university club, was an effort to raise awareness about sex-workers' rights. "Rights must be the same for everyone," player Patricia Bonges said.
"The match was organized by the Prostitutes' Association of Minas Gerais," AFP reports, which represents the region's 80,000 sex workers, fighting for their rights, providing tutoring, and seeking government support for older and retired workers.
The NFC (which didn't actually play naked) didn't quite have enough players to fill out their roster, so they were joined, as teammates, by a group of Americans — evangelical Christians who were visiting Brazil on a mission trip.
I would very much like to visit their church. They seem to know something about Jesus there.
• The problem with Ayn Rand wasn't just that her gospel of self-centered selfishness was, you know, evil, but that such a perspective also requires a disdain for reality. Other people are part of reality, after all. And when you choose to turn up your nose at reality/other people, then it no longer matters where you may have started out, IQ-wise, the inevitable result is that you'll wind up kind of stupid. You'll wind up saying and thinking and believing lots of stupid things, i.e., things that do not correspond to and that cannot account for reality.
You might still be able to secure a teaching gig, funded by other Randian disciples, but your embrace of unreality will still prevent you from publishing anything worth reading.
Which brings us to Randolph Macon University professor David Brat, who just won a Republican primary ousting House Majority Leader Eric Cantor. This has had, for Brat, the unfortunate side effect of drawing reality-based attention to his magnum opus, a tract titled, "God and Advanced Mammon — Can Theological Types Handle Usury and Capitalism?" Elizabeth Stoker reads it so we don't have to.
Please do read Stoker's full assessment of Brat's argument. She is, to say the least, unimpressed.
• Dianna E. Anderson celebrates the success of #TakeDownThatPost. "Women did this," she writes. They did indeed. And they're not done yet.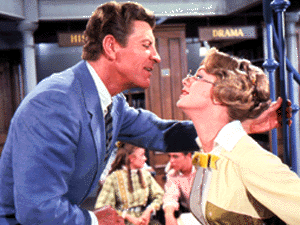 • Thanks to an unexpected turn my life took 11 years ago, I have a Google News alert for "Tim LaHaye." That helps keep me abreast of the latest news regarding the
World's Worst Books
, but sometimes it also provides a glimpse of something unexpected. Today it brought me this report from Oliver Good, staff writer for the
Marion County Record
in Marion, Kansas, "
Leak damages popular library books
."
I was prepared to make some easy joke about God sending a rainstorm to protect the people of Marion from accidentally reading the Left Behind series, but then I read the rest of this little story from a tiny local paper, and it seemed too wonderful to dismiss with a joke. People. Tilt your head slightly and read a story like that and you may see something just as dazzlingly wonderful and inspiring as anything Neal DeGrasse Tyson showed us on Cosmos. People. They write books and read them and build libraries and collect taxes to keep out the rain. People can be amazing.
• Consumerist reports on some clever teens in Winnipeg: "Our favorite part is that these kids did this all during their school lunch hour. They even got the bank to write them a note when they realized they would be tardy in returning to the school on time."
Consumerist also reports on a California teen who thought he was clever. As the boys in Spinal Tap said, it's such a fine line between stupid and clever. And that line, again, is often just simple regard for others.
• My oldest daughter went to a concert last week: Steve Miller Band and Journey. This made me realize two things I hadn't previously known: 1) Miller, now 70, is still touring; and B) he's still popular with college students.