• (NSFW) "Windermere Baptist's sprawling facilities include a church, a water park, a marina, a paintball course, auditoriums, convention space, and several lakefront lodges. There is no petting zoo."
• A Christian writer is asking for men to share their stories of "struggles with and successes against Internet porn." I was going to recommend some plug-ins to block those cascading pop-up ads, but then I realized that wasn't the kind of struggle he was talking about. Maybe he should get in touch with that guy from Windermere Baptist. …
• Adam Elsheimer's "The Flight Into Egypt" is a reminder that Christians have a particular reason to care for refugee children. (And a reminder that first-century Egypt was more hospitable to such refugees than 21st-century America.)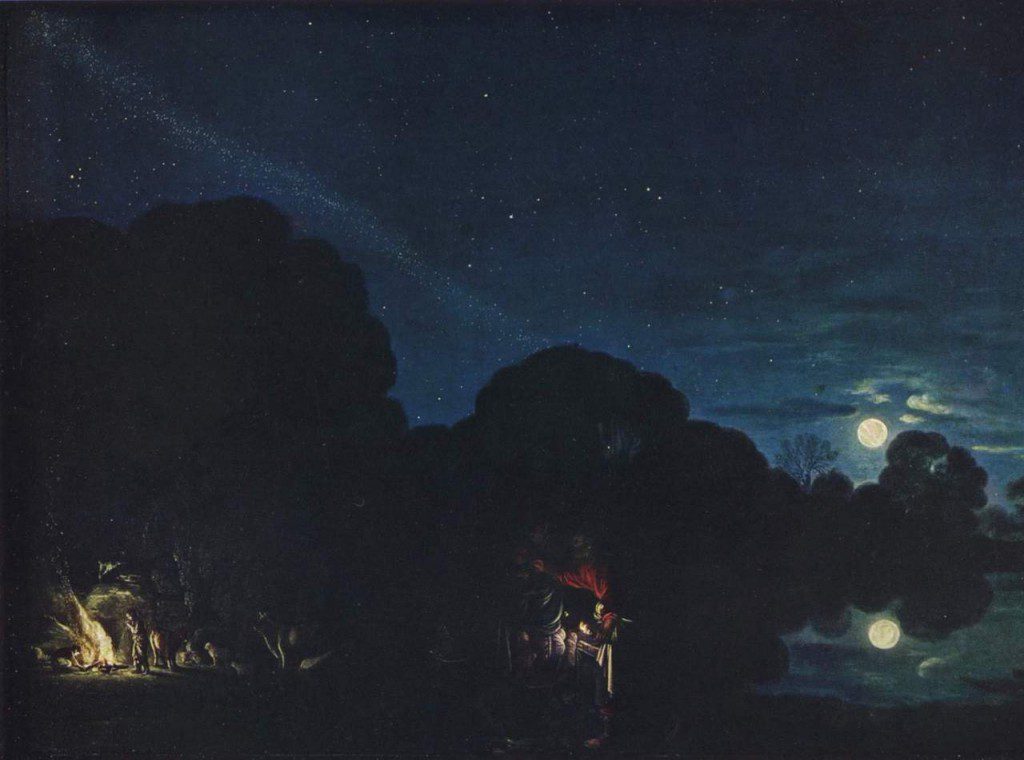 But Joe Hanson notes something else about the 1609 painting — it's probably the first accurate depiction of the night sky in a painting, complete with identifiable constellations. Cool.
• "They shall all sit under their own vines and under their own fig trees, and none shall make them afraid."
Homeowners in three "mobile-home parks" in this city of about 20,000 took control of the land beneath their homes when they formed three cooperatives and became not just homeowners, but landowners, too. The 113 homes in Lakeview Terrace, Ponderosa and Cascade Village now make up three resident-owned communities (ROCs) run by three democratically controlled cooperatives.
• Feminists are
still standing up for pregnant workers
. "Pro-lifers" still not so much.
I mean, if the many folks who say they're all-fired-up to oppose abortion were really motivated by what they say motivates them, shouldn't we be seeing more articles like this one from their perspective? But they're mostly mum on this, while the feminists they like to pretend don't care about motherhood and pregnancy are left to do all the heavy lifting.
It's hard not to draw the obvious conclusions there.
• Uwchlan's other blogger, Martin Longman, writes about the Holden Caulfield problem:
Cynics who check out because "what's the point?" never accomplish anything. Maybe politics ain't your bag. It's too dirty. It's too filled with lies. The truly good guys don't have a chance. If that's how you feel, then the best thing to do is stop paying attention to politics and find some way to do some good in your own little corner of the world. But, you can only make that decision because deep down you know that others will carry out the fight for you. Your side, your values, may not prevail, but some people will continue fighting for them. And, to turn around and mock them for believing, is a luxury for the smug and obnoxious.
And let's add this, from Maya Angelou: "There is nothing so pitiful as a young cynic because he has gone from knowing nothing to believing nothing."
• Fleered. Masty. Corybantic. Dread-bin. Febricant. Glenn Branch relishes the delightfully obscure vocabulary of obscruely delightful Scopes Trial scribe Ray Ginger. A Ginger Glossary Part 1. Part 2.