• "I'm frightened all the time …" This is brilliant and hilarious and very well done.
• William Wallace II, meet "Thucydides":
Arizona state schools Superintendent John Huppenthal, has been leaving a whole bunch of anonymous wingnut comments on blogs; and lots of them have been about what a great job Arizona state schools Superintendent John Huppenthal has been doing. Oh, and also stuff about how people on welfare are 'lazy pigs,' Franklin Roosevelt caused the Great Depression and helped bring Hitler to power, and Margaret Sanger personally aborted 16 million black babies. Among other things.
Sounds like Huppenthal could have a bright future at Mars Hill Church.
• No, Missouri Highway Patrol Captain Ron Johnson is not a gang member. But Reformed Pastor John Piper is hardcore.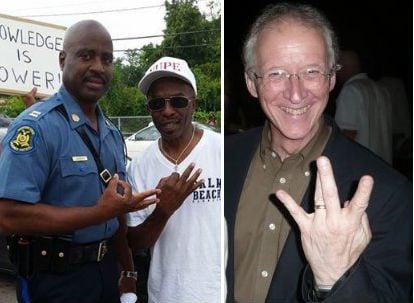 • Ted Alexandro has a good bit about becoming a godfather and having to renew his baptismal vows:
They start firing questions at you: "Do you reject Satan?"

"I do."

"And all his works?"

"Uh … I'm not familiar with all his works. But I'm not a fan."
Familiarity with all of the devil's back catalog is no longer an issue in the Church of England baptism liturgy. They've ditched the name-checking of Satan for more general vow to "turn away from sin" and "reject evil."
• The EEOC and the Obama administration offered clearer, stronger guidelines last month protecting pregnant workers from discrimination on the job, discrimination in hiring, and discrimination when they return after a pregnancy.
Every single principled and consistent "pro-life" organization and spokesperson praised the administration and the EEOC for this move because, after all, they really believe what they say they believe. I mean, if those groups never spoke up to support the actual concerns of actual pregnant mothers, that would make it seem like they're just a bunch of cynical partisan puppets masking misogyny with moralism, and obviously that's not the case.
• Dave Grohl wins the ALS Ice Bucket Challenge. By a lot.
• When young-Earth creationist Ken Ham rejects the reality of deep time, he likes to snort, "Were you there?" Here's Rachel Sussman joining Joe Hanson for a look at many of the amazing creatures that could answer, "Yes, in fact, I was there 9,000 years ago. …"