• As with Mark Driscoll, Ben Carson's plagiarism problem isn't just that he seems to have stolen other authors' words, but that he chose to steal from such shoddy material.
Cleon Skousen's Five Thousand Year Leap? Really? That's like plagiarizing Lyndon LaRouche. The choice of material to plagiarize is far worse than the act of plagiarism itself.
• A nation that has more colleges than it has prisons and jails is a nation that is preparing to become something better. A nation that has more prisons and jails than it does colleges is a nation that is preparing to become something worse. Both kinds of nations will eventually become what they are preparing to be.
• "My guess is that the single most important important factor in the new growth of the Nones has been the establishment of 'Nones' as an available demographic category."
• I'm no Nate Silver, but I predict that this candidate won't be elected as the next mayor of Colorado Springs.
• "The Church becomes very feminized," complains recently demoted abuse-apologist Cardinal Burke. "The activities in the parish and even the liturgy have been influenced by women and have become so feminine in many places that men do not want to get involved."
That's from this guy: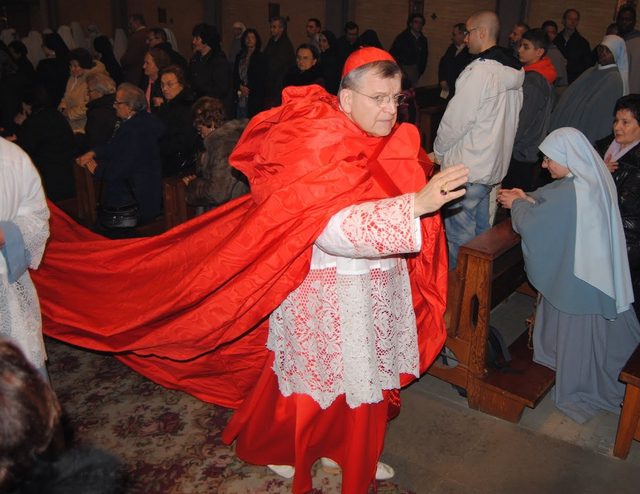 • "Miami archbishop warns employees against supporting gay marriage, even in a tweet." That's a challenge, isn't it? An invitation, practically.
I mean, Thomas Wenski is saying that if anyone he has power over tweets something favorable about marriage equality, he will punish them for it. Doesn't that mean that everyone over whom Thomas Wenski does not have power is obliged to flood @CatholicMiami with tweets celebrating marriage equality in Florida?
• Speaking of anti-gay sanctimony, the Internet is having a good laugh at a bizarre pamphlet distributed by an anti-gay "Christian" group in Ireland that asks, "Should Children Be Exposed to the Sounds of Sodomy?"
Here's the next best thing to the Sounds of Sodomy, the sounds of Rum Sodomy & the Lash — the Pogues' 1985 masterpiece.