• Priscilla Sitienei is going to school to learn to read and write. Growing up poor in Kenya's Rift Valley, she didn't have the chance to do that when she was younger. But with seven of her great-grandchildren now going to school, the retired midwife decided to join them. She's 90 years old, and she's awesome.
• We finally found one of those "No-Go Zones" that Fox News and Bobby Jindal and The Liar Tony Perkins have been warning us about. It's in Ohio. Thomas Williams, mayor of the city of Norwood, Ohio, wrote a letter last month to his police department expressing his support for them in the war with "race-baiting black leaders" that he imagines threatens his 86-percent white city.
You know … them. They're out there, and Williams is scared. He's sure his police are scared too because just think about it — black people. By definition, that's terrifying for a guy like Williams. But he reassured his police officers that if "God forbid, something controversial would happen, I WILL NOT ABANDON YOU." The ALL-CAPS response to the hypothetical murder of an unarmed American citizen by his police force is original there, because Williams is THAT KIND OF GUY.
So now you know. Norwood, Ohio, is a sundown town, where the police have been assured by the mayor that the law doesn't apply.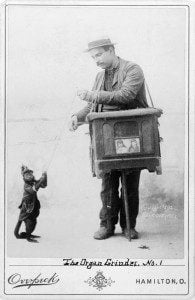 • Indiana's ban on Sunday liquor sales seems like a dumb policy and a relic of the failed experiment of Prohibition. So it seems to me that Hoosiers for Sunday Sales probably has a strong argument to make, even if it's mainly a corporate-funded group. But whatever the strength of their arguments, it becomes harder to make their case after the lobbyist running the campaign crashed her car into a Hardee's and then blew a 0.16 on the breathalyzer. (On the plus side: the DUI did not occur on a Sunday.)
• The ending of A Few Good Men always gets me riled up because Jack Nicholson's famous speech is such ludicrous, self-serving garbage. "You want me on that wall," he says. "You need me on that wall." And he goes on to blather about "the blanket of freedom that I provide."
But the actual, particular "wall" he's talking about there is Guantanamo. No one needs anyone on that wall. That wall is an obstacle to freedom here and everywhere. That wall is an affront to justice. That wall has to go.
"We use words like honor, code, loyalty," Col. Jessup intones. But applying words like that to Guantanamo is not credible.
• The same day that Democratic New York Assembly Speaker Sheldon Silver was arrested for allegedly gleaning $4 million in a referral-kickback scheme, mega-banks Wells Fargo and Chase agreed to pay more than $35 million in fines for allegedly running basically the same corrupt racket. If Silver is proved guilty, he deserves to go to prison. So do the executives at Wells Fargo and Chase, whose banks just got off with what is, for them, a slap on the wrist.
• And speaking of Democrats behaving badly … Virginia state lawmaker Joseph Morrissey needs to resign and let someone less disgraceful have a turn. And while Florida Rep. Alan Grayson may have a capacity for memorable zingers, the guy gives me the creeps.
• A coda to the story from Pinellas County Florida, where the Sheriff's department ordered new floor mats with the department's seal that came with a misprint reading "In Dog We Trust." The misprinted rugs have been auctioned off — raising $9,650 for charity. I would have given that money to a support fund for laid-off copy editors, but they sent it to a local pet rescue, and that's nice too.