Late last year, during the protests and lawless police response in Ferguson, Missouri, the predominantly black Flood Christian Church — the church attended by Michael Brown's family — was deliberately torched and burned to the ground. That church was nowhere near the site of the rioting and police violence in Ferguson. Agents from the federal ATF said "somebody forced open the front door and started the fire in the children's area."
The burning of this black church followed a string of death threats to the church's pastor. Here's what I wrote at the time:
Burning down black churches is an old and ongoing part of American society. Perhaps you remember President Clinton's National Church Arson Task Force, an effort that was credited with reducing the number of such black-church burnings down to 670 over a three-year period in the late 1990s.

Ponder that for a moment: 670 in three years — four such incidents a week, every week. Now imagine a single story of a single white church burned down because its congregation was white. We'd all know the name of that one church, and we'd never stop hearing about this momentous, monstrous tragedy.
Clinton's task force was responding to a well-publicized wave of church arsons in the 1990s, a series of widely reported attacks on black churches across America.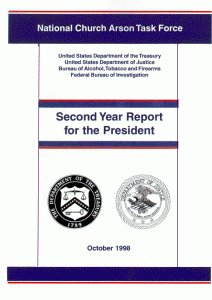 But we didn't know at the time whether this "wave" was due to an increase in the number of church-arson incidents or if it was, rather, the result of increased attention to such incidents. The burning of black churches in America was nothing new, but we didn't have any readily available source of data that could confirm whether the arson "wave" of the 1990s reflected a greater number of such attacks or whether the press and elected officials were just, for whatever reason, suddenly paying attention to an ongoing phenomenon they had previously ignored.
The National Fire Protection Association has another, somewhat patchy, set of data on "intentional fires in religious and funeral properties," reporting the number of such fires as declining "from 1,320 in 1980 to 240 in 2002." Their figures may rely more on insurance data than on the criminal data from law enforcement used by the Clinton task force. The NFPA also doesn't break down its numbers by the ethnicity of the churches targeted by arsonists.
Christopher Ingraham of The Washington Post crunches some more recent data from the NFPA:
Over the period from 2007 to 2011, the group estimates that there were an average of 1,780 fires at churches, funeral homes, and other religious institutions per year. That works out to about 34 per week. And approximately 16 percent of those fires — 285 per year, or about 5 per week — were set intentionally.

… The NFPA's numbers don't classify historically black churches separately, nor do they speak to whether intentional fires are hate crimes or not.
That last sentence is the key point. The NFPA credits improved fire safety and security measures for the overall downward trend in decreased fire damage and fewer intentional fires in "religious and funeral properties." But the NFPA itself doesn't make any claim to be able to tell us anything at all about the historic or current rate of hate crimes targeting black churches with arson.
How often do such hate crimes targeting black churches occur? We do not know because we have not kept track or kept records. And it seems we only sometimes pay attention.
The current wave of arson attacks against black churches thus raises the same questions we had with the wave of church arsons back in the 1990s. Phillip Jackson summarizes "What We Know" about this current wave:
Since the June 17 killing of nine people at Emanuel African Methodist Episcopal Church in Charleston, S.C., six predominantly black churches in the South have burned in the past week, including one on Tuesday, causing many on social media to wonder #WhoIsBurningBlackChurches. (Fires have also hit two other churches — College Heights Baptist Church in Ohio and Fruitland Presbyterian Church in Tennessee — but neither is predominantly black.) As of right now, three fires at black churches in three states — Tennessee, Georgia and North Carolina — have been confirmed as arson. Three other church fires are under investigation.
We've seen at least three and as many as six intentional fires at black churches in the past week. If the NFPA's numbers are correct, and the "normal" rate is five intentional fires per week at all churches, then it seems like we are, indeed, seeing an increase in the number of arson attacks targeting black churches.
"Data" should not be the main lens for viewing or discussing any of this, of course, but while we're on the subject of such data, here is the kind of study I would like to see done, one which approaches this American phenomenon from the other end. Let's start with a single historically black denomination — say, the AME church. The AME has some 12,000 congregations. Some were recently begun, others date back nearly 200 years (the AME celebrates its bicentennial next year). Break that down by age — congregations founded more than 100 years ago, more than 75 years, more than 50, etc. And then simply examine what percentage of each cohort of congregations has directly experienced an arson attack hate crime during its history.
Anyway, my point in all of this is not to question whether or not such attacks against black churches are increasing again. My point here is to note that, as far as we can tell, such attacks have never stopped.
Update: (Via several folks in comments here and all over Twitter) Christ Church Cathedral (Episcopal) of St. Louis has created a Rebuild the Churches Fund. They're accepting donations online and so far have enlisted support from around 50 faith congregations who will all be taking up a special collection for the fund. Cool.