Look, I understand the temptation. You're riding this wave of fame and acceptance due to the success of Moonlighting, or Beverly Hills Cop, or your inspiring papacy, and somebody suggests you expand your audience by releasing a pop record. Sure, maybe music isn't your main thing, but they say they'll bring in the best people to help and they can do amazing things in studios these days, so you shouldn't worry about that.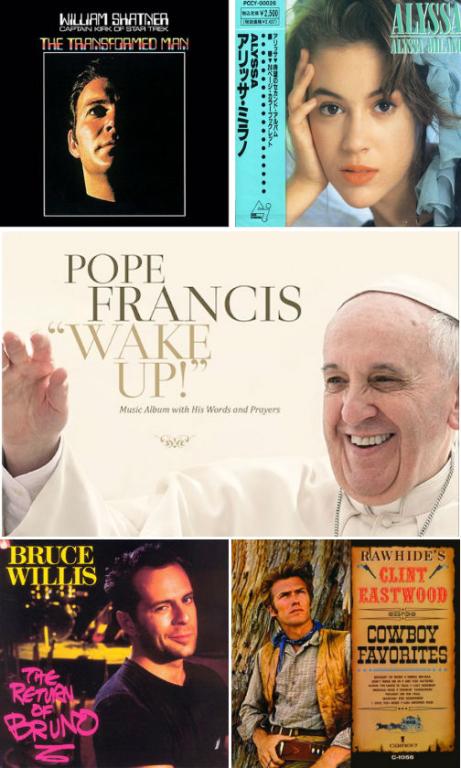 But this is almost always a Very Bad Idea.
The result, usually, is a vanity album. And a vanity album usually winds up seeking pop stardom in vain.
So when I read that Pope Francis is releasing a "pop/rock album," I can't help but think of infamous mistakes like The Return of Bruno or The Transformed Man and worry that he's been given — and has acted on — some poor advice.
When I see a headline like "Pope Francis to Release Pop-Rock Album," of course, my first reaction is to check to see if this is The Onion or some other group of pranksters. But apparently this isn't a joke.
Fortunately, this isn't an actual vanity album. The pope didn't go into a recording studio and he doesn't actually sing on this record. But he did give his blessing to allow excerpts from his sermons and prayers to be set to musical accompaniment.
Unfortunately, that musical accompaniment is provided by European prog-rockers and — if the first single is any indication — hearing Francis cover a bunch of old Goffin/King standards might've been more appealing.
I'd guess this project was explained to the pontiff as a way of reaching a broader audience of young people with his message of love and inspiration. But, again, after hearing that first single, I'm thinking that broader audience would be mainly middle-aged dudes who really dig Mannheim Steamroller.
Based on that single, I suspect Wake Up! actually is a vanity album — but not one driven by the pope's vanity. Francis' words are not the centerpiece of the track — they're just kind of tacked on, unrelated to or integrated with the music clamoring around them. This doesn't seem to be an album that employs pop music to gain a wider audience for the message of Pope Francis. It seems, rather, to be an album that exploits the appeal of Pope Francis in an effort to gain a wider audience for its pop music.
So what do we mean by "vanity album"? That term shouldn't apply to every musical effort by someone more famous for something else. Lots of actors can sing and lots of singers can act. People who demonstrate they can do both well — Frank Sinatra, J. Lo, Hugh Laurie, Yaslin Bey, etc. — don't get tagged with the "vanity album" label. And soundtrack albums — like Mamma Mia! or True Stories — are clearly not vanity projects either. (Vanity is something many not-usually-musical actors have to overcome in order to sing such roles.)
Whether or not an album is a vanity project has less to do with its merits (Bruno wasn't terrible) and more to do with marketing and motivation. If it seems like a cynical attempt to cash in on fame by repackaging a movie-star as a pop-star, that's a vanity project. Ego plays a part, too, of course, hence that word "vanity."
Mike Barthel has been writing about all of this for The Awl's "Vanity Project Project." But I don't think all of the projects discussed there necessarily are "vanity" projects. Sure, when the unreal housewives of reality television head into a recording studio to make a pop album because how hard could it be? That's a vanity project. But when the late Christopher Lee, at the age of 88, decides to make a metal concept album about the life of Charlemagne, it doesn't seem like he's got any illusions about pop-stardom. That, to me, isn't so much a vanity project as just a cool old rich dude with a weird hobby.
To further explore that distinction, here are a bunch of pretty good musical performances and recordings from actors not best-known for performing music.
1. Jeff Bridges, "Maybe I Missed the Point"
Bridges is a talented musician and he can sing, which anybody who saw The Fabulous Baker Boys already knew. This John Goodwin song is just about perfectly suited to Bridges' laid-back, beautifully gone-to-seed persona these days. The Dude abides.

Vanity rating: One Shatner. This is a humble performance of a song about humility with only a tiny hint of a reminder that it's enjoying a wider platform because of the singer's movie-stardom.
2. Scarlet Johansson, "Anywhere I Lay My Head"
We still haven't gotten the Black Widow movies we want, but in between blockbuster action movies and arty independent movies, the versatile movie star did manage to record a collection of dreamily arranged Tom Waits songs.
Is it any good? Well, yeah — they're Tom Waits songs, after all, which turn out to be well-suited to Johansson's low alto.

Vanity rating: Two and a half Shatners. There's a lot of studio magic here, but still — you can't say a bunch of songs from Bone Machine are some kind of eg0-driven bid for pop-stardom.
3. Ryan Gosling (Dead Man's Bones), "My Body's a Zombie for You"
Lots of people with unrelated day jobs are also in bands with their friends. The difference, in Ryan Gosling's case, is that his day job is being a famous movie actor. And perhaps also that his strange musical collaboration with his friend Zach Shields is weirdly good. This seems to be just a bunch of friends having fun writing and performing music.
Their Halloween parties, I imagine, are epic.

Vanity rating: Two Shatners. Yes, it's a fun hobby more than a vanity-driven bid for rock-stardom. But the movie-stardom didn't hurt the recording contract and booking for the tour.
4. Milla, "Gentleman Who Fell"
Milla Jovovich is a model/actress/singer-songwriter. And she's good enough at all of those things that the rest of us should probably view her with spiteful resentment. Jovovich continues to write and record music, much of which is pretty interesting, releasing a lot of it quietly, and for free, online. That's fare for her fans, but it's done without fanfare.
Her 1994 album, The Divine Comedy, offered ten original songs and one original arrangement of a Ukrainian folk song. Her modeling fame may have helped to secure a record deal, but this wasn't a model-slash-singer's vanity project — just the work of a 16-year-old (!) singer/songwriter who also happened to be a model.
And it was good stuff. As Barthel writes: "It's almost impossible to listen to the album without thinking of Kate Bush, but that's OK: it's hard to listen to lots of albums from 1994 without thinking of Kate Bush."

Vanity rating: One Shatner. The Resident Evil movie franchise she's made with her husband, director Paul W.S. ("Not Paul T.") Anderson, could be considered vanity projects. This was just a precociously good record.
5. William Shatner, "Common People"
William Shatner does what he does, and while that might not be well-suited to every situation, when it works, it really works. Nobody out-Shatners Shatner. His 2004 album Has Been was carefully tailored to his (limited) musical capabilities and his (gloriously unlimited) sensibilities and it achieved its purpose — atoning for his 1968 vanity album The Transformed Man.
The difference between the two wasn't just that in 2004 Shatner was surrounded and guided by top-notch musicians. It was also the difference between Captain Kirk and Denny Crain. Denny Crain knows exactly who he is, and that self-awareness makes you regard him almost as fondly as he seems to regard himself.

Vanity rating: All the Shatners. This is a vanity album that transcends vanity albumhood by embracing and showcasing its vanity.