I walked in to work and couple of weeks ago and the B-52's "Private Idaho" was playing over the speakers. This was new.
I've been working at the Big Box for 10 years now and the music there never stops. Something is always playing, and after all these years it's bound to be something I've heard before, many times over, from one of the handful of music-service channels the store offered.
There's the contemporary(-ish) pop channel, the Country channel, the '70s channel, the oddly DeBarge-heavy smooth R&B channel, and the Latin channel — which is just the pop channel with blocks of Spanish-language pop mixed in. "Private Idaho" was not in rotation on any of those. That makes sense given the retail musical mandate of playing familiar, comfortable, unobtrusive recordings as background noise for customers. A jarringly oddball dance track that didn't even crack the Top 40 when it came out 43 years ago doesn't seem to fit that plan.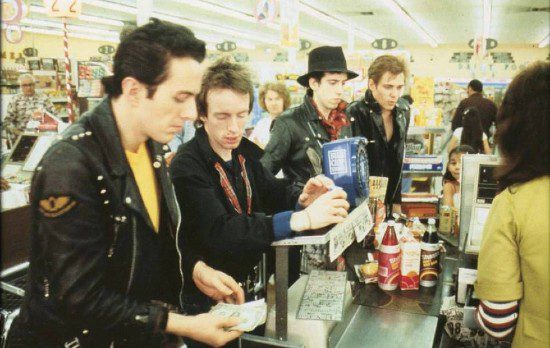 But then the B-52's were followed by the Talking Heads, and then Echo and the Bunnymen, and then Marshall Crenshaw and then "Birdhouse in Your Soul."
It seems we have a new channel. It's an '80s "alternative" channel that seems like it was put together by Matt Pinfield from MTV's late great 120 Minutes show.
It's pretty fantastic, and it doesn't seem to be a static six-hour loop like the previous channels. I've heard songs from the first five REM albums, at least half of London Calling, a half-dozen Replacements songs, and album cuts and B-sides from Elvis Costello. I've heard Siouxsie, the Cure, the Smiths, the Smithereens, the Alarm, Miracle Legion, XTC, X, Yaz, the P-Furs, pre-Diesel & Dust Midnight Oil, pre-Kick INXS, Bono-with-a-mullet-era U2, Julian Cope, Aztec Camera, Sinead O'Connor, Kate Bush, the Hoodoo Gurus, the Pet Shop Boys and the Buzzcocks (and not just that one song from Shrek). The synth-pop side of '80s "college music" is on there too, with plenty of Erasure and New Order and Dead or Alive and Howard Jones.
My initial response to this new channel was sheer delight. I was so happy that they were now playing such cool music where I work.
And then I also came to realize what this actually means.
It means that somewhere at Big Box HQ some marketing consultant has a PowerPoint presentation offering consumer profiles on a series of median customers. For the Zip Code or census block of our location, this consultant has determined, the median customer is a white, male, 50-something homeowner. And probably a white, male, 50-something homeowner who fondly recalls gaming the Columbia Records Club system back in the day to get Standing on a Beach and Blood & Chocolate and the melting-face Peter Gabriel album and the Pretty in Pink soundtrack on vinyl for a penny.
In other words, it means that the music I think of as cool is, now, officially, no longer cool. It has become so wholly and officially un-cool that it can now be played as harmless background noise in a Big Box store in the white western suburbs of Philadelphia.
That's mainly because this music, like me, is old.*
That Chinatown line about sex workers, ugly buildings, and politicians is true for Clash albums too. If they stick around long enough, they become respectable. So respectable that they're considered safe and tame, no matter how strange it is to hear Joe Strummer in the background as you help some nice customer decide between daylight and soft white LED bulbs.
How did this music get so old? That's just math. I got old and the music got old with me.
Consider "Just Like Heaven," which came out when I was 19 years old. That song is now 36 years old. What songs were big hits 36 years before I was 19? Nat King Cole's "Too Young" and Rosemary Clooney's "Come on-a My House" and Patti Page's "Tennessee Waltz." If I'd had to listen to that stuff at work when I was 19, I'd have thought it was totally uncool, so I can only imagine what the 19-year-olds on my night crew are thinking now hearing the Cure.**
On the other hand, one could argue that back when I was still a teenager, I ought to have heard "Tennessee Waltz"*** because it's a classic American song that everyone should know. I'd bet it was on that list of "essential songs" that Johnny Cash wrote up for his daughter. But words like those — like "classic" or "essential" or "standard" — come with too much baggage, too many connotations of some check-list approach to cultural literacy that turns everything it touches into test-prep for some standardized AP exam.
I suppose we could convene a blue-ribbon panel of musicians, songwriters, critics, and scholars to compile a canonical list of the popular songs that every educated person ought to be familiar with as some kind of standard of cultural literacy, and I'd guess that "Tennessee Waltz" would belong on such a list. But that's not what I'm getting at here because, also, ugh, that sounds awful.
I loved "Just Like Heaven" 36 years ago, in part, because I was 19 years old, and I like it now in part because I like remembering what it felt like to be 19, spinning on that dizzy edge and dancing with those Goth girls I was more than a little scared of.
But I also think it was a great song then and that it's still a great song now, even if you're 19 now and it was already old by the time your parents were 19.
It's disconcerting to realize that the stuff you once were sure was edgy, rebellious, youthful, and cool has been worn down by time and institutionalized and absorbed to the point where it's no longer any of those things. You get older and your favorite music gets older and you have to give up the illusion that its coolness might somehow make you vicariously cool, but that was always an illusion and a trap anyway.
So go with it. Lose your cool. Listen to what you like and share it with others because you like it and maybe they'll like it too.
---
* And it's probably partly because this "college radio favorites from the '80s" format is overwhelmingly white. What later became called "alternative" was way whiter than Top 40 pop. Try to define "alternative" in strictly musical terms without any reference to that whiteness and you'll quickly run into a Prince problem. (As in: Why doesn't that definition include lots of Prince? It seems like it should, but it doesn't. Hmmm.) This seems especially true of the new channel at work, which hasn't yet included any Living Color or Tracy Chapman or Grace Jones or any of the other handful of Black artists who made their way onto those old '80s "college radio" charts. The lineup for this channel is whiter than Creation Festival.
** This could change thanks to the Goo-goo-muck Effect and the recent use of this creepy-pretty version of "Just Like Heaven" in an episode of The Last of Us. (Is it weird that I now want to hear a top-notch bell choir tackle that song?)
*** As opposed to The Tennessee Waltz, which is, again, a song that none of us has ever heard. We've heard Patti Page's song about the Tennessee Waltz but, like the Monster Mash, we've never heard the song within the song.
To be fair to 1951, popular music back then wasn't all Patti Page and Nat Cole and Perry Como and Dinah Shore. That same year also gave us "Rocket 88" and "Sixty Minute Man" and "Bump Miss Susie" and "It Ain't Me" as R&B and early rockabilly acts were straining to invent rock and roll. And if some old person had introduced 19-year-old me to those songs back in 1987, well, that would've been pretty cool.