• This time of year we always get a bunch of articles like this one, from The Smithsonian, "Unearthing the World of Jesus."  But this holiday season also brings us another inside look at biblical archaeology:
• Look, if you're going to give us a "Why …" headline, then you need to back that up with a "Why …" article. This Washington Post piece — "Why Franklin Graham says Donald Trump is right about stopping Muslim immigration" — never actually does tell us why Franklin H.P. Graham says this. What the article tells us is only that Graham does, in fact, say Donald Trump is right.
As for why he says that? Well, since the Post didn't say, let me explain: Graham says that because, like Donald Trump, he's a blowhard racist demagogue and a disgraceful jackwagon.
• There are feral warthogs in Texas. Yes, warthogs.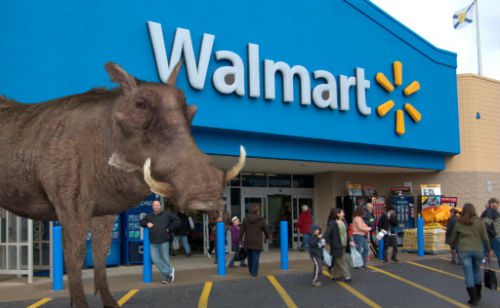 • Um, actually Marco Rubio, we do have "bomb control," and it generally works pretty well. But I guess the new GOP position is that "I never saw a body injured by a bomb that was more devastating than taking the right to arm ourselves away." And maybe "Now that we've outlawed bombs, only outlaws have bombs." Or whatever.
• It's not often that I read the same story — with the same reaction — from both
Scot McKnight
and
TBogg
, but they both flagged this story, praising Wheaton College professor Larycia Hawkins for her call for solidarity with Muslim women. 
Hawkins' Facebook post
is getting widely read, and I think that's a good thing — I just hope that attention doesn't get her in hot water over the bit in there about Sterkfontein.
• Students at a Dallas school staged a walkout to protest the decrepit conditions of their school building. Students in Chicago staged a sit-in and read-in to protest efforts to close their school library. When you look at these kids' determination and what it is that they're fighting for, it's hard not to be impressed. It's also hard not to think Brother Mouzone was right about what the Powers That Be fear the most.
• To repeat something I tweeted earlier, I still think that protests should have more singing, but maybe this is the next-best thing.