Here's a musical dedication for Merlin Kennedy, who "has become the first official black Santa Claus in Normal, Illinois nearly 50 years after police detained him for violating the town's 'One Santa Rule.'"
This Christmas classic is like a sweeter "I Saw Mommy Kissing Santa Claus" — without all the weird Freudian undertones of that song that make you think the poor kid will need therapy later.
And here's a little number for Texas Republican agriculture commissioner Sid Miller, who says, "If one more person says Happy Holidays to me I just might slap them. Either tell me Merry Christmas or just don't say anything."
https://www.youtube.com/watch?v=J8W2ZyDNk8w
Miller needs to learn, as Dave Lieberman's flowchart from a few years back reminds us, to "be a good human":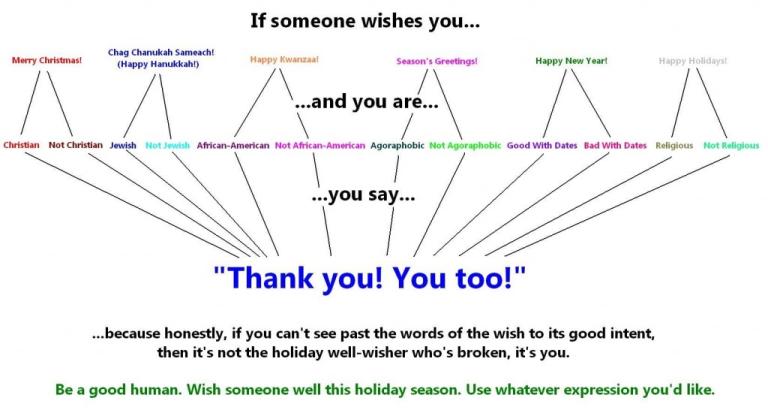 Or, as Hemant Mehta put it recently, "just take it at face value. They mean, 'I wish you well.'"
And when someone says, "I wish you well," you're being kind of a jerk to twist that into an excuse to take offense.
The tricky thing now, though, is that the annual "War on Christmas" hysteria from Fox News and the religious direct-mail fundraising industry has now produced an army of Christian Hegemony Warriors. And these folks have weaponized their seasons greetings.
The result of that is that when someone like Sid Miller, or The Liar Tony Perkins, or Bill O'Reilly, or Franklin H.P. Graham, or most frightened, F0x-addled white evangelicals of my dad's generation, says "Merry Christmas" to you, they do not mean "I wish you well." Far from it.
For them, "Merry Christmas" has become a shibboleth — a sentinel's watchword and a test by which they mean to evaluate your legitimacy as a person.
If you fail this little test, then they do not wish you well at all. They wish for you what happened to the Ephraimites who couldn't pronounce "shibboleth."
Alas, passing their little test won't make them happy either. (Or "merry" — happiness and merriness and glad tidings of great joy are no longer possible for you after you've chosen to become a culture warrior.) They're hoping you'll fail because where's the fun in a culture war with no enemies to swing at? But if you pass their test, they will — somewhat disappointed and deflated — wish you well … for now.
So what should you do when some jackwagon like Sid Miller or Hophni Graham sneers a weaponized "Merry Christmas" in your direction?
You should say, "Thanks! You too!" And then give them a big smile, because it's the holidays, after all.
May the calendar keep bringing, etc.