Need some good news? Here are two stories I came across recently that give me some hope, and I want to share that with you.
First, meet Paul Bongcaras, "a Catholic monk of the Order of the Society of the Divine Word." He lives in Cebu City, Philippines, where everyone on the street seems to know him simply as Brother Paul. For the rest of us, Aurora Almendral of PRI's The World provides an introduction:
Bongcaras' seminary, of arched doorways and cloistered courtyards, faces one of the city's most notorious slums, and every evening Bongcaras walks among the drug addicts and prostitutes who call the slum home.

Far from being outside his element, Brother Paul, as everyone here calls him, moves with ease and is greeted warmly by the residents. He chats with old women sitting on wobbly wooden benches and pats the heads of half-dressed kids.

Almost immediately, he is surrounded by sex workers on break and rangy young men, the tracks and blackened veins of intravenous drug addiction evident on their inner arms.

"Brother Paul," one greets him from the far end of a crumbling cement path. "Thank God you're here!"

Bongcaras, 69, has close-cropped white hair and is dressed simply in shorts and flip-flops. On one shoulder, he carries a ragged nylon bag stuffed with medicines. There's acetaminophen and vitamins tied up in little plastic bags, amoxicillin for deworming, tubes of ointment for rashes, as well as red boxes of condoms for sex workers and pills to treat STDs.
But wait, isn't handing out condoms against The Rules for a Catholic monk. Well, yes:
Bongcaras says he's dedicated to what he considers his vocation: to help the poor. "We made a decision because we are in the front line. We saw the need."

The Catholic hierarchy in the Philippines, however, struggles to reconcile its firm stance against contraception with the urgent need for condoms.

"It's easy for them to preach and preach and preach, do not do it, do not do it," he says. Being in the field, however, Bongcaras is faced with the realities of poverty and illness. He walks side-by-side with people who are at high risk for HIV and other sexually transmitted diseases every night.

"When questions come in from the hierarchy, we just do not entertain [them]."
There's enormous wisdom in that last sentence. I especially like Brother Paul's choice of verb there — "entertain."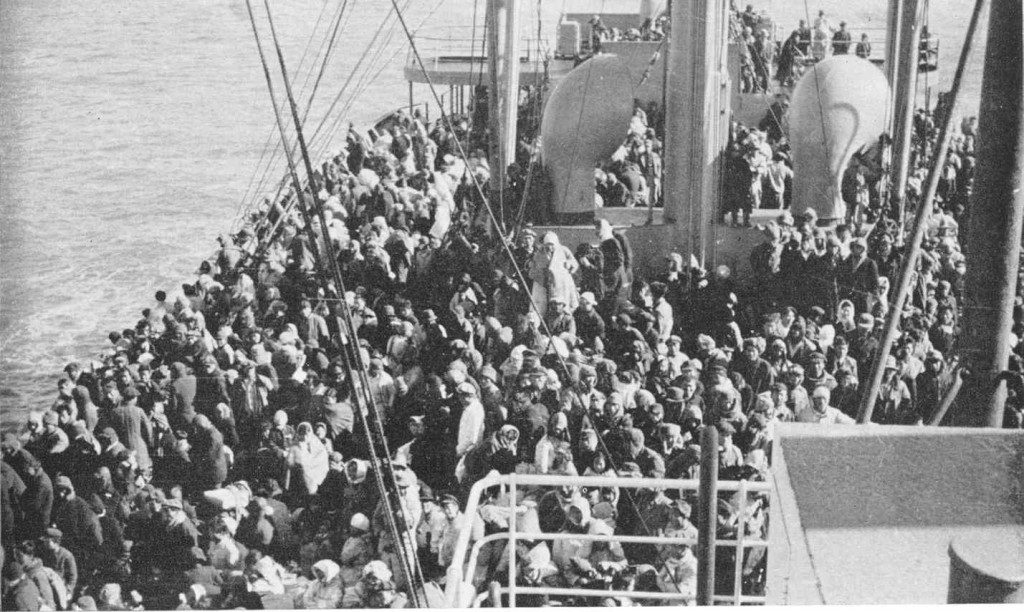 The second story is one I feel like I should have known. I should have been taught this story. I should have heard it told and retold by teachers, professors, political leaders and political candidates. This story should be a point of national pride and a touchstone for every national debate about any opportunity to welcome and shelter refugees.
This is the story of the ship pictured above, the SS Meredith Victory, and "the greatest rescue operation by a single ship in the history of mankind."
I learned this story just last week, from Chris Gibbons' op-ed "During the Korean War, a Christmas miracle."
The Meredith was a civilian cargo ship contracted to carry supplies for the U.S. military at the beginning of the Korean War. It was December, 1950, and the Korean city of Hungnam was on the verge of being overrun by Communist troops. Nearly 200,000 refugees were huddled at its harbor.
[Leonard] LaRue, a Merchant Marine captain who had been employed by the Navy to carry supplies for U.S. servicemen during the initial months of the Korean War, met on board his ship with U.S. Army officers who revealed their plans for a "Dunkirk-like" rescue of the refugees. Staff officer J. Robert Lunney recounted the scene in [Bill Gilbert's book] Ship of Miracles. "We can't order you to take them," one of the colonels said, "but we ask if you would volunteer." Lunney remembers that LaRue didn't hesitate: "He neither turned to his left or right, nor conferred with anyone. He responded that he would take his ship in and take off as many refugees as he could."

… As chronicled in Ship of Miracles, the Meredith was designed to haul cargo and only had accommodations for 12 passengers and a 47-person crew. On the afternoon of Dec. 22, in gale force winds and swirling snow, the crew began to load the refugees into the cargo holds using makeshift booms and gangplanks.

First mate Dino Savastio recalled that "the temperature was well below freezing, but the holds were not heated or lighted. There were no sanitary facilities for them . . . children carried children, mothers breast-fed their babies with another child strapped to their backs, old men carried children. . . . I saw terror in their faces."

It took nearly 24 hours, but the crew somehow managed to fit 14,000 refugees within the ship's five cargo holds. The Meredith finally departed Hungnam on Dec. 23. After a harrowing two days in mine-infested waters patrolled by enemy submarines, the ship safely arrived at Koje Do Island on Christmas Day. Not only did all of the refugees survive, but five babies were born during the journey.
The tiny-minded little would-be leaders competing for the Republican presidential nomination insist that the United States, as a whole, cannot accommodate 10,000 refugees fleeing war in Syria. The Meredith Victory, a ship built for 60 people, managed to accommodate 14,000 refugees. Remember that.