"Evangelist Franklin Graham quits the Republican Party over Planned Parenthood funding."
Evangelist Franklin Graham has announced he is abandoning the Republican Party in disgust over the move by the GOP-led Congress last week to pass a budget that Graham said was "wasteful" and provided funding for Planned Parenthood, which he compared to the Nazis.

Graham has previously said he has no faith in any political party, but his apparent renunciation of his Republican affiliation is an indication of anger on the right and the strong interest many disaffected evangelicals have shown in populist outsiders like Donald Trump.

Graham himself has expressed admiration for Trump, the surprise frontrunner in the Republican presidential field, and has voiced support for some of Trump's more controversial positions — such as his call to ban Muslims from the U.S. — which have drawn condemnation from more mainstream evangelical leaders.
Franklin H.P. Graham is now a former Republican, although it's hard to say what, if anything, that actually means. He's still a yooge fan of the current GOP frontrunner, Donald Trump, and he'll continue to support — and to vote for — Trump and any of the competing Trumpism-without-Trump candidates (Sen. Ted Cruz, Ben Carson, etc.).
Mainly, it seems, Graham's complaint seems focused on Congress, and particularly on Mitch McConnell and Paul Ryan — neither of whom will be on the ballot in Graham's home state of North Carolina, where "ex-Republican" Graham will still be voting, for all Republicans, next November.
But maybe this goes further than that. Maybe Franklin Graham has decided that the Republican Party is too far gone — too compromised by its support for baby-part-selling baby-killers, by its flirtation with "amnesty for illegals," by its reluctance to declare a clash of civilizations, by its failure to pass a constitutional amendment banning the gay lifestyle, by Jade Helm and Agenda 21 and all the other things Graham says he's so very angry and disappointed about.
And so maybe he has something bigger in mind in planning this:
In denouncing the Republican Party this week, Graham made a pitch for the prayer rallies he will hold in every state next year, starting in Iowa in January shortly before the crucial first presidential primary.

The rallies, as Graham says, aim to "challenge Christians to live out their faith at home, in public and at the ballot box."
It may be that Franklin Graham sees these prayer rallies as laying the groundwork for his own campaign, challenging the Republicans from the right as an independent candidate.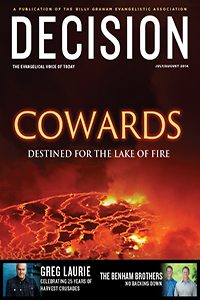 If so, all I can say is this: Run, Franklin, run!
Could you really do it? Could you, Franklin Graham, run a successful third-party campaign for the presidency. Well, just look at all the tens of thousands of "likes" your rants have been getting on Facebook. Or just ask your tight circle of yes-men advisers if you're the right man for the job.
Sure, some of the old hands there at the Billy Graham Evangelistic Association have been concerned with the far-right, explicitly political direction you've been taking that organization. Those old friends of your father have been disappointed in you. Nothing you do seems to win their approval. What better way to prove all of them wrong? This is your chance, at last, to show them — and to show the old man himself — that they've all been wrong about you, that you can not only live up to your father's legacy, but surpass it.
You can do this, Franklin Graham. You can run for president.
And once you win, you'll be out from under the shadow. You won't just be Franklin Graham, son of the famous evangelist. You'll be President Graham, and your father will be described in reference to you. He'll become a "retired evangelist best-known as the father of the popular firebrand president."
You're the independent candidate that people like you have been waiting for. It's your time. Run.