• "I don't love these East Texas pines," James McMurtry sang in "Angeline." Climate change doesn't love them either: "In a troubling new study just out in Nature Climate Change, a group of researchers says that a warming climate could trigger a 'massive' dieoff of coniferous trees, such as junipers and piñon pines, in the U.S. southwest sometime this century."
• "Minorities exploited by Warren Buffett's mobile-home empire." Solid reporting from Mike Baker and Daniel Wagner:
The company is controlled by Warren Buffett, one of the world's richest men, but its methods hardly match Buffett's honest, folksy image: Clayton systematically pursues unwitting minority homebuyers and baits them into costly subprime loans, many of which are doomed to fail, an investigation by the Seattle Times and BuzzFeed News has found.

Clayton's predatory practices have damaged minority communities — from rural black enclaves in the Louisiana Delta, across Spanish-speaking swaths of Texas, to Native American reservations in the Southwest. Many customers end up losing their homes, thousands of dollars in down payments, or even land they'd owned outright.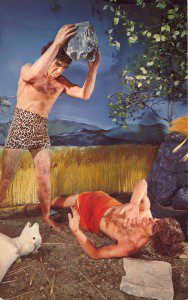 • "It's a fantastic theory. Literally." The theory in question involves the Nephilim and Neanderthals.
This is the sort of thing you come up with if you're convinced that "science" should include fantasizing about whether or not Denisovans had souls, but that science must never include things like studying ancient literary genres. OK, then.
• The Englewood Review of Books helps us through the dark days of late December with their annual collection of Worst Christian Book Covers. (I thought I made a strong bid for this list with the hideous clip-art adorning Long March of the Koalas, but alas, I didn't make the cut — not when I was up against books like Ressurection.)
• Frank Moraes reminds us of the December 29, 1975 bomb blast that killed 11 people at LaGuardia Airport: "In 1975, a deadly bombing was a terrible thing. But it wasn't cause to change our very way of life."
That goes along well with a C.S. Lewis passage AZspot highlighted recently, from an essay "On Living in the Atomic Age":
The first action to be taken is to pull ourselves together. If we are all going to be destroyed by an atomic bomb, let that bomb when it comes find us doing sensible and human things — praying, working, teaching, reading, listening to music, bathing the children, playing tennis, chatting to our friends over a pint and a game of darts — not huddled together like frightened sheep and thinking about bombs. They may break our bodies (a microbe can do that) but they need not dominate our minds.
• "Dear Donald Trump," Anand Giridharadas tweeted, "I'm at a Muslim wedding in a Christian church in NYC, and everyone is dancing to salsa. America already is great."
Related: Anne Laurie shared this video from the future. I don't know what the Bhangra and Scottish dancers call this piece, but I like to think of it as "Donald Trump's Nightmare."