• New hero: Akinobu Kimura. When he realized that a 12-foot-long giant squid had mysteriously arrived near shore at the Mizuhashi Fisherina in Japan, Kimura grabbed his camera and his swim fins and jumped in — swimming alongside the magnificent, rarely seen creature and shooting video of the encounter.
• Judd Legum reminds us of four things Republicans told us were going to happen if Barack Obama was re-elected. (Those four things did not happen.)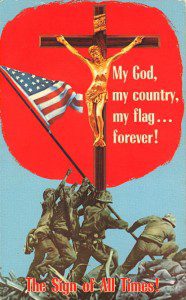 • "What A Sex Worker Can Teach You About Working For Yourself." As we try to learn what it means to navigate the so-called "gig economy," it makes sense to learn from those with more experience in gig-based self-employment.
Another invaluable resource for anyone struggling with the new world of 1099 employment: "The ultimate tax guide for freelancers," from the Freelancers Union. I wish I'd read that five years ago.
• James McGrath shares the composite faces of Jesus and Satan, based on images of actors from dozens of films. I'm less impressed by the images themselves than by the parenthetical note that both composites include pictures of Max von Sydow — who played Jesus in The Greatest Story Ever Told and played Satan in The Soldier's Tale.
But is von Sydow really the only actor to pull off both parts in TV and film? I'm tempted to give Willem DaFoe credit since Bobby Peru in Wild at Heart was pretty much the Devil. Jack Black sort of qualifies, having played Jesus in Prop 8: The Musical and the Devil in Mr. Show's (NSFW) "Farmhouse: The Musical" sketch. Surely there must be some other members in this club?
(If we count community theater, I've played both roles, too — in Godspell and Damn Yankees. Have to say the Devil was the better part.)
• Mental Floss explains that, yes, FreeCell and Minesweeper were designed to teach Windows users how to use a mouse (via). Their secondary function — as a narcotic to keep the Proles from open rebellion — was just an added bonus.
• If the title of this post didn't already get this stuck in your head, maybe this will help: