I am a Baptist, so I'm not a fan of church hierarchies. I'm not even a fan of church polity. In my view, the primary task of the ecclesiastical magisterium should be getting over themselves.
And yet I'm starting to think that what white evangelicalism needs these days is more fancy titles, elaborate finery, symbolic vestments, regalia and all the appurtenances of church leadership. I'm talking mitres, staffs (staves?), rings, bling, embroidered cassocks, the whole nine yards.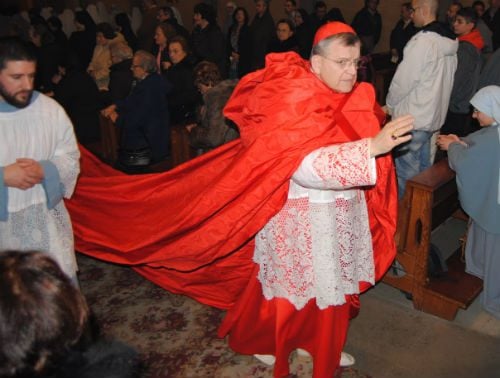 That phrase, by the way — "the whole nine yards" — originated in reference to the fabulous cappa magna preferred by Raymond Burke. (Probably not really, but it's as good a guess as any.)
Why would I, as a determinedly anti-hierarchical Baptist, endorse such a thing? Because of this: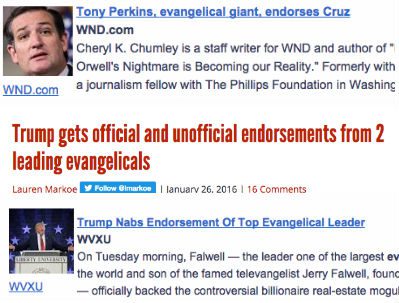 See those headlines? Jerry Falwell Jr. just got described as a "Top Evangelical Leader." The Liar Tony Perkins was crowned an "evangelical giant." And Dallas pastor Robert Jeffress is honored as a "leading evangelical."
That sort of media pronouncement is exactly what those folks were after. Jerry Jr. endorsed Donald Trump, in part, because he desperately hoped someone would refer to him as a "Top Evangelical Leader." Robert Jeffress jumps in front of any available camera to praise Trump and generally blather about right-wing politics due to his own need to be hailed as a "leading evangelical." And The Liar Tony Perkins, well, he's still mainly just in it for the money, of course, but the perk of being lauded as an "evangelical giant" is probably part of why he does things like endorse his kindred-spirit Ted Cruz.
So here's my theory: Maybe if these desperate-for-adulation evangelical leaders were blinged up with fancy titles and regalia, thereby assuring to them and the whole world the importance of their leading leadership roles as leading leaders, then maybe they wouldn't be in such a rush to embarrass Christianity by asserting their entitlement as "Top Leaders" and "giants" in the political arena.
There's some evidence to support this idea. Consider the bestowal of elaborate ecclesiastical titles in the Pentecostal/charismatic branch of white evangelicalism. In that tradition, it's not unusual to encounter church leaders referred to as bishops or prophets or even apostles. Many of those folks have political ideologies that are every bit as perniciously extreme as the far-right fantasies of folks like Falwell and Jeffress, and their stream of American Christianity outnumbers the white fundamentalist realm of those politically attested "top evangelical leaders." But they tend not to be as meddlesome outside of their little ecclesial fiefdoms.
So maybe bestowing such grandiose titles on folks like Falwell and Jeffress and Perkins and Barton and Vander Plaats and Dobson and Mohler would encourage them to linger within the confines of their own little kingdoms instead of rushing to be crowned as kingmakers. Maybe if we gave them all little crowns and their own little thrones to sit on, then maybe they'd be content to just, well, sit there, reigning as princes instead of meddling in politics and saying outrageous things in the media in the hopes that doing so will get some headline writer to call them a "Top Evangelical Leader."
This plan, I admit, is not without its downsides. And while it might help to defend the rest of society from these self-aggrandizing worshippers of power, it wouldn't stop the toxic damage they're already doing within the church. And my Baptist instincts still make me cringe at the thought of regal princes of the church basking in the entitlement of their titles and in having others literally kiss their rings.
But still, drastic times may call for drastic measures.