RIP Charles Ryrie,* "Bible prophecy scholar." Ryrie's dispensationalist study Bible was published in 1978 and sold more than two million copies — although, as John Fea notes, if you were part of the white evangelical/fundamentalist world back then, it seemed like there were even more copies than that floating around.
If you read the 10,000 study notes in Ryrie's popular Bible back in 1978, and if you believed what they taught, it would have seemed utterly impossible to imagine that you would one day read an obituary, in 2016 — twenty-the-future-sixteen! — reporting that Ryrie had died at the age of 90. There was simply no way, if all those notes were true, that the world would still be around in 2016 — no way that Ryrie himself would live another 38 years without getting raptured first.
Ryrie's prophecy notes avoided the specificity that turned folks like Harold Camping and Edgar Whisenant into punchlines, no man knoweth the day or the hour, after all. But while he never advocated explicit date-setting, the argument was still that the Rapture was imminent and The End was coming very soon. He may not have endorsed Whisenant's 88 Reasons Why the Rapture Will Be in 1988, but it sure seemed like he was suggesting we'd more than likely be gone before 1998. And 2008? No way the Lord was going to tarry that long. It was inconceivable.
I remember some "controversy" over the Ryrie Study Bible, but that was focused mainly on his decision to use the New American Standard translation rather than the King James Version beloved by much of his target audience. The assertion that we were living in the Earth's final days was not considered controversial.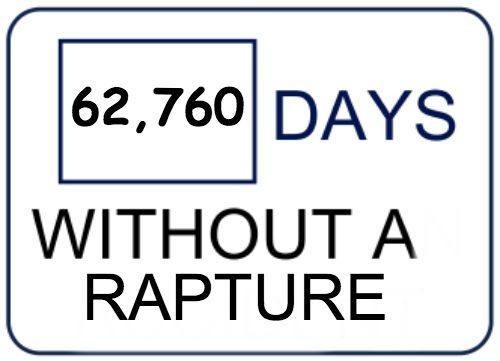 "Ryrie's Bible replaced the Scofield Reference Bible among a new generation of dispensationalists," Fea suggests. And that was probably true throughout the 1980s, at least, though Scofield's original "Bible prophecy" footnotes were first published in 1909 and there are far more than two million copies of that book in print. (I can't find a good guess at total sales of the Scofield Reference Bible, but it passed the million-copies mark back in 1930.)
My point here, though, is just to consider the strangeness of that oxymoronic phrase: "a new generation of dispensationalists." From William Miller to John Nelson Darby to Scofield to Billy Graham and Ryrie and Hal Lindsey, Harold Camping, Tim LaHaye, and all their other heirs, the whole point of dispensationalist "Bible prophecy" is that there won't be another new generation. That has always been their message, for generations, that this generation is the last one.
And they've been insisting on this point for more than 150 years. They're working on their second full century of being utterly wrong.
As I've written before, this is why "Rapture prophets can't celebrate 50th anniversaries." It's also why publishing successes like the Ryrie Study Bible are a mixed blessing for publishers. Usually, a (relatively) small religious publisher like Moody Press would want to milk the success of such a best-seller for decades afterward by publishing special editions to commemorate big-round-number anniversaries. But it's hard to do that with a "Bible prophecy" book that strongly suggested the world wouldn't still be around by the time it marked its 20th anniversary.
Moody did release later, "updated and expanded" editions of Ryrie's Bible. Those "updates" were necessary because so many of the 1978 original's notes showing stunning parallels between biblical prophecies and current events were no longer quite so stunning now that those current events were no longer current. A lot of "Bible prophecy scholarship," it turns out, is much like what Jon Stewart has said of topical political comedy — it has "the shelf-life of potato salad." (See, for example, Blood Moons!)
The death of a "Bible prophecy scholar" presents us with a conundrum. We Christians turn, instinctively, to the great scriptural passages about death, the resurrection of the dead, and the life of the world to come. But it turns out that none of those passages can be a source of comfort at the passing of a dispensationalist, because dispensationalism has twisted all of them into predictions of the Rapture.
Our brother in Christ, Charles Ryrie, has died. "I would not have you to be ignorant, brethren, concerning them which are asleep, that ye sorrow not, even as others which have no hope." But we cannot go there. For Ryrie and for the many generations of Rapture prophets he belongs to, that passage is no longer a source of hope to comfort our sorrow. It's not about death, but about the Rapture, and quoting it now would just add insult to injury by reminding us that Ryrie, by dying, has missed out on that Rapture.
At its rotten core, Rapture theology is all about the denial of death and escaping from it. It offers false hope and false predictions that distract its believers from the only guaranteed certain prediction that can be made for us all. And when that prediction comes true, as it always does and always will, for those they love, it leaves them cruelly deprived of the consolation of hope amid sorrow.
– – – – – – – – – – – –
* The obituary linked there is from Christianity Today, a publication that believes gay and lesbian couples are "destructive to society."