• A friend of the 'vixen's had some complementary tickets to a beach-front concert this weekend, so we found us a cheap motel room online and made a mini-vacation of it down the shore.
The sign at the motel read:
Where Fun Times Are A SHORE
Thing!
But that was the only bad break of the weekend. So we're back, tan, rested and ready.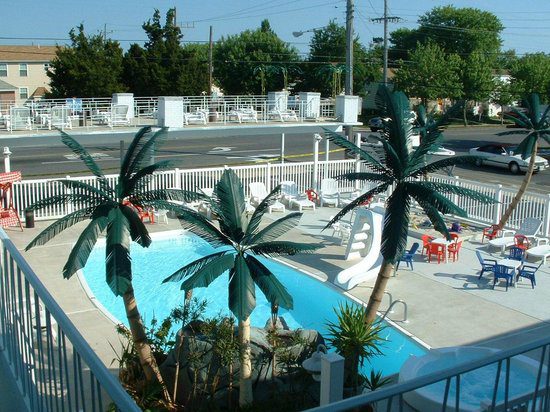 • RIP Gene Wilder. Make time to watch, or to rewatch, any of his movies sometime soon, particularly any of the ones with Mel Brooks or Richard Pryor. Brooks and Pryor are two of the funniest people who ever lived, and both of them somehow got funnier when they were around Gene Wilder.
• "West Virginia AG Spokesperson Fired For Her Role in White Supremacist Video." She didn't have a cameo — she was the spokesperson and host of the thing. And this isn't some kind of judgment call involving a video that might be construed as possibly white supremacist — it's explicitly and proudly racist. That's the first, last and central theme of the thing.
So how did someone go from working as the spokesperson for white supremacist videos to working as the spokesperson for the Attorney General of West Virginia? Well, there's a transitional step in there. The Charleston Gazette-Mail reports that previously, she was "member relations director with the conservative Family Policy Council of West Virginia."
That would be the state chapter of the Family Research Council, a pillar of the white evangelical religious right whose boss, The Liar Tony Perkins, has
his own history of association with white supremacist groups
. The FRC was designated as a hate group by the Southern Poverty Law Center, but it has yet to be designated as "controversial" or dubious in any way for "mainstream" white evangelicalism.
• "What I've Learned Cutting Hair in Jail."
• This piece from Matt Yglesias basically echoes my own take on the lingering non-scandal of the Clinton Foundation: "Colin Powell's foundation and Hillary Clinton's are treated very differently by the media." Of course, there wouldn't be any way to investigate Powell's foundation even if anyone had ever been interested in doing so — Powell deleted all the emails from the private server he used as Secretary of State.
Also, I appreciate — and share — a sense of general discomfort with jet-setting philanthropists who hang out with the Davos and Aspen crowd. But that doesn't make the Gates Foundation evil or mean that Bono is history's greatest monster. And the recent attempts to make Muhammad Yunus some kind of poster-boy for the access-buying 1 percent is just misleading, offensive and harmful on so many levels.
Yes, Old Man Potter served on the board of the Bailey Bros. Building & Loan. No, that doesn't mean there's no difference between him and George Bailey.
• That concert down the shore, by the way, was by Mac McAnally, a laid-back Mississippian best known for playing guitar for Jimmy Buffett and for writing songs for everybody else. Here's one of his I particularly like: