Anderson Cooper committed an act of journalism during last night's presidential debate between Democratic nominee Hillary Clinton and Republican nominee Donald Trump.
There was a lot going on in that debate, and we'll get to that later, but I suspect this bit from early in the debate might have the biggest impact on campaign coverage, and the campaign itself, over the remaining weeks (from Fortune's transcript of the debate):
COOPER: Just for the record, though, are you saying that what you said on that bus 11 years ago that you did not actually kiss women without consent or grope women without consent?

TRUMP: I have great respect for women. Nobody has more respect for women than I do.

COOPER: So, for the record, you're saying you never did that?

TRUMP: I've said things that, frankly, you hear these things I said. And I was embarrassed by it. But I have tremendous respect for women.

COOPER: Have you ever done those things?

TRUMP: And women have respect for me. And I will tell you: No, I have not. And I will tell you that I'm going to make our country safe. We're going to have borders in our country, which we don't have now.
Trump dodges and weaves, but filter that out and the final outcome is this:
COOPER: For the record … did you actually kiss women without consent or grope women without consent?

TRUMP: No, I have not.
That's a flat denial. Donald Trump denies ever kissing women without consent or groping women without consent.
That may be true or it may be false. But it is certainly falsifiable. And Donald Trump has just invited — challenged, dared — every journalist in America to investigate whether his categorical denial is true or false. He may as well have directly quoted Gary Hart: "Follow me around. I don't care. I'm serious. If anybody wants to put a tail on me, go ahead."
But this was not only a challenge to journalists. If Trump's denial was false, then it was also a challenge to every woman he has ever molested, kissed or fondled without consent, or sexually assaulted. More than a challenge, it seems to have been an attempt to intimidate them into silence — into never coming forward to testify and tell their stories publicly. I don't think that's going to work any more than Trump's weird, creepy attempts to intimidate Hillary Clinton by hovering near her and denying her physical space on the debate platform. I think it's going to backfire.
I suspect, actually, that Trump's categorical, "for the record" denial will enrage and embolden women who have previously been silent. And I don't think any of the many journalists now looking for them will have a hard time finding them or getting them to speak.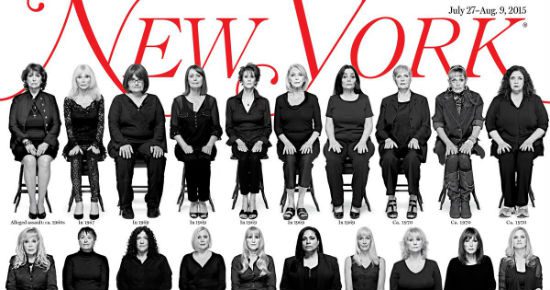 The remaining weeks of the already foundering Donald Trump campaign may very well turn out to look like a repeat of the Cosby show — not the once-charming '80s sitcom, but the heart-breaking 21st-century spectacle of woman after woman, victim after victim, coming forward day after day to tell her story — an avalanche of courageous testimony heaping inescapable disgrace on a deplorable man.
Maybe that won't happen. Maybe Trump's categorical denial wasn't a lie and he was, instead, lying when he told Billy Bush "I just start kissing them. It's like a magnet. Just kiss. I don't even wait. … And when you're a star, they let you do it. … You can do anything. … Grab them by the pussy." Maybe that was just an empty boast — as appalling as it would be for someone to imagine this "boasting" makes them look good, that's the best possible interpretation available for Trump.
But the voice on that tape saying all those things to Bush is all-too familiar for anyone who's been unable to avoid Trump's swaggering media presence for the past 30+ years. Those who know him believe what he said to Billy Bush off the record, not the dismissive denial he gave to Anderson Cooper on the record. Michael Kruse interviewed several of Trump's former employees and co-workers — people who know him well — after the hot-mic tape became public Friday:
"Anyone who knows me knows these words don't reflect who I am," he said in his apology after midnight early Saturday morning. But to people who actually have spent time with Trump, the recording was the opposite of shocking. They saw and heard in that audio and video precisely the man they have come to know.

"That's who he is," Artie Nusbaum, one of the bosses at the construction company that built Trump Tower, told me Saturday afternoon.

"I'm not surprised," said Barbara Res, a former vice president at the Trump Organization who worked for Trump over the course of three decades, from his Grand Hyatt project to Trump Tower to the renovation of the Plaza hotel.

Said Trump biographer Tim O'Brien: "He's always been this guy."
I suspect that right now, as you're reading this, many journalists are already taking notes, making phone calls, and vetting all the background facts before publishing what will likely only be the first wave of stories following up on Trump's debate denial. The first wave, but not the last.