• Mark 9:38-41
John said to him, "Teacher, we saw someone casting out demons in your name, and we tried to stop him, because he was not following us."

But Jesus said, "Do not stop him; for no one who does a deed of power in my name will be able soon afterward to speak evil of me. Whoever is not against us is for us."
• Erik Loomis thinks it's a good time for us all to brush up on our history — specifically, the history of resistance to the Fugitive Slave Act of 1850. (Frederick Douglass has done an amazing job speaking out against that law and is getting recognized more and more for it, I notice.) Erik focuses on the kidnapping of Anthony Burns in Boston.
This resistance involved civil disobedience, but it also went well beyond that into something more directly rebellious — Harriet-Tubman or Robin-Hood style action of the patriotic outlaw variety. When slave-catchers — acting legally according to the 1850 law — kidnapped Burns in Boston to re-enslave him, abolitionists tried to take him back. By force. President Pierce wound up sending in the Marines to ensure the enforcement of his disgraceful law.
Reading the account of this incident — a proud moment for Boston but a shameful one for the nation — we come across a familiar name. "The crowd outside the courthouse quickly grew from several hundred to about two thousand. A small group of blacks, led by white minister Thomas Wentworth Higginson, charged the building with a beam they used as a battering ram."
Yep. Turns out that's the same Thomas Wentworth Higginson whose bewildered correspondence with Emily Dickinson we looked at the other day. Wow. The same man who was intimidated by the ferocity of Emily's poetry was, at the same time, a glorious beast in the streets in fighting for the cause of abolition. He was a minister, a poetry editor, and a radical activist. Higginson's 1099s must've been something to see.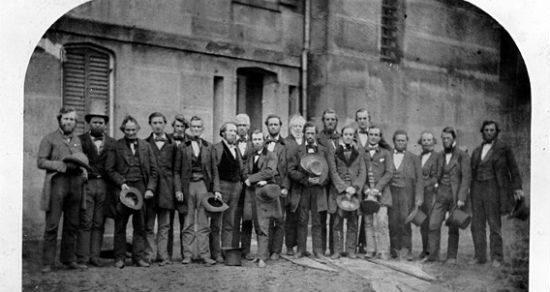 • To supplement the story of Anthony Burns, let me also recommend the story of the Oberlin-Wellington Rescue. This has always been a story that everyone should know. Nowadays, it's becoming a story that we may need to learn from.
• The A.V. Club takes a look at
A Thief in the Night
and the rest of the pioneering series of Rapture exploitation movies: "
Evangelical cinema kicked off with a batshit budget franchise about the Rapture
." It's harsh, but fair.
• "How to Leak Stories to The Marshall Project." This is an important article for its rather select target audience. And it's important for the rest of us, too, due to the creepy fact of its increasingly urgent necessity.
Adjust, but never get used to this.
• Melania Trump is suing the Daily Mail, seeking damages because she says the paper harmed her reputation and thus prevented her and her husband from violating the Emoluments Clause of the Constitution and exploiting his office for their personal enrichment.
No, really. That's her legal argument — that the Mail's alleged libel harmed her opportunity to cash-in on the money-making extravaganza of being the (absentee) First Lady of the United States.
Richard Painter, a White House ethics counsel under President George W. Bush and a critic of President Trump's decision to retain ownership of his real estate and branding empire while in office, said Monday that he was troubled by the suggestion in the new suit that Melania Trump intended to profit from her public role.

"There has never been a first lady of the United States who insinuated that she intended to make a lot of money because of the 'once-in-a-lifetime' opportunity of being first lady," said Painter, who is participating in a lawsuit claiming that President Trump's relationship with his company violates a constitutional provision barring presidents from taking money or gifts from foreign ­governments.