• "Reported Sightings Fuel Hope For Return of Tasmanian Tigers." Likely just wishful thinking a la the cougars of Delaware, but I sure hope these folks are on to something. (via Steve B.)
• Michele Bachmann is out of office, but the Left Behind series is still in print and its Scofield Bircherism is still popular among American conservatives.
• Former Republican Gov. Robert Bentley of Alabama (a Southern Baptist deacon) didn't get impeached because of his extramarital affair. And it wasn't just because he misused state funds to conduct and cover up that affair. It was also because he had an affair with the woman he put in charge of an explicitly racist and therefore unconstitutional effort designed to disenfranchise black voters.
"Family-values Christian" conservatives are, of course, dismayed by Bentley's marital infidelity, but they're not upset about his disenfranchising black voters. That goal remains the paramount focus of their politics, which is why they voted for Donald Trump to ensure a "conservative" Supreme Court appointment that will continue the post-Shelby County gutting of voting rights for nonwhite citizens. (These Christians try to claim that their Supreme Court obsession is about abortion, not about disenfranchising black voters, but that's becoming harder and harder for them to say with a straight face while they celebrate Jeff Sessions' tenure as attorney general and the swearing in of new justice Not-Garland.)
Also in the Republican Republic of Alabama: "Lawmakers on Tuesday voted 24-4 to allow Briarwood Presbyterian Church in Birmingham to establish a law enforcement department." Presbyterian police. I think I still prefer Augustine Frost, Calvinist P.I.
• Be thou my Vision …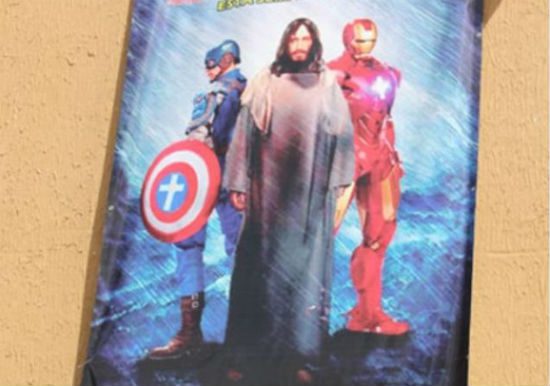 That's from James McGrath, who also points us to a very odd Palm Sunday filk of "Escape (The Piña Colada Song)." It's hard to tell from the recording — which sounds like it's from a cassette that got left in the sun, tangled in the deck, and then rewound with a pencil — but it's weirdly earnest, so I'm not sure what to make of it.
I wasn't entirely sure what to make of the original '70s hit, either, but after discussing that here I got a very nice email from Rupert Holmes himself (!), who explained that: A) The narrator of that song is neither reliable nor intended to be commendable, and B) it's always bugged him when people assumed the first-person voice in that song meant it was autobiographical. (I hope people don't think that about Holmes' earlier hit, by The Buoys, "Timothy.")
Like most people, alas, I missed Holmes' TV series, Remember WENN, when it aired back in the '90s as AMC's first experiment with original programming. Still hoping it will someday soon escape from AMC Limbo and resurface on Netflix or Hulu or Amazon Prime.
• Chris Gehrz looks at Billy Sunday's nationalistic jingoism. Reading this descriptor — "baseball player-turned-evangelist Billy Sunday …" — for the umpteenth time finally prompted me to look up Sunday's Baseball Reference page. His stolen-base totals are pretty impressive, but stolen bases don't amount to much if you've also got only a .300 lifetime on-base percentage. Basically, then, we might say Sunday was flashy but lacking in discipline and not solid on the fundamentals. And now I've forgotten whether I'm describing his baseball career or his evangelism.