On March 22, 1917, baseball player-turned-evangelist Billy Sunday was preaching in Buffalo, New York when he turned to the issue foremost on the minds of most Americans:
Jesus, you're sure taking a lot of back talk from the Kaiser. I wish, Lord, you'd tell America to help wipe Germany off the map, as you commanded Israel to destroy the idolatrous and corrupt Canaanites. Count Billy Sunday in up to his neck when war comes…. Jesus will be our commander in chief, and He has von Hindenburg beaten to a frazzle.
After Buffalo, Sunday was moving on to New York City, where April 8th would mark the beginning of a new crusade, at a temporary tabernacle built on the site of the New York Yankees' former ballpark. Should war come, he promised to "turn that New York tabernacle into a recruiting station…. I'll raise enough of an army myself to beat down to the dust the devil's hordes that are murdering our women folk." Sunday, reported the correspondent for the New-York Tribune, was "ready to turn the fight against 'Teuton frightfulness the minute Congress gives the word.'"
The word came two days before the New York crusade began. The next morning, the New York Times headline reported that "40,000 CHEER FOR WAR AND RELIGION MIXED BY SUNDAY."
While leading theological liberals had overwhelmingly supported American entry in World War I (in his book on religion and WWI, Philip cites several "alarming assertions of cosmic war rhetoric" from American liberals), their conservative critics tended to be a bit more circumspect. Historian Andrew Preston notes that many fundamentalists "viewed the government as a corrupting influence upon the church, and so refused to have anything to do with invocations of patriotism and wartime service. Others continued to embrace the New Testament's pacifist injunctions against war…" For his part, Billy Sunday had greeted the news of war in August 1914 with a shrug: "There'll always be wars." The following spring, he refused to pray for the war to end, since it had somehow to serve God's purpose.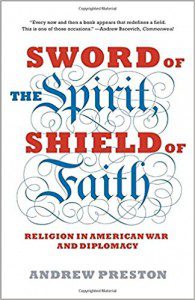 But once the U.S. declared war on Germany in April 1917, Preston adds, modernists and fundamentalists "used the war to attack [each other], charging their adversaries with insufficient patriotism or culpability in causing war in the first place. For both sides, then, expressing their utmost support for the war, its grand objectives, and the nation was not only patriotic duty but a matter of survival." And some conservatives were all too happy to support a crusade against the country that had given the world higher criticism. (Among the 93 German intellectuals who signed a pro-war manifesto in October 1914 were liberal theologians, biblical scholars, and church historians like Adolf von Harnack, Wilhelm Herrmann, Reinhold Seeberg, and Adolf Deissmann.) "And maybe," Billy Sunday told his congregation in Buffalo, "[Jesus has] it in for Germany for the miserable heresy that crawled out of Leipsic [sic] and Heidelberg."
As America mobilized for the war, Sunday preached in favor of buying Liberty and Victory Bonds (claiming later to have sold $100 million worth) and against going on strike in wartime. ("Traitors of the worst sort," he called shipyard workers planning to walk out.) His attacks on Germany grew more and more heated.  Biographer Roger Bruns notes that the evangelist told schoolchildren to hiss at the German flag, and he characterized the German emperor as Wilhelm the Mephistopheles, a satanic figure who'd "just as soon train his big guns upon an American woman with a baby at her breast as upon a Belgian cathedral, a Red Cross station, or a hospital; it's all the same to him." Preaching in a tabernacle across from Union Station in the nation's capital, Sunday promised in January 1918 that America's forces would "bury the Kaiser and his hot-dog gang so deep that they will not hear the toot of Gabriel's horn on resurrection morn." (During a similar sermon a week earlier in Atlanta, a German-American carpenter charged the stage and exchanged punches with Sunday.)
Sunday's rhetoric reached a crescendo as he prayed in the House of Representatives itself:
Sunday visiting the White House during the Harding Administration, in 1922 – Library of Congress

Almighty God, our Heavenly Father, we thank Thee and rejoice that through faith in Thee and Thy word this Government was built upon that foundation…. We thank Thee that we are Americans and live beneath the protecting folds of the Stars and Stripes. We thank Thee that Thou canst look over the battlements of glory on our land and see that there is not one stain on any star or stripe in Old Glory.

Thou knowest, O Lord, that we are in a life-and-death struggle with one of the most infamous, vile, greedy, avaricious, bloodthirsty, sensual, and vicious nations that has ever disgraced the pages of history. Thou knowest that Germany has drawn from the eyes of mankind enough tears to make another sea; that she has drawn enough groans and shrieks from the hearts of men, women, and children to make another mountain. We pray Thee that Thou make bare Thy mighty arm and beat back that great pack of hungry, wolfish Huns, whose fangs drip with blood and gore….

And Lord, may every man, woman and child, from Maine to California and from Minnesota to Louisiana, stand up to the last ditch and be glad and willing to suffer and endure until final victory shall come. Bless our Allies and may victory be ours.
"Patriotism and prayer," wrote one newspaper editor, "are merged at [Sunday's] tabernacle. The way of the cross is made the way of service and sacrifice in behalf of the nation and of humanity." After all, Sunday himself had insisted during the New York crusade that "loyalty to my country and to Jesus Christ are synonymous." But church and state did not always mix comfortably. Despite Sunday's popularity among many political and military leaders, President Woodrow Wilson not only asked the evangelist to cancel a planned crusade in Europe but denied his later request to serve on a POW exchange commission.
All this came back to mind on Saturday, when I took a group of students to the Minnesota History Center for the grand opening of WW1 America, a major new exhibit developed in partnership with museums like the National World War I Museum in Kansas City. (I'll post a fuller review at my own blog.)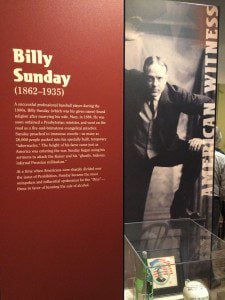 As is often the case with WWI, religious history doesn't get much attention in an otherwise excellent tour of the war's effects on American society and culture. But Billy Sunday is featured prominently, his display next to that of civil rights leader W.E.B. DuBois and not far from one about Christy Mathewson, the great New York Giants pitcher (and "Christian Gentleman") who was accidentally gassed on the Western Front.
The display includes three items on loan from the Winona History Center at Grace College in Winona Lake, IN: an oversized baseball ("Bawl out the sinners… Keep on knocking 'em' out") that was presented to Sunday during the Buffalo crusade in 1917; from the New York crusade, a portrait of Sunday against the backdrop of the American flag, ringed by a life preserver, and titled "Billy Sunday, Life Saver"; and a bottle of mineral water.
The latter, of course, refers to Sunday's other great passion: the prohibition of alcohol. And arguably, this gets us to the most important intersection of religion and politics in "WW1 America." Congress passed the 18th Amendment to the U.S. Constitution a month before Sunday preached to the House of Representatives, and that amendment was ratified just two days before the peace conference began at Versailles. To a significant degree, Prohibition achieved this success because Christian "Drys" like Sunday were able to conflate the war on alcohol with the war on Germany. For example, as American troops joined the war-ending offensive of September 1918, temperance advocate Alva Taylor urged Christian Century readers to "organize the world for the final battle on Kaiser Alcohol; let us bury the two Kaisers in the same grave."
Further Reading
Roger A. Bruns, Preacher: Billy Sunday and Big-Time American Evangelism (Univ. of Illinois Press, 1992), ch. 11.
David T. Morgan, "The Revivalist as Patriot: Billy Sunday and World War I," Journal of Presbyterian History 51 (Summer 1973): 199-215.
Andrew Preston, Sword of the Spirit, Shield of Faith: Religion in American War and Diplomacy (Anchor, 2012), ch. 14.