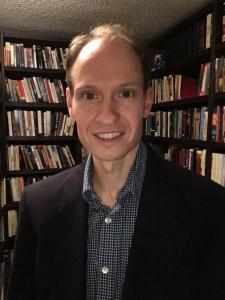 Daniel K. Williams is a professor of history at the University of West Georgia, where he teaches courses on American history, with a particular focus on American religion and politics.
He has published three books on the intersection of Christianity and politics in recent America: God's Own Party: The Making of the Christian Right (Oxford University Press, 2010); Defenders of the Unborn: The Pro-Life Movement before Roe v. Wade (Oxford University Press, 2016); and The Election of the Evangelical: Jimmy Carter, Gerald Ford, and the Presidential Contest of 1976 (University Press of Kansas, 2020).  His forthcoming book, The Politics of the Cross: A Christian Alternative to Partisanship, will be published by Eerdmans in early 2021.  His work has also appeared in the New York Times, Washington Post, Christianity Today, and First Things.
He lives in Carrollton, Georgia, with his wife Nadya (who also teaches history at the University of West Georgia) and their three children.
PUBLICATIONS:
The Politics of the Cross: A Christian Alternative to Partisanship

Written by Daniel K. Williams
Copyright: 2021
Publisher: Eerdmans
The Election of the Evangelical: Jimmy Carter, Gerald Ford, and the Presidential Contest of 1976

Written by Daniel K. Williams
Copyright: 2020
Publisher: University Press of Kansas
Defenders of the Unborn: The Pro-Life Movement before Roe v. Wade

Written by Daniel K. Williams
Copyright: 2016
Publisher: Oxford University Press
God's Own Party: The Making of the Christian Right

Written by Daniel K. Williams
Copyright: 2010
Publisher: Oxford University Press