• Here's a nice chewy bit of theologizing from Juan C. Torres at DET, riffing on David W. Congdon's The God Who Saves and on soteriology more generally. That's the fancy name for doctrines of salvation, which is a surprisingly murky category of theology, considering how important it seems to be. "There has never been an official dogma regarding salvation," Congdon writes. And, "There are almost as many soteriologies as there are theologians to espouse them."
What does it mean to be 'saved'? Saved from what? Saved for what? Who? What? When? Where? How? Why? Ask a dozen theologians and you'll get two dozen answers. Torres really likes how Congdon frames and answers those questions, which is this:
Salvation is not salvation from suffering, from oppression, from the final judgment, from eternal torment, from annihilation, from the devil, from mortality — from any of the traditional threats. It is salvation from ourselves. Not salvation from the sinful "old self," as in the classic religious paradigm, but from the illusion that we belong to ourselves, from the anxious attempt to secure ourselves, from the desire to possess our identity and thus our future, from the struggle to assert our freedom and authority. To use more traditional Lutheran terminology, it is salvation from being "curved in upon ourselves" (incurvatus in se), from having a heart viciously and solipsistically turned in upon its own twisted concern for self-preservation and self-aggrandizement. The apocalypse of salvation is, in a sense, our death — the death of the existentially secure world that we build around ourselves.
I'm going to chew on that for a while. Here let me just point out the importance of this idea of being "curved in upon ourselves" and "having a heart viciously and solipsistically turned in upon its own twisted concern for self-preservation and self-aggrandizement." This description of being so self-centered that we're twisted back into ourselves anatomically is, in the Latin, incurvatus in se. In the vulgar, well, there's another, shorter term for it.
• The odometer on the Yaris hit six digits this weekend. That's a lot of softball and rugby practices, years of school drop-offs and pick-ups, and commuting to various jobs of various quality. Those miles are sort of like light-years — a unit measuring time as well as distance.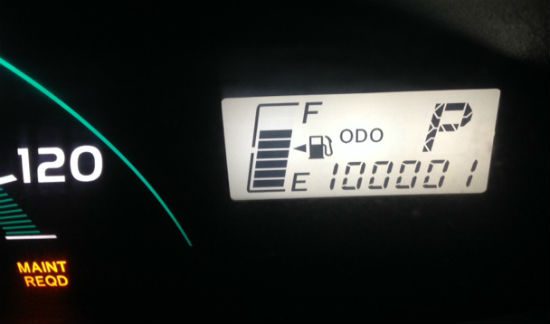 Anyway, this car has so far endured through three graduations and just needs to keep going to get us through a few more.
• Libby Anne offers a one-two punch exploring "How a White Supremacist Book Found Its Way Into a Family's Homeschool" and "The Christian Hagiography of Robert E. Lee Endorsed by James Dobson and Tim LaHaye." She's following up on a fine Twitter thread from Kathryn Brightbill discussing how the Christian- and home-school textbooks produced by Bob Jones University lionize treason in defense of slavery as the epitome of Christian faith.
Those posts couple nicely with this short reflection from Jan Edmiston on "the love of money is the root of all evil."
• The BBC "polled 253 film critics from 52 countries to determine the funniest films ever made."
Sort of. That's not really what they asked. What they did, instead, was ask those film critics to offer suggestions for "the 10 best comedies of all time," which is rather a different question. "Funniest movie" is not the same thing as "best movie that could be classified as a comedy."
Consider, for example, No. 4 on their Top 100: Groundhog Day. I'd say it's correct to rank that as the best Bill Murray comedy, but not to say it's the funniest Bill Murray movie. That distinction seems to have shaped most of the voting for this list, but not all of it. Airplane! also makes the Top 10 at No. 7, suggesting that a relentlessly funny movie deserves such honors even if that's pretty much all it tries to do.
I've seen (and can recommend) all of the Top 10 here except for Playtime — a 1967 Jacques Tati movie. The only Tati movie I've ever seen was the delightful Mr. Hulot's Holiday, which I saw only because it was one of the Top 10 movies the last time somebody made one of these lists (it's No. 30 here). Those movies haven't changed since that earlier list, so I wonder what it is about us that's changed that's caused them to switch places in the rankings.
• The otherwise unassuming older woman in line in front of me at the Wawa was wearing a Tedeschi Trucks Band concert shirt. That's a reminder that it is possible to get cooler as you get older. And it's a good excuse to listen to this again: