Dan Johnson is dead. The Pentecostal preacher and Trumpian, Christian nationalist Republican politician from Kentucky — the man we discussed here yesterday — died Wednesday night in an apparent suicide. He was 57.
This was both unexpected and unsurprising. Johnson was defiant and indignant earlier in the week following the publication of a devastating, well-documented exposé by a team of reporters from the Kentucky Center for Investigative Reporting. KyCIR spent seven months examining Johnson's past, a process that included more than 100 interviews and sifting through thousands of pages of public records. The result was the portrait of a charming narcissist with a long history of extravagant lies, shady finances, sexual incontinence, multiple alcohol violations, and two cases of arson and insurance fraud. Johnson comes across, as someone said on Twitter, as who Donald Trump might have been had he not been born into wealth.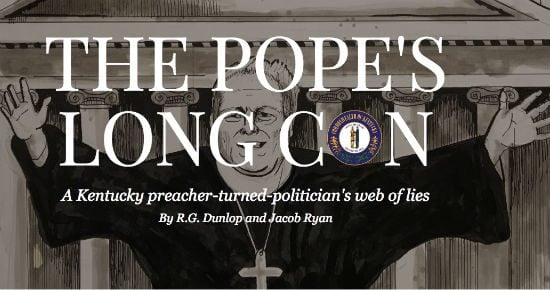 The most serious charge in the report was the testimony of a young woman from the church Johnson pastored. When she was 17 — and his own daughter's best friend, sleeping over at the parsonage after a church New Year's Eve party — Johnson woke her up in the middle of the night, kissed and groped and penetrated her as she protested and begged him to stop. Her testimony is corroborated by multiple contemporaneous accounts from witnesses she told about the assault at the time. That includes the police report filed by her and her parents. Louisville Metro police abandoned the investigation at the time after Johnson refused to cooperate, but the summary of the case in the KyCIR report was so compelling it has been re-opened, along with a formal investigation of the police department itself examining how it so badly mishandled its original response. Her testimony is also supported by Johnson's own Facebook messages sent to her in the days following the attack.
Even without that allegation of a serious sexual crime, the rest of the history documented in "The Pope's Long Con" would have been more than enough to make it clear to voters and officials that Dan Johnson was unfit for public office. I'd say it also showed that he is unfit to serve as a minister, even though the standards for that are much lower than the standards for politicians. But the alleged sexual felony — sexual assault of a minor and a parishioner (Kentucky law, KyCIR reports, specifies first-degree sexual assault "occurs when someone in a position of authority or special trust subjects a minor to sexual contact. That specifically includes a 'religious leader'") — rightly overshadowed all of the other misdeeds in the exposé. That alleged crime was what led the Republican Party of Kentucky to call for Johnson's resignation, and it quickly became the focus of Johnson's denials and attempted defense.
On Tuesday, the day after the report was published, Dan Johnson staged a theatrical press conference at his Heart of Fire church to proclaim that he was the innocent victim of a slanderous hatchet-job by NPR (KyCIR is funded by Kentucky Public Radio):
Kentucky Rep. Dan Johnson refused to resign Tuesday morning and said an allegation that he sexually assaulted a teenager "has no merit."

Johnson, speaking at a news conference at his Heart of Fire Church in Fern Creek, denied ever committing arson or molesting a then-17-year-old member of his church in 2013. He implied that the story by the Kentucky Center for Investigative Reporting was motivated by funding sources to NPR and that the allegations were about politics.

"This allegation concerning this lady, this young girl, absolutely has no merit," Johnson said. "These are unfounded accusations, totally."

About a dozen family members and friends stood behind him at the podium as he spoke to nearly 20 members of the media. Before speaking, he led them in a rendition of "Oh Come, All Ye Faithful."

Johnson blamed the current political climate for the accusations against him, and said he's not a perfect person. But in his case, he said, "NPR is casting the first stone," and held up a rock with NPR written on it.
Johnson vowed to remain in office and to disprove the charges and evidence against him, which he insisted were false. The following day, Johnson
posted an apparent suicide note on Facebook and was found hours later
, in his pickup truck, dead from a single gunshot wound to the head.
By ending his own life, Johnson seems to have escaped justice. Some Christians teach that those who take their own lives are also escaping grace. That's not what I believe. My theology holds that it is impossible for any of us to escape either of those things — no matter how we live or how we die.
What I think Dan Johnson was really trying to escape was the dawning realization, at long last, of the fact that he was Dan Johnson. I think he finally caught an unwelcome glimpse of what that meant. R.G. Dunlop and Jacob Ryan's long, exhaustively detailed exposé shocked Kentuckians by revealing to them who Dan Johnson really was, and I think maybe the person most stunned by that revelation was Johnson himself. The report seems to have provided him with the long look in a mirror that he had, until now, managed to evade. And he was not able to survive it.
This is the terrifying, damning, heart-breakingly tragic condition of people like Dan Johnson. Their one hope for redemption is the repentance that might come from real self-knowledge. But such self-knowledge — even for just a moment, just an instant — is likely more than they can bear. The only tolerable response to such knowledge for a person like that would be to change — to stop being Dan Johnson. Or just to stop being. Johnson, apparently, chose the latter option.
I wish he hadn't. I wish he had found whatever path to redemption might have still been available — remorse, apologies, begging for forgiveness from his victim and from his daughter, repentance, atonement, amends, accepting consequences, whatever that would look like. It's far harder to imagine what that would mean for Johnson than for, say, Ebenezer Scrooge or Zacchaeus. But that was unlikely, given that he had crafted his life so that he had no one around him who wasn't a sycophant or a blind follower, no one who could help him to see the truth and to survive it.
I'm not sure how else we should have expected this story to end. I compared it to something from Elmore Leonard, so I should have anticipated some grim turn of events involving sordid, awful violence. Johnson spent the first act of this play waving a lot of guns around, so this final act was long foreshadowed.
I suppose what I expected was that Johnson would be forced to give up his seat in the legislature but that he would retain his previously unshakeable narcissistic denial of reality. If he could somehow escape the criminal charges — he'd done so before — I supposed he would continue to reign as "pope" at his idiosyncratic church, bolstering his power and authority there with claims of unjust persecution from the unrighteous. A few years later, I figured, he would attempt a return to public life, probably aiming for an even higher office (a la Roy Moore after his lifetime ban from the Alabama judiciary).
I didn't expect that he would ever experience the moment of clarity that led him to turn one of his beloved guns on himself. Was that moment of long-avoided self awareness itself a kind of grace? Or was it perhaps also a kind of justice?
Meanwhile, less than 24 hours after Johnson's body was found in his pickup truck next to his .40 caliber pistol, his wife, Rebecca Johnson, released a press statement announcing her intention to run for his seat in the state legislature. The pope is dead, but the long con lives on.