Back during my magazine years, I sometimes picked up hours at an area chain bookstore where a friend of mine was a manager. It was a good way to make a little money during those stretches in which I wasn't able to pay both postage and my salary.
So in October of 1996 I was there, at the Encore Books in Exton (where the Men's Wearhouse is now), at about 4:15 on a weekday. That's when a nice white suburban housewife type asked me if we had a copy of Song of Solomon by Toni Morrison. "We do," I said, and I walked her back to the 4-foot "Literature" section tacked on at the end of our Fiction-people-actually-buy aisle where we had one dusty copy. She was very pleased and took the book right to the checkout counter. And I was very pleased, because it was always cool to actually sell something from the Lit section.
Ten minutes later, another nice white suburban lady: "I'm looking for Song of Solomon, by Toni Morrison."
I walked her back to Lit, apologizing for the strange coincidence of having sold our only copy just a few minutes earlier. "But we have several other books by Toni Morrison," I suggested hopefully. "Beloved? This won a Pulitzer." But she wasn't interested in any of those books. Only Song of Solomon. She was adamant.
So we walked over to the special order counter where I was surprised to find a long line of white Chester County women. And they were all asking for Song of Solomon.
What was going on?
Oprah, it turns out. The reigning queen of afternoon talk shows had started a new book club and all of these women hadn't even waited for the end of the show before getting into their cars, driving to our store, and special-ordering their copy of a very good, 20-year-old book that no one had been buying from us the week or month or year before. Their favorite celebrity — their mentor, friend, sister — said she loved this book and wanted them to read it and that was all they needed to hear.
Thankfully, for those of us in the book-selling racket, Oprah Winfrey was also a canny businesswoman, so by the following month she'd prepared us for the astonishing book-selling phenomenon that came to be known as the Oprah effect. Before announcing future selections, she'd ensured that stores like ours had already received plenty of advance copies — all sternly sealed and embargoed as a vigilantly kept secret. We sang her praises as we rang up sales, making millionaires of people like Jane Hamilton and Wally Lamb and Alice Hoffman.
During its 20-year run, Oprah's Book Club selections were scrutinized and often criticized, sometimes sniffed at as "middle-brow." Whatever. People were reading books — good books, mostly. And those selections and syndicated discussions made millions of book-club members want to read more good books. The publishing world never saw anything like that before or since.
The really remarkable thing about the Book Club's selections — and the reason for it's huge success — was that it seemed so personal. There wasn't any whiff of payola or of any of the ways that such a money-making engine might have been corrupt or corrupted. Selections were, above all, chosen on the basis of one criteria — Oprah herself had read the books and loved them. She was, as a person, someone that millions of others had come to trust as a recommender of books.
I don't know of a better compliment than that.
Oprah Winfrey is in the news today because she was honored last night with the Cecil B. DeMille Award for lifetime achievement at the Golden Globes. This was newsworthy not just because of that honor, but because of her rousing acceptance speech — a sermon, really, and probably the best one you'll hear this week. Oprah can puh-reach:
You should watch that video if you haven't seen this speech already. If you have seen it already, you might want to watch it again.
This bit, especially, is not just moving but insightful:
And there's someone else, Recy Taylor, a name I know and I think you should know, too. In 1944, Recy Taylor was a young wife and mother walking home from a church service she'd attended in Abbeville, Alabama, when she was abducted by six armed white men, raped, and left blindfolded by the side of the road coming home from church. They threatened to kill her if she ever told anyone, but her story was reported to the NAACP where a young worker by the name of Rosa Parks became the lead investigator on her case and together they sought justice. But justice wasn't an option in the era of Jim Crow. The men who tried to destroy her were never persecuted. Recy Taylor died ten days ago, just shy of her 98th birthday. She lived as we all have lived, too many years in a culture broken by brutally powerful men. For too long, women have not been heard or believed if they dare speak the truth to the power of those men. But their time is up. Their time is up.
"A culture broken by brutally powerful men" is an eloquent and precise diagnosis of our current context, and of our perennial context.
Oprah's speech last night brought the star-studded audience to its feet and has been routinely, and accurately, described as "inspirational." Given the current colossal absence of inspiration in American public life — the narcissistic vortex sucking even the possibility of inspiration out of us all — it's not surprising talk quickly turned to speculation of Oprah for president in 2020.
I get that — particularly at this moment in American history, when she would be such an obvious, dramatic improvement in competence, temperament, intellect and integrity over the bumbling narcissist currently occupying the Oval Office. I appreciate, too, that Oprah Winfrey is such a unique figure, enjoying such widespread admiration and trust, that she seems in a category unto herself when it comes to thinking of celebrity candidates. As
Bill Scher noted more than a year ago in Politico
, Oprah for president isn't an entirely fanciful idea.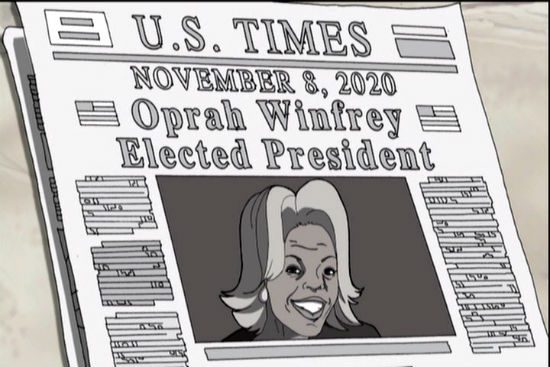 For decades, Oprah Winfrey has always been near the top of Gallup's annual list of "most admired" people, indicating that she enjoys a broad base of respect and trust throughout America. But Oprah has never held the No. 1 spot on that list. For the past quarter century, that spot has belonged to the woman who has been America's top most-admired person more than twice as often as the nearest runner-up and thus, by any interpretation of Gallup's data, is the most beloved figure in America: Hillary Rodham Clinton.
It's odd, of course, that the woman whose name has been volunteered by more Americans than any other person as the figure they admire the very most is simultaneously portrayed in the media as "unpopular" or "unlikeable." That's not surprising, though, if we keep in mind that the media, and political reporting especially, is part of "a culture broken by brutally powerful men."
The paradoxical results of that annual Gallup poll are sometimes explained by the theory that Hillary Clinton is a uniquely "polarizing" figure. I don't think that's accurate. I wouldn't say that she is uniquely polarizing so much as that she has been uniquely polarized — that she has been, for the same reasons she tops that Gallup poll year-in and year-out, the particular focus and target of that broken culture and of those brutally powerful men.
Oprah Winfrey has, thus far, not experienced that kind of focus and targeting, but if she became a candidate, that machine would turn toward her. It's been less than 24 hours since her speech last night and already we're seeing that kind of focus shift toward her. The broken culture and the brutal men have sniffed out the prospect of another widely admired woman who might challenge their control of that culture, and just that quickly they're moving to neutralize that threat (just as they have been busily at work pre-emptively "polarizing" any other women they regard as getting uppity, such as Sens. Harris and Gillibrand). Give them another six months of lies and attacks and slanders, fabrications and distortions and exaggerations, and they'll manage to turn the second-most admired woman in America into the second-most hated woman too. That's how they do. It's how they keep their broken culture broken. It's how they keep their broken culture theirs.
In any case, Oprah's speech last night wasn't about electoral politics. It was about politics though — about the political, legal, and cultural effort that dominated last night's awards show. It was about Time's Up and the long-awaited, potentially revolutionary response that began to unfold following the revelations about Harvey Weinstein et. al. That was the "new day on the horizon" she spoke of in the crescendo of her sermon-speech.
"When that day finally dawns," she said, speaking of it in future tense, as something that will — or that may — happen, but that has not happened yet. The effort to bring about that new day is still tenuous and vulnerable and young. It's still in danger of fizzling out, of losing steam, or of being categorized as last week's news. (Everybody wore black dresses so now we're done with that, right?) That effort still requires work. It still requires leadership, attention, funding, and, yes, inspiration.
And Oprah Winfrey, bless her, reminded us last night that she can provide some of that. So I'm not eager today to hear talk about giving her some other project. I want to see her keep working on this one. When this victory is secured, then maybe we can talk about 2020. And then maybe we'll even be able to do so without automatically considering every woman to be pre-polarized.