• "God and Trump is a terrible book, but it is an important book, in its way, for those of us struggling to understand how Christians can support a moral cretin like President Trump."
That's Gordon Haber writing about the new cash-in book from Charisma Inc. and INC Inc. mogul Steve Strang, who is a despicable piece of work. Haber's review is also a piece of work, but in a good way. His pocket-summary of Strang is spot-on:
Strang is the brains behind Charisma Media, publisher of riveting periodicals like Christian Retailing. In the literary realm, Strang is responsible for the The Bible Cure, which conveys the good book's advice on weight loss; and The Paradigm, a "messianic rabbi's" musings on how America's "moral decline" echoes that of the ancient kingdom of Israel. Strang, in short, is one of those guys who makes his fortune by peddling connections, however tenuous, between the zeitgeist and the Bible.
Read the whole thing. It's lovely. (Also see Amy Sullivan's review: "Millions of Americans Believe God Made Trump President.")
• I've been immoderately moderating comments here lately. Among the most recent crop of flagged-and-deleted comments was one promoting the popular-but-bogus white evangelical folklore imagining some biblical distinction between "moral law" and "ceremonial law."
Since this week is all about an underdog Philly sports team headed off to challenge a dynastic defending champion for the national title, let's allow 76ers great Dikembe Motumbo to illustrate our response to this: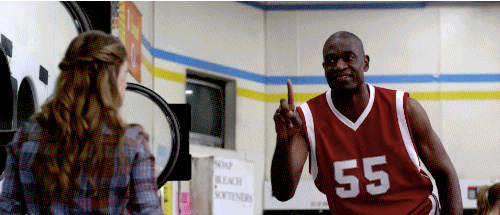 For a longer version of that same message, see "'Ceremonial law' folklore is no substitute for an actual hermeneutic" and "'God hates shrimp': Picking and choosing among abominations." Or just browse through all of the old posts here under the tag "Acts 10." If you're dead-set on promoting this pernicious, self-serving bit of folklore about "ceremonial law," then I'd suggest you try it anywhere other than here.
• You're Not Allowed to Kill Civilians.
• "Big Trouble in Little Cambodia: After Harvey, a small refugee community in Brazoria County needed help. Neo-Confederates and radical anti-government groups showed up." A strange, fascinating story from Michael Hardy for The Texas Observer. I'm going to sit with this a bit.
• We need monsters. We need kitten-burners and Satanic baby-killers. Or,
as Tom Scocca puts it
, we need
sharks
:
What's more relevant to our moment, though, is the process that led Trump to the sharks: He was deliberately choosing to watch them — "obsessed" was the word Daniels used, twice, in the span of a few sentences (also "riveted" and "terrified"). He was watching them so avidly that it seemingly distracted him from his attempt to have sex with a porn star. ("We moved to the sofa so he could get a better view of Shark Week," Daniels told In Touch.)

There have been very, very many attempts to identify the core of Trumpism, but this — stripped of conventional politics, stripped of considerations of wealth and celebrity — seems to reach it as few other anecdotes have: Donald Trump is a guy on dry land, staring at the television for hours because he wants to make himself feel terror and loathing toward sharks.

Sharks have nothing to do with Donald Trump's life; his life is lived no closer to the ocean than a beachside golf course. His life contains no mortal danger at all. And yet he needs the idea of the sharks. In the midst of absolute safety, he needs to fear them and hate them, to live out a fictional encounter with a threatening Other. He is intentionally poisoning his mind with them. The sharks are the Knockout Game, the rampaging Mexican gangs, the Muslim infiltrators, the flag-hating elite. They are American Carnage. He wants the sharks. They are the only thing he knows how to want.
The monsters identify us. And so we cannot live without them.
• The title for this post comes from Ashford & Simpson's 1984 hit, "Solid." Can't say this is a favorite song, exactly — it's not even my favorite Ashford & Simpson song (that would probably be "You're All I Need to Get By") — but I needed to hear it because it's been playing on the pop channel at the Big Box every night this week.
Or, rather, most of it has been playing. The version piping in from the ceiling of the Big Box ends with "Solid (solid, solid)." And stops there. I find this frustrating and annoying. The song shouldn't end there. It's supposed to end — as you'll hear if you forward to the 5:00 mark of the 5:08 video below — "Solid (solid, solid, solid, solid)" … beat, beat … "as a rock."
OK, now I've heard the proper ending and exorcised my discomfort. Better now.