• Four Missouri Republicans faced off seeking the party's nomination for the 15th House District in the state legislature, and the winner in last week's primary — by a big margin — was talk radio host Steve West. Edward McKinley of the Kansas City Star introduces us to the Republican nominee, "'Hitler was right': KC area winner of Missouri House primary leaves trail of bigotry":
On his Monday morning radio show, Steve West promotes fanatical conspiracies about "Jewish cabals" that are "harvesting baby parts" through Planned Parenthood, that torture and molest children and that run the Republican Party. …

Besides his radio show, he also has a YouTube channel and a website. Donning a wig and fake beard and calling himself Jack Justice, he has unleashed an array of bigotry including homophobia, anti-Semitism, Islamophobia and outright racism.
Embarrassed by West's victory, the Missouri Republican Party rushed to condemn West's Hitler-cheerleading and his other vile comments — thereby, somewhat awkwardly, also indirectly condemning the 49.4 percent of Republican voters in Kansas City who heard what West stood for and said, "I'm voting for that guy!"
Among West's supporters in Kansas City: the Missouri Right to Life PAC, which endorsed West in the primary and is endorsing him again in the general election. Because, you know, he may admire Hitler, but he's also against Planned Parenthood.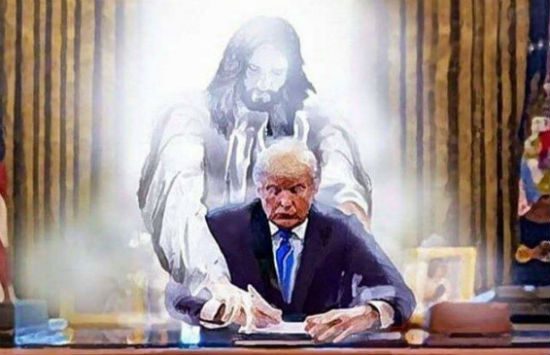 • Via Major Major at Balloon Juice, a fun and fascinating discussion of "Why Do San Francisco Psychics Need Permits From the Police?" from KQED's Carly Severn.
The short answer is that permits are a way of preventing fraud — not as in distinguishing "real" psychics from fake ones, but as in preventing the kind of long-con abuse that can bilk victims out of their entire life savings:
Of course, when it comes to fortunetelling, the very notion of fraud is a subjective one. There are many who see any kind of paid psychic service as dishonest by its nature — whether a reading costs $10 or $10,000. But the kind of fraud SFPD cares about occurs when a person — often someone vulnerable — is convinced they need to keep paying money to a psychic.
• "Did Noah take Neanderthals on the ark?" Libby Anne looks at how some creationists are dealing with the knowledge that we homo sapiens interbred with our ancient cousins.
• "I'm going to, like,
reveal this freaking bombshell of a story
, and it's like, I'm not. I wish I could, but I can't."
• I highly recommend this wise and insightful Twitter thread from Rabbi Danya Ruttenberg on the work of repentance: "Forgiveness is up to the victim (and the victim alone). Atonement is up to God. So I think the conversation here is about the repentance work that perpetrators have, or haven't, done."
Shortly after reading that thread, John Fea highlighted this NBC News story: "Ex-KKK member denounces hate groups one year after rallying in Charlottesville." Ken Parker, it seems, has begun the work of repentance. And to his credit, he seems to recognize that this is work that never ends.
Kudos, too, to NBC's Aaron Franco and Morgan Radford for keeping the necessity of repentance in this story, rather than just sliding into the popular cookie-cutter trope of a "redemption" story. Like everybody else, I love a good redemption story, but redemption is only possible after repentance has taken place.
On that note, here's more from Rabbi Ruttenberg, writing a year ago in The Washington Post, "We still have time to repent for American racism":
Maimonides, the great 12th century philosopher and sage, defines complete tshuvah as that which happens when a person has the opportunity to commit the same sin as he had in the past, but does not — he makes a different choice the second time around. …

We have never done the work of tshuvah as a country, and so we continue to find opportunities to commit the same sins, again and again and again. We went from slavery to lynchings, from Jim Crow to redlining to mass incarceration and challenges to voting rights. From the Trail of Tears to Wounded Knee to the Dakota Access Pipeline.
• The title for this post comes from Eels.