• "Evangelicals Convince Themselves California Is About to Ban the Bible," Peter Lawrence Kane writes, exploring the lies and legends and scary stories that religious right activists are hurling in an attempt to keep the pointlessly cruel failure of "gay-conversion therapy" legal in the Golden State.
Kane's headline is not quite accurate. The white evangelicals claiming such imminent persecution — outlawing the Bible! — have not managed to convince themselves that this nonsense makes any sense. They know it is a lie. What they have convinced themselves to do, rather, is to join together in pretending to believe it. Because that allows them to pretend they are virtuous when they are anxiously aware that they are quite the opposite. This is yet another variation of the Satanic baby-killers/persecuted hegemons self-deception that has corroded whatever once existed of the white evangelical soul.
As depressing as it is to realize that tens of millions of white evangelicals are in bondage to the lies they tell themselves, and that they know this, but still prefer the illusory pleasure of the lie, Kane's SFWeekly piece is still an engaging read.
It's educational, too — I had not realized that even Franklin Graham stands accused by the conspiracy theorists of Pizzagate and "The Storm." (Kane's links led me down a Google-hole that took me to a pair of dueling Australian versions of Michelle Remembers-style frauds, both of which take as a given that Billy Graham himself was a member of the Luciferian Illuminati.)
• My former boss Ron Sider spoke at the Greenbelt Festival back in 1981. Performerss at the UK Christian music festival that year included CCM icons like Randy Stonehill, Sheila Walsh, Jerusalem … and a very young U2.
The musical act headlining Greenbelt this year was Pussy Riot.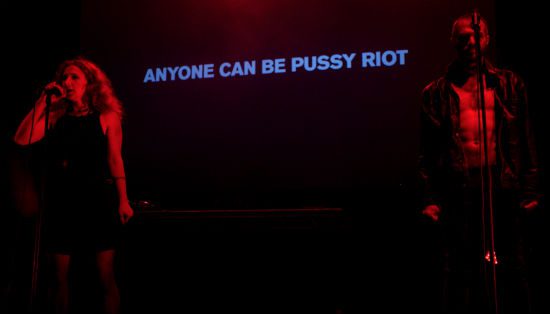 That's no joke:
From its shock-effect name to its defiant activist tactics, little about the Russian band Pussy Riot would suggest that the punk group is on a holy mission.

But after an appearance last weekend (Aug. 26) at Greenbelt, the U.K.'s foremost Christian arts festival, Pussy Riot's co-founder Maria Alyokhina explained that the act, beginning with the 2012 protest that resulted in two years in a labor camp, should be understood as a "Christian gesture."
(NB: Reading up on the history of Greenbelt, it seems that neither Sufjan Stevens nor Belle & Sebastian have ever played the festival. How is that possible?)
• Even for the most devoted news junkies, it's tough to keep track of all the scandals swirling around in the Trump administration. Just like the rest of us, Republican members of the House of Representatives are having a hard time keeping track of them all — such a hard time, in fact, that they
resorted to creating a spreadsheet to keep tabs of all the various high crimes and misdemeanors
.
Keeping track of all of this is very important to House Republicans lest they inadvertently fail to cover up something or to sweep something else under the rug. It takes a great deal of focus and attention these days to remain as adamantly neglectful of congressional oversight as these Republicans are committed to being.
"Here's House Republicans' list of all the Trump scandals they're covering up," Matt Yglesias reports, noting that "It's not a short list."
It's also not nearly a comprehensive list, either. It doesn't include, for example, Ryan Zinke's grafting and cronyism at the Department of the Interior or Wilbur Ross' insider-trading shenanigans at Commerce.
And the spreadsheet is already out of date, not including more recent additions to the growing list such as the fact and the content of the National Enquirer's safe-full of Trump dirt, the firing of White House Counsel Don McGahn, the unprecedented leaking of a Democratic congressional candidate's security check, or the departure of White House ethics lawyer (yes, apparently they did have one) Stefan Passantino.
there are white people in heaven, too.
they build condos across the street
& ask the Mexicans to speak English.
i'm just kidding.
there are no white people in heaven.
Reminds me of Countee Cullen here —
She even thinks that up in heaven
Her class lies late and snores

While poor black cherubs rise at seven
To do celestial chores.
• The title of this post comes from Brandi Carlisle's gorgeous song, "The Joke":