(Meant to post this sooner today but it took me forever to find a convenience store with extension cords.)
"The 12 Days of Christmas" is a beloved song in the way that anything we can't otherwise escape and thus have to learn to live with will, over time, become "beloved." I've noted before that it is basically the "99 Bottles of Beer on the Wall" of Christmas songs — an unpleasant experience that we all dread even though we all know the words (even if we haven't any clue about their true, secret, hidden religious meaning).
The reluctantly "beloved" tradition of playing and/or singing this song every December has spawned a second, related annual tradition: PNC Bank's charming yearly "Christmas index" tallying the total price that the song's "true love" would have to spend to buy all those birds and other gifts, in today's dollars.
For 35 years, we've calculated the prices of the twelve gifts from the classic carol "The Twelve Days of Christmas." The result is the PNC Christmas Price Index®, a unique and whimsical holiday tradition that makes learning about the economy fun.
For a far superior holiday tradition that "makes learning about the economy fun" I recommend watching and re-watching It's a Wonderful Life. Calculating the going rate for lords a' leaping in today's dollars might prove a somewhat educational exercise, but everything you really need to know about the economy comes down to the difference between George Bailey and Old Man Potter — and to all the ways the game is rigged in Potter's favor.
Potter stole $8,000 from George Bailey and, therefore, Bailey was going to be sent to prison. He was spared only because the working-class people of Bedford Falls scraped together $8,000 they couldn't afford to spare. Meanwhile, Potter kept the money he took, adding it to his fortune.
That's "the economy." Isn't it whimsical and fun? (Note: It is difficult to pull off whimsy after declaring one's intention to be "whimsical.")
Anyway, Old Man Potter's PNC Bank's "Christmas Index" tells us that the total for all the gifts in the song this year would be $39,094.93. Golden rings are cheaper than last year, but the price of geese has gone up.
The total cost of all 12 days added together would be $170,609.46 — or roughly the price of two semesters of college once you add in all the interest on student loans. That's nearly three times the median household income here in the U.S. (which was $61,372 in 2017).
Since the cost of all of this is so far out of reach for most people, I have begun my own holiday tradition of compiling an alternative "Christmas index" based on a far superior Christmas song: Robert Earl Keen's actually beloved working-class carol, "Merry Christmas From the Family."
Keen's song tells the story of a Christmas party that doesn't involve quite so many swans and geese, but the more familiar gaggle of relatives, boyfriends, in-laws, ex-laws, etc., that most of us wind up gathering with each year to celebrate time off work and/or the birth of Christ. You've
been
to this party. (If you haven't yet — you will.)
The song's refrain involves having to send somebody sober enough to drive out to purchase the kinds of things that people at such parties may run out of. And, as it happens, there are precisely 12 of these.
OK, then.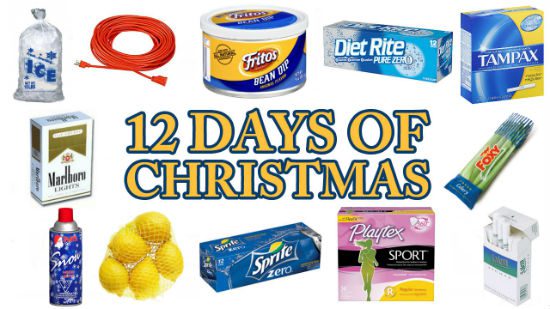 As I wrote last year:
That list of items consists of purchases that will be far more relatable for most of us: ice, an extension cord, a can of bean dip, some Diet Rite, a box of tampons, Marlboro Lights, celery, a can of fake snow, a bag of lemons, Diet Sprite, a box of tampons (again), and some Salem Lights. You may not be in the market for all of those things, but you've surely at least heard of them.

These also would make for an odd list of Christmas gifts intended to express "true love," but I think the act of leaving the party and driving around to go get them all demonstrates true love better than purchasing a whole orchard of pear trees.
I tally the cost of these by driving around to local convenience stores of the sort that would be open even on Christmas Day. We haven't got Stop 'N Go or Quick Pak around here, but I start with the gas station mini-marts before working my way up the convenience-store food chain to Wawa. I wouldn't quite say that this annual excursion "makes learning about the economy fun" but, like the errands in Keen's song, it's worth the trip to keep the party going.
Here — for your unique, whimsical, and educational enjoyment — is the 2018 Christmas Keendex:
• bag of ice: $2.59
• extension cord: $7.69
• can of bean dip: $3.99
• Diet Rite (12 pack): $5.49
• box of tampons: $3.99
• Marlboro Lights: $8.63
• celery: $2.99
• can of fake snow: $1.48
• bag of lemons: $3.99
• Diet Sprite (12 pack): $5.49
• box of tampons: $3.99
• Salem Lights: $7.20
TOTAL: $57.52
That's up slightly over last year's total of $56.43, but you're still saving $39,037.41 compared to buying all those swans a swimming and whatnot.