• Here's the news from Orange, Massachusetts (Pop. 7,839): "Free community meals program says goodbye to a leader."
Cliff Fournier's retirement as a leader of the twice-weekly community meals at Bethany Evangelical Lutheran Church marks the end of an era as the congregation plans to close its doors and food insecurity in the region remains high.

A retirement party for Fournier was held at the Cheney Street church on Thursday night where he served his final meal with the Franklin County Community Meals Program (FCCMP) to a gathering of grateful community members, volunteers and friends.
This is a good story about good work, but set in a melancholy, minor key. A church closes, gifting its building to another nearby congregation. A good and faithful servant is retiring (at age 87), with other volunteers stepping up to take the wheel. And twice a week, when anyone who needs a meal has a place at the table, the plates are full, but so are the chairs:
"We want to put ourselves out of business," said Marian Boyd, president of the FCCMP Board of Directors. "We hope one day the need won't be there, but it's going the other way."
That story appeared in my RSS feed under the Google news alert for "evangelical." It's nice to read a piece about actual Christian witness popping up in that feed, even if that's only because Bethany is an ELCA church (i.e., mainline Protestant Lutheran rather than "evangelical" evangelical).
• The New Yorker profiles reality TV mogul and Friend of Trump Mark Burnett. He and his wife, former Touched by an Angel star Roma Downey, describe themselves as "the noisiest Christians in Hollywood" — a designation Burnett regards as a point of pride and apparently not as a Spinal Tap reference.
This is the man who brought us Survivor, The Apprentice, Shark Tank, and a half-dozen other variations teaching Burnett's great theme of life as a game of musical chairs. Now, reborn as a "noisy" Hollywood Christian, Burnett is producing more explicitly religious programming too — shows that carry the same message, but now teaching viewers that Jesus will help you win at life's game of musical chairs. Just outwit, outplay, and outlast thy neighbors and you, too, will be hashtag blessed. Feh.
• "These people think connecting a billboard to the Internet is a good idea. These people are wrong." See also.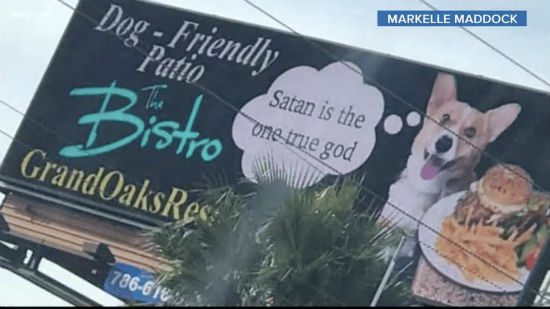 There's a kind of karmic elegance to former Rep. Dave Brat going to work at Liberty University, with each simultaneously receiving an appropriate punishment for the choices that led them to this point. Normally I'd feel bad about the tuition-paying undergrads suffering collateral damage here, but in this case they're business majors, so …
• Speaking of shallow-thinking, shallow-reading ideologues … Ralph Drollinger of "Capitol Ministries" says he's not a Christian nationalist. (Warren Throckmorton, correctly, disagrees with him.)
In a past life, I was a teaching assistant in seminary classes on Christian political thinking. I graded papers — a lot of papers. Most of them were pretty good, the work of thoughtful students who had done the course reading and grappled with the varying streams of Christian political thinking developed over the centuries. But not all of the students did that reading, or attended the lectures, or participated in the classroom discussions. And those students papers tended to be painful reading — flailing attempts to bluff their way through by rehashing garbled bits of folklore and the half-remembered answers they once heard from Sunday school teachers who made up answers to questions they hadn't been prepared to be asked.
But those papers — the worst of the bunch? They were still better than the stuff Ralph Drollinger is pulling out of his backside and peddling to actual members of Congress in the name of "Bible study."
• The title for this post comes from the Counting Crows. There's reason to believe that maybe this year will be better than the last.