Here's your open thread for January 11, 2020.
It's the birthday of Alexander Hamilton. If Aaron Burr hadn't shot him, he'd be 265 years old. So today, like every day, is a good day to listen to this song about our "10 dollar Founding Father without a father."
Hamilton et. al. certainly were among our national "Founding Fathers," but I think it's increasingly urgent that we don't use that terminology exclusively for the waistcoated colonials involved in the 18th-century Beta version of our national founding. The Beta version, after all, was inherently unstable and unsustainable and had to be reinvented and re-founded by the real Founders of the United States we actually live in — the ones who transformed the country and the Constitution with the Reconstruction Amendments. When it comes to founding the nation we actually live in, the guy on the $5 bill is a lot more important than the guy on the 10.
This is, I think, related to why so much of what calls itself "originalism" seems like an attempt to erase those Reconstruction Amendments. It's why you're far more likely to hear constitutional arguments citing the Federalist Papers than any such arguments citing the speeches of, say, Frederick Douglass or Thaddeus Stevens.
Anyway, it's hard to beat that opening number from Hamilton, but today is also the birthday of Clarence Clemons. The Big Man wasn't originally from New Jersey — he was born in Virginia and went to college in Maryland — but he moved to Central Jersey in 1962 to take a job as a counselor for troubled children. Ten years later he landed another job in Asbury Park.
The solo starts at 3:42 in the video below. Which solo? The solo:
January 11 is also the 76th birthday of former Texas Agriculture Commissioner and lifelong agitator Jim Hightower. Hightower has spent decades promoting a cheerfully folksy left-wing politics he's always called "populist." Nowadays, that term seems to be reserved for people whose politics is less expansive and inclusive. To be "populist" in the 21st Century apparently requires you to be someone who regards all but one particular segment of the populace as illegitimate.
Today is also the birthday of Abraham Joshua Heschel, whose The Prophets I studied in seminary and hugely recommend to anybody who wants to understand the meaning and the role of the biblical prophets or the meaning and the role of the prophets who live among us today.
Heschel became such a prophet himself. Here's a taste of that — the beginning of his address at a Chicago conference on "Religion and Race" in 1963:
The outcome of that summit meeting has not come to an end. Pharaoh is not ready to capitulate. The Exodus began, but is far from having been completed. In fact, it was easier for the children of Israel to cross the Red Sea than for a Negro to cross certain university campuses.
Friends, at the first conference on religion and race, the main participants were Pharaoh and Moses. And Moses's words were, "Thus says the Lord, the God of Israel: Let my people go," while Pharaoh retorted, "Who is the Lord that I should heed his voice and let Israel go? I do not know the Lord. I will not let Israel go."
(That's from a terrific On Being report on Heschel, "The Opposite of Good Is Indifference." It's well worth a listen.)
That conference is also where Heschel first met Martin Luther King Jr., beginning a close friendship that lasted the rest of their lives.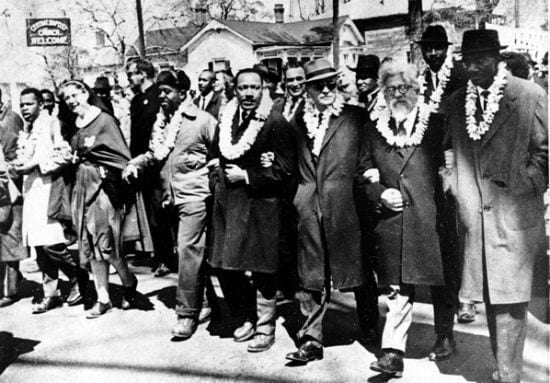 This remembrance of Abraham Joshua Heschel by Religion & Ethics Newsweekly is a good intro to the man and his legacy. It touches on one of his central themes, what he described as "radical astonishment" or "surprise" or "wonder." This was the idea that led him to speak of prayer as "our humble answer to the inconceivable surprise of living," but it was also the idea that drove him to confront injustice:
I am surprised every morning that I see the sunshine again. When I see an act of evil, I am not accommodated. I don't accommodate myself to the violence that goes on everywhere; I'm still surprised. That's why I'm against it, why I can hope against it. We must learn how to be surprised, not to adjust ourselves. I am the most maladjusted person in society.
If that riff about the moral duty to be "maladjusted" to injustice and violence sounds familiar, you may be wondering if he got that from King or if King got that from him. A little bit of both, I think. They were friends — they got it by way of one another.
Talk amongst yourself and carry on with the inconceivable surprise of living.