Here is your open thread for February 14, 2020.
It's Rob Thomas' 48th birthday, but you can still hear "Smooth" or any of Matchbox 20's hits anywhere, so instead let's go with this for Valentine's Day:
Who was St. Valentine? We're not really sure. There certainly were several people remembered as saints who were named "Valentine," but details about them are a bit sketchy, and none of them has any obvious link to our hearts-and-chocolates traditions or to our custom of treating today as a celebration of romantic love. I like the theory that all our Valentine's Day hype traces back to a line from The Canterbury Tales in which Chaucer noted that the middle of February was when birds seemed to being mating ("Volantynys day … Whan euery bryd comyth there to chese his make.") Why not? Birds do it, bees do it, even educated fleas do it …
Sen. Paul Tsongas was born on Valentine's Day, 1941. Billionaire Michael Bloomberg was born exactly one year later. Tsongas won the New Hampshire primary — and seven others — in 1992. We'll see how many Bloomberg wins this year.
Today is the birthday of Jim Kelly, Drew Bledsoe, and of the late Steve McNair. Two of those guys played in the Super Bowl, the other one didn't, but has a Super Bowl ring.
From Philadelphia, it's also the birthday of "Fresh Air" host Terry Gross who has, over the years, interviewed magician Teller, journalist Carl Bernstein, actor/screenwriter Simon Pegg, and dancer/actor Gregory Hines — all of whom share her February 14 birthday.
Here's Terry's 1995 interview with Salman Rushdie about his "Gradual Return to Normal Life" years after Iranian Ayatollah Khomeini urged his followers to kill the author. Khomeini's fatwa was issued on February 14, 1989.
The "Valentine's Day Massacre" usually refers to the Chicago gangland murders of 1929, when members of Al Capone's mob killed seven men of a rival gang. Organized crime was less sophisticated back in Capone's day — they hadn't yet learned to dismiss the FBI agents pursuing them as a "deep state conspiracy," and Capone wasn't able to keep law enforcement from ever seeing his tax returns.
February 14 was also the date of a far, far worse massacre — the elimination of the Jewish population of Strasbourg, Germany. Hundreds of men, women, and children were burned to death. The rest of the city's Jewish population was expelled from the city. The Black Death was spreading across Europe and the Christian folk of Strasbourg and other cities were looking for a scapegoat. Why did they think Jews were to blame for the plague? Because these good Christians had been reassuring themselves of their virtue by bearing false witness against their Jewish neighbors for centuries, categorizing them as Satanic baby-killers.
Jack Benny was born February 14, 1894. If you get a chance, watch him in the original version of To Be Or Not To Be. The Mel Brooks remake is pretty terrific, too, but the Ernst Lubitsch original starring Benny has an edge to it that comes from being made and released in 1942. (It's streaming on Hulu if you're a subscriber.)
Today is also the birthday of Florence Henderson, famous for the role of Carol Brady on The Brady Bunch. (Like most people my age, I remember that show fondly despite the fact that it was, objectively, awful television.)
Finally, today is the 57th birthday of one of my favorite character actors, Enrico Colantoni. He played Veronica Mars' dad, and the crafty gangster Carl Elias, and he made us cry in Galaxy Quest: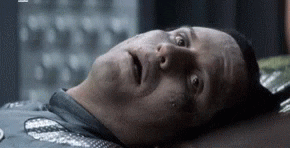 Talk amongst yourselves.