• Our evangelical Christian family doctor when I was growing up had a cross-stitched message framed on the waiting-room wall: "God heals. The doctor collects the bill."
I'd update that for 21st-century white evangelicalism: "God vaccinates. The mortician collects the bill."
Thomas B. Langhorne does a good job localizing this national story for the Evansville (Indiana) Courier-Press, "COVID-19 vaccines? No thanks, many Evansville conservative Christians say."
Survivor of a 37-day hospitalization with COVID-19 at 79 years old, Jim Braker is not interested in vaccination, thank you.

"We're scared of what's in it. We really don't know," Braker said by phone. "What I read of what's in it, I don't trust it."

Braker's wife, Charlene, could be heard in the background voicing her agreement. The Brakers are Christians, they say. And they are conservatives.

… Jim Braker said he gets his COVID-19 news from Victory Channel, a self-described "faith-based Christian television network," and "doctors on Fox News and on the internet."
Victory Channel is a web-based fundraising site featuring the likes of Kenneth Copeland, Creflo Dollar, Jesse DuPlantis, Joel Osteen, and a host of other prosperity-gospel tithe-collectors and Charisma-level false prophets. The "news" aspect of Victory Channel is their half-hour daily "Victory News" — which is basically Tucker Carlson's white nationalist show with a little bit of Jesus sprinkled on top. It's the 16 words: "We must secure the existence of our Christian people and a future for white Christian children."
And what does it tell the Brakers they must do to ensure this? Two things: 1) vote party-line Republican, and 2) write checks to Kenneth Copeland, Creflo Dollar, Jesse DuPlantis, Joel Osteen, et. al.
• "Something there is that doesn't love a wall."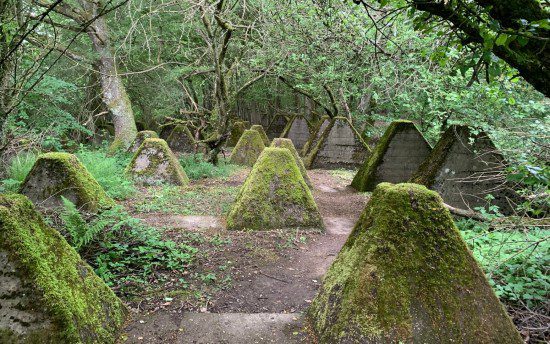 • CFP:
Princeton Theological Seminary and joint sponsors Howard University School of Divinity and the Smithsonian National Museum of African American History and Culture (NMAAHC) are calling for individual and panel paper proposals for a virtual conference, titled "'The Troubles I've Seen': Religious Dimensions of Slavery and Its Afterlives." The event will examine the long-term effects of the enslavement of Africans in America from a unique perspective of the religious and theological dynamics.
This sounds constructive and promising, but it is, alas, backwards. If you're trying to understand Christianity in America, it is somewhat helpful to study the "religious dimensions of slavery and its afterlives." But if you really want to understand it, then you need to study the slavery dimensions of Christianity. The ways American Christianity shaped slavery are minuscule compared to the ways that the enslavement of Africans in America shaped American Christianity.
• Offshore wind. Because, yes, I still contend that it's just embarrassing for a country with as much wealth, technical capability, and coastline as the U.S. has not to have top-tier offshore wind capacity. We should've been Sputnik-shamed into building this decades ago.
• Hey, hey, hey, hey, hey.