• "Bait and Switch: Companies Promise Workers Pay Rates In Ads They Don't Deliver On." Sleazy and dishonest, but apparently not illegal (or, at least, not illegal in any way that entails consequences).
• This story suggests there's something corrupt, predatory, and authoritarian about Opus Dei. It seems like most stories about Opus Dei seem to suggest that.
• It's now been more than five years since Lauren Morrill sent this Tweet: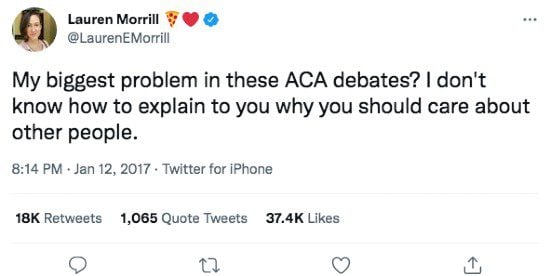 You've likely seen Morrill's words repeated or rephrased or repurposed many times, but what you probably haven't seen is anybody offering a really good solution to this problem. How can we explain to someone who doesn't care about other people why they should care about other people?
I suspect part of the answer may have something to do with what Richard Beck is getting at in his five-part discussion of "orthopathy" (one, two, three, four, five).
• Pete Enns talks with Dr. Willie James Jennings in an episode of Enns' podcast, The Bible for Normal People, introducing the book of Acts. Good stuff on the best stuff.
• Remember when this happened? That's Marilyn Manson with Justin Bieber and Kanye West at Ye's "Sunday service" concert.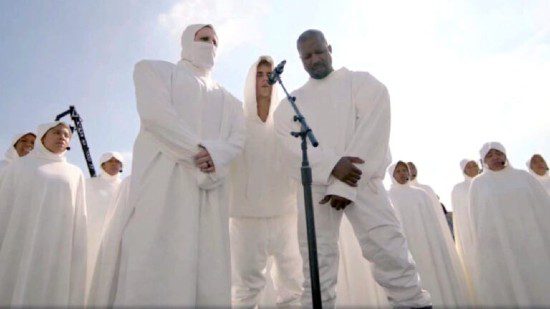 That was on November 1. This Rolling Stone exposé came out two weeks later: "The Monster Hiding in Plain Sight." I don't think that was a coincidence.
• The Pew Research Center "surveyed 6,485 American adults — including 1,421 evangelicals — in September 2021 about the afterlife, specifically their views on heaven, hell, reincarnation, fate, prayer, and other metaphysical matters."
Some of the survey responses are interesting from certain angles, I suppose, but the key point to remember is that 100% of the 6,485 American adults interviewed has no first-hand knowledge on which to base their answers. Ay, there's the rub, for in that sleep of death what dreams may come when we have shuffled off this mortal coil. The undiscover'd country from whose bourn no traveller returns, puzzles the will. And also renders surveys like this a bit silly.
• The Houston Chronicle's terrific, maddening report on Texas' tax-free luxury parsonages is subscribers-only, but Charles Kuffner shares some choice excerpts:
This fall, county officials mailed out property tax bills to the owners of a 10-bedroom, 10.5-bath Houston-area mansion, an 8,000-square-foot residence in a historic San Antonio neighborhood, an elegant Highland Park estate in Dallas and a house on more than an acre overlooking Corpus Christi Bay. The homes are worth millions of dollars. In each case, their 2021 tax bill was identical:

Zero.

Most people know that religious organizations pay no property taxes on their houses of worship. Lesser known is that many also get a valuable break on residences for their clergy as well.

The word "parsonage," as these residences are called, conjures images of humble, spartan rooms attached to drafty churches. A few still are.

Yet in many places across Texas, parsonages are extravagant estates nestled in the state's most exclusive enclaves. Like their wealthy neighbors, the clergy occupants enjoy spacious and well-appointed homes, immaculate grounds, tennis courts, swimming pools, decorative fountains and serene grottos.

Unlike their neighbors, the parsonage owners pay nothing in taxes, leaving other Texans to backfill the uncollected revenue to cover the cost of schools, police and firefighters.
The Chron focuses on the public burden of Texas' no-limits tax-exemption for parsonages, which burdens local public services and other taxpayers and incentivizes ever-more extravagant "parsonage" mansions. But there's also a theological and spiritual consequence of this bad policy. Preachers who live in 8,000-square-foot, 10-bedroom mansions begin to preach a gospel of, and for, people who live in 8,000-square-foot, 10-bedroom mansions.
• When I was a kid, almost every article headlined "How to save Christmas from consumerism" would be about "keeping Christ in Christmas" and "remembering the reason for the season." And there were a lot of those articles, several every year from every Christian publication, all piously warning against letting consumerism and Madison Avenue distract us from the deeply religious true meaning of the holiday.
You don't see articles like that much anymore. The Christian nationalist culture warriors are in charge now, and they long ago decided to embrace consumerism as their weapon of choice against the "War on Christmas" they pretend is being waged by evil coastal elites who don't celebrate Jesus' birth (wink, wink). They're not writing articles about "saving Christmas from consumerism" anymore because they're too busy advocating "saving Christmas" with consumerism.
And so the once-perennial headline "How to save Christmas from consumerism" now only gets used by folks like the dirty hippies at Grist, a nonprofit environmental news site for the kind of people who still think "consumerism" is bad for you. (The link there is seven weeks old, and the holidays are behind us now, but you know what's not behind us? Consumerism. So.)
• I'm sitting here listening to CKLB-FM, "The Voice of Denendeh" out of Yellowknife in the Northwest Territories. Found that thanks to Mark Evanier recommending this endlessly amazing site. Wow.