• "Traditional Education Advocates" is the name Republican candidates are using in nonpartisan New Jersey schoolboard elections that don't allow party identification and endorsement. It's a "TEA" party, get it? They're seeking a return to "traditional" — i.e., pre-Brown v. Board of Ed — education.
But there's now one less Traditional Education Advocate running for the Hamilton Township schoolboard. Nicholas Ferrara has been enjoying the unfettered freedom of speech of Gab — the right-wing social media outlet run by white-/Christian-nationalist and Doug Mastriano consultant Andrew Torba. That platform gave Ferrara the freedom of speech it was designed to produce, which is to say the freedom to wholeheartedly endorse Torba's antisemitism and his neo-Nazi conspiracy theories about Jews.
Like Torba and Mastriano — the Republican candidate for governor here in Pennsylvania — the now-former schoolboard candidate Ferrara seems to be a big fan of Hutu Radio host/"evangelist" Rick Wiles. Wiles, a former CBN executive, claims that his "TruNews" radio and online broadcasts are "the most popular Christian news/talk program in the world." That's an exaggeration, but Wiles' program is probably the No. 1 source for the "synagogue of Satan" venom believed and advanced and taught by people like Torba, Mastriano, and Ferrara.
Ferrara said the quiet parts loud, so he's now out of that schoolboard race and out of his former job at a New Jersey real estate office.
But Doug Mastriano still has a chance to become the next governor of Pennsylvania.
• Dolly Parton visited Columbus, Ohio, earlier this month to promote her Imagination Library. For 27 years, Dolly's been giving away books to any child who needs them — more than 186 million books so far.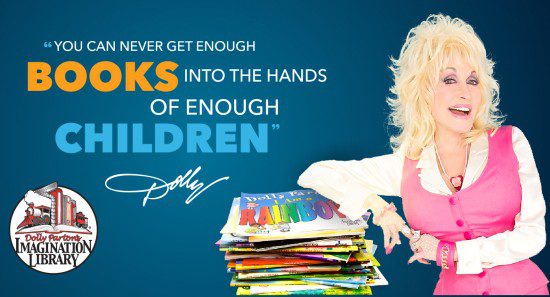 About 343,000 children in Ohio benefit from Dolly's program, but she was there trying to get more of them signed up. She was joined at her appearance by Ohio's Republican governor, Mike DeWine, and his wife. Gov. DeWine even declared August 9 "Dolly Parton Day" throughout the state.
DeWine was elected to the state senate in 1981, then to Congress, and he's been in elected office ever since (as lieutenant governor, U.S. senator, state attorney general, and now as governor). He's good at getting elected, in other words, and thus he understands that no half-way smart politician anywhere should ever turn down the opportunity to make a public appearance with someone as beloved and respected as Dolly Parton.
But many of DeWine's fellow Republican governors don't understand that. Consider, for example, Florida's Ron DeSantis: "Florida Schools Freeze Book Donations, Purchases In Wake Of Censoring Law."
Book donations and purchases have been halted in at least one Florida school district for the remainder of 2022 in the wake of a new state law that requires books to be pre-approved by state-certified media specialists, who aren't currently available.

The Sarasota Public School District, which enrolls nearly 45,000 students across 62 schools south of Tampa, instructed all principals last week to bar new books from school media centers and classroom libraries until at least January of next year, a district spokesperson confirmed to HuffPost.

The decision was based on H.B. 1467, which went into effect on July 1 after Gov. Ron DeSantis (R) signed the legislation in March.

The law requires a certified media specialist to inspect all public school material to ensure its appropriateness for children based on their age level and whether the material can be considered potentially harmful. It also requires elementary schools to publish online a list of the books and reading material they make available to students. Books can then be removed from schools if a parent or county resident petitions for their removal.
I'm sure Dolly will be increasing the Imagination Library's efforts in Florida to counter Republicans' efforts to keep books out of the hands of children. She'll probably even visit the state to promote the free books she's giving away. But something tells me DeSantis won't be invited to that event.
If I were Charlie Crist or Val Demings, I wouldn't wait. I'd already be planning the Dolly Parton Day Parade in some Democratic Florida city, getting the local high school marching bands up to speed on "Jolene" and "Nine to Five," and reassuring the honored grand marshal that all she will be asked to do at this scrupulously non-political event will be to stand by, smiling, as Crist and Demings urge more Florida schoolchildren to sign up for the Imagination Library.
• Meanwhile, North Carolina's Republican lieutenant governor wants to abolish the state's Department of Education and to get rid of all science, history, and social studies classes up through fifth grade.
In Mark Robinson's ideal elementary school, third-graders would recite the Pledge of Allegiance every day, but teachers would be forbidden from talking about what any of it means.
Try to remember any of the science or history lessons you had in first grade. Now imagine not starting to learn any of that until sixth grade. Remember your junior high history and science classes? That's what Robinson would have North Carolina students studying senior year. OK, then.
• Speaking of Republicans working hard to destroy schools and to make life miserable for children … Legislation based on Fox News hysteria over trans youth athletes is resulting in exactly the kind of creepy, panty-sniffing harassment of all youth athletes that everyone who wasn't a transphobic bully predicted it would:
After one competitor "outclassed" the rest of the field in a girls' state-level competition last year, the parents of the competitors who placed second and third lodged a complaint with the Utah High School Activities Association calling into question the winner's gender.

David Spatafore, the UHSAA's legislative representative, addressing the Utah Legislature's Education Interim Committee on Wednesday, said the association — without informing the student or family members about the inquiry — asked the student's school to investigate.
Bullies always have recklessly bad aim. The goal of these laws was just to make school more hellish for dozens of powerless teenagers who just wanted to play sports with their friends. But that effort has empowered sore losers, perverts, and the pathologically litigious. It has empowered people like those awful parents in the story above, feeding their sense of entitlement. Their daughters are really good at sports, but not quite the best in all of Utah. And since they're the kind of people who find that unacceptable, they're abusing the winner, the system, and their own kids. And Republican legislators are cheering them on. Ugh.
• RIP Frederick Buechner, who put words together in a way that helped us see things we couldn't see before.
Buechner's The Alphabet of Grace is an astonishing, beautiful book. OK, but what's it about? What does it say? That's harder to explain. It defies paraphrase. But to read it is to suspect that there's something huge and terrifying and wonderful just beyond the corner of your eye. That maybe, just maybe, you and everyone you'll ever meet is more good and more loved and more important than you've previously imagined.
Fine, but what are we supposed to do with that? Roll bandages. Help whoever's helping. For all the poetry and pudding, Buechner's gorgeous words point us toward something as basic and obvious and transcendent as what we learned from Fred Rogers and Thomas Merton. And it leaves me reeling.
Clack-clack.