If you speak the language, you must be one of us, and if you're one of us, you're one of the Good Guys.
That's how affinity fraud works. And that's why it works best on groups that are most unquestioningly certain that they are, by definition, the Good Guys. Fraudsters and con artists can smell that vanity a mile away and know just how to exploit it.
"Man sought in alleged misuse of over $30M intended for Christian ministry in China"
Federal prosecutors are seeking a man charged in the misuse of more than $30 million donated by religious groups and individuals for Christian ministry in China, including an Ohio-based group receiving donations from Amish and Mennonite communities.

Jason Gerald Shenk, 45, formerly of Dublin, Georgia, is charged in a recently unsealed federal indictment in Georgia with wire fraud, money laundering and failure to file a report of a foreign bank account.

Prosecutors said Shenk got more than $30 million from faith-based charities and individual donors, primarily from religious communities in Ohio and North Carolina, promising to use the money to produce and distribute Bibles and other Christian literature in China.

Instead, prosecutors allege, he used a lot of it for his own purposes, such as payments to the company running his family farm, buying diamonds and precious metals, buying life insurance policies in various people's names, online sports gambling, among other things.
Shenk preyed on naivete. He also preyed on vanity. He learned the in-group lingo, which made him sound like One of Us. And since we are, by definition, good and well-intentioned and virtuous, then if he is One of Us he must also be good and well-intentioned and virtuous. So here's $30 million.
The Rev. Robert Dell also mastered religious in-group lingo enabling him to scam believers into handing him their tithes and offerings. But that was just a small side-racket for Dell, whose position as a Pentecostal-ish nondenominational pastor and leader of a halfway house "ministry" served (allegedly) as a front for his larger, more lucrative criminal scheme.
Here's another item from the crime pages at Religion News Service: "Pastor turned 'Anointed Liquidator' charged in $1.4 million theft from Home Depot."
The Anointed Liquidator, a virtual store on eBay, has a 100% approval rating and has registered more than 35,000 items sold over the past decade, according to its page on the online retailer's website.

But for all its great customer service, the Anointed Liquidator appears to have broken the biblical commandment against stealing.

An organized crime ring in Florida has allegedly stolen more than $1.4 million in merchandise from Home Depot and resold the haul through Robert Dell, former pastor of the Rock Church in St. Petersburg, according to Florida Attorney General Ashley Moody. Dell allegedly fenced the items through the Anointed Liquidator eBay store, which has been active since 2011. …

According to Florida officials, Dell worked with four accomplices to steal power tools made by Milwaukee and DeWalt, as well as other products in seven counties, taking from several stores a day. …

Florida officials said that Dell allegedly used his spiritual authority to coerce people into taking part in his scheme.

"According to the investigation, Dell demanded the crimes under threat of abuse and used the positions of being a pastor and founder of a (halfway) house to manipulate other vulnerable people to participate in the criminal scheme," the attorney general's statement said. "Home Depot suspects Dell operated this scheme for more than 10 years, resulting in the loss of more than $5 million."
It's the "Anointed" there that cracks me up. Pitch perfect.
Back when there was still a thing called the Yellow Pages, there was also a white evangelical subcultural version of it called the "Christian Yellow Pages." Need a plumber? The Christian Yellow Pages could help you find a born-again plumber. Does that mean he's a good plumber? Well, it means he's One of Us, and therefore a good person — and isn't that more important than whether or not he's a good plumber?
I suppose the same logic holds true for fences. Jesus doesn't want us to buy power tools that "fell off a truck." Jesus wants us to buy power tools that fell off a truck with a fish sticker on it.
As a former newspaper copy editor, I feel some kinship for fences. We both belong to vocations that have been decimated by the internet. Pastor Dell transitioned his trade in stolen goods from storefront to eBay front way back in 2011, so the guy had foresight and vision, even if I doubt his spiritual anointing.
Bob Smietana's write-up also includes the accidentally hilarious disclaimer that greets visitors to the website of Dell's former church: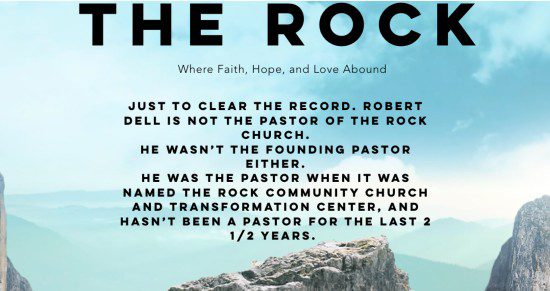 "Just to clear the record," the church's home page announces, "Robert Dell is not the pastor of The Rock Church. He wasn't the founding pastor either. He was the pastor when it was named the Rock Community Church and Transformation Center, and hasn't been a pastor for the last 2½ years."
This reads like a variation of a classic Twitter joke: "Our 'This Church Hasn't Been a Front for Organized Theft for 30 Months' T-shirt seems to be raising a lot of questions already answered by our shirt."
This "The Rock" church was the sixth one in the list when I Googled "Rock Church Florida." The other six or seven Florida congregations named "The Rock" probably aren't pleased with this association. If that has any of them pondering yet another rebranding name-change, I commend the following advice from Maria Bamford: