News here in Chester County is obsessed with a local story that has also made national and international headlines: The Eagles won their season opener yesterday.
But the second-biggest story here is also one you may have heard outside of these parts: A convicted murderer escaped from our county prison and has been eluding recapture for nearly two weeks.
The escapee, Danelo Cavalcante, is a violent femicide. He was convicted of murder here for stabbing his girlfriend to death, apparently to silence her after she learned that he was wanted by police in Brazil for killing a woman there. Cavalcante stabbed his victim 38 times. So this is someone with a lot of uncontrolled rage and not the sort of character who's going to attain any kind of folk-hero status by eluding the hundreds of marshals and state troopers combing the area in a massive search.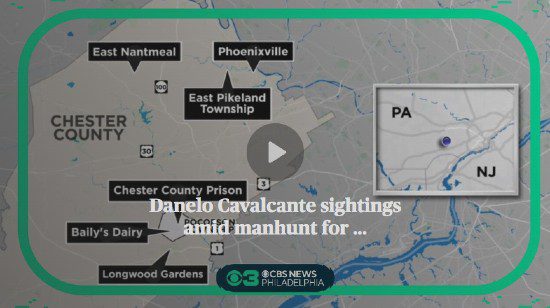 I live about halfway between where that search began, south of here down near Longwood Gardens, and where it moved to this weekend, near Phoenixville and St. Peter's Village. The helicopters haven't come to scan the North Hills woods out back yet, but they've made several passes over the homes of some of my co-workers on the other side of Downingtown. Reportedly, troopers are scanning the woods of Chester County with infra-red scopes. ("Got something! It's a deer. Aaaaand another deer. Oh, and look — more deer.")
Apparently the diminutive killer (Cavalcante is 5'0″) stole a hunting rifle from somebody's garage about 20 miles north of here last night, so he's armed now. That whole area up around French Creek is now part of a massive police perimeter involving hundreds of law enforcement personnel. It's very similar to the perimeter they set up over the weekend when they were sure they had him surrounded down by Longwood Gardens. So.
It's worrisome to have hundreds of locked-and-loaded cops around who seem eager to shoot a fugitive who is the size of a sixth-grader. The longer this manhunt continues, the greater the likelihood that one of them will accidentally shoot an actual sixth-grader.
Schools are closed again today in the current search area. That seems wise, but it also likely means some of those kids will be out trying to get a firsthand look at all the excitement. There are so many ways this could go bad.
Then again, maybe by the time you read this, they'll have already caught the guy and he'll be safely back in custody. I'm ready to hear that news.